Primary School Past Questions Paper for 1st, 2nd, 3rd Term All Subject PDF Download…..Teaching is really an interesting job, But for some factors like low pay, writing of lesson notes, setting of exam questions, marking of students' examination scripts and compilation of students results has made teaching job more stressful.
To help reduce the workload We have compiled all Primary School Past Exam questions and answer from one to six, first term – third term, to serve as a reference material to help teachers set tests and examination questions.
School pupils and tutor will find it useful for revision and exam preparation.
Read Also: Scheme of work for primary 1-6
Feature of the Primary School Past Questions Paper
Is based on the Nerdc Curriculum.
Can be view and read on any Smart Phone
Can be Printed out into hard copy.
Can be obtain on Micro-Soft word Editable format (Special Request).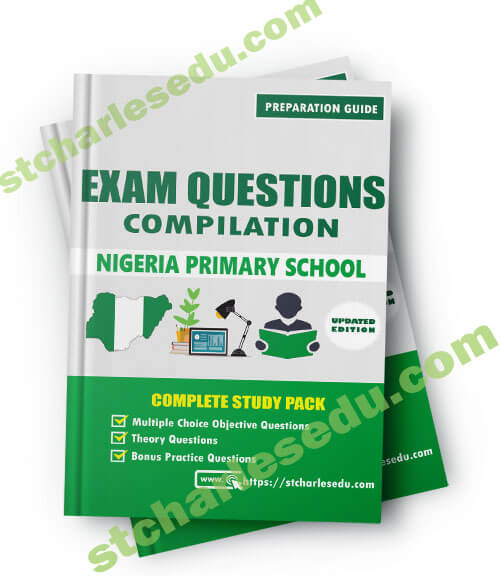 Download Lower Basic Education (Primary 1-3) Past Question
Every pupils at this Level (Primary 1, 2 or 3) offer the following core subjects,
1. English Language
2. Mathematics
3. Nigeria Languages
-Hausa Language
-Igbo Language
-Yoruba Language
4. Basic Science and Technology (BST)

-Basic Science
-Basic Technology
–Physical & Health Education
–Computer Studies/ICT
5. Pre-Vocational Studies (PVS)

–Home Economics
–Agriculture Sci
-Entrepreneurship
6. Religious and Value Education (RVE)
-Islamic studies.
–Christian Religious Studies.
–Social Studies.
–Civic Education.
-Security Education.
7. Cultural and Creative Arts
8. Arabic Language

Download Middle Basic Education (Primary 4-6) Past Question.

Every pupils at this Level (Primary 4, 5 or 6) offer the following core subjects
1. English Studies.
2. One Major (Hausa, Igbo or Yoruba).
3. Mathematics.
4. Basic Science & Technology.
5. Religion and National Values.
6. Pre-Vocational Studies.
7. Cultural & Creative Arts (CCA).
8. Arabic Language (optional).
9. French Language.
Click Like below to Join our Primary School Exam Facebook Page


How much is the Primary Exam Questions Paper in Ms-Word
Each Exam Question paper for any of the Primary school subject cost N300 per term.
How to Download Primary School 1-6 Exam Questions
To get the Primary School Past Exam question paper for all or specific subject in MsWord or PDF call or whatsapp me on 08051311885 on link to download it
Please Note, It is not Free.