Download Physical and Health Education PHE Exam Questions Paper Primary 1-6 1st, 2nd and 3rd Term for Primary Schools in Nigeria.
Teaching is really an interesting job, but for some factors like low pay, setting of exam questions, marking of students examination scripts and compilation of students results has made teaching job more stressful.
To help reduce the workload we have compiled all PHE exam question paper in MS Word from Primary one (1) to six (6);
To serve as a reference material;
To help teachers set tests and examination questions.
School pupils will also find it useful for revision and exam preparation.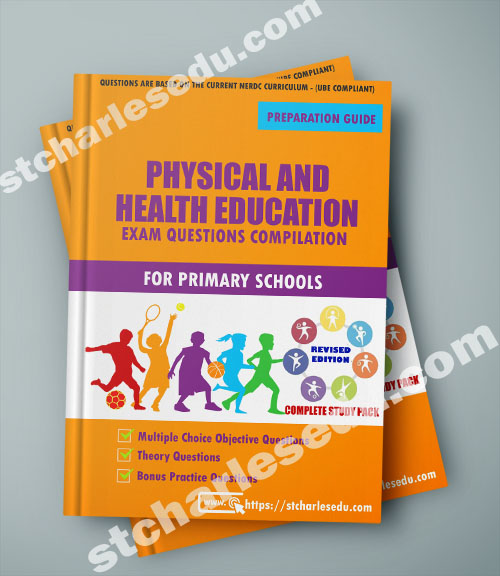 PHE Exam Questions for Primary School – Features
Is based on the Nerdc Curriculum.
Can be view and read on any Smart Phone
Can be Printed out into hard copy.
Can be obtain on Microsoft Word Format.
Can be Edited to suit your need.
The paid version has up to 50 Multiple Objective Questions to choose from
Out of Public Domain.
Available only to subscriber.
Basic/Primary 1 to 6 Physical and Health Education Exam Questions – Benefit
The Benefit of Using Our Primary School Physical and Health Education Exam Questions.
Teachers
As a teacher using our Multiple Exam Question source make teaching more interesting.
Reduce the workload.
You can modify the questions to suit your need.
You get best value for your money when you purchase from us.
Students
As a student it make you identify key areas to focus on.
Help you know your speed for the actual exam.
Give you confidence and make you relax on the deal day.
How to Download Nigeria Primary School Physical and Health Education Questions
Step to get PHE Exam Questions for Primary (Basic 1 – 6 )
COST PATTERN
Here is an example of our Cultural and Creative arts exam questions for basic class 1-6 cost Pattern.
Primary 4 PHE 1st Term = N300
Primary 4 PHE 2nd Term = N300
Primary 4 PHE 3rd Term = N300
HOW TO PURCHASE
Make a Call.
Call or whatsapp us on 08051311885 for the account number to make payment;
And how to receive your complete copy of the past questions paper.
Mode of Payment.
Mobile Transfer, POS and Direct Bank Deposit.
After Payment
Send us the following:
Depositor Name.
Screenshot of either your Debit alert; Successful transaction notice or bank teller.
Name of Product Paid for; e.g Exam Questions for Physical and Health Education (Basic 4)
Valid Email Address;
Lastly Call or whatsapp us for your payment verification and confirmation.
DELIVERY ASSURANCE
We will deliver the past question to you 5 mins after confirmation of payment to the email address you send to us.
Download Free PHE Exam Questions for Primary 5
Link 1: P.H.E Exam Questions
Link 2: P.H.E Exam Questions
Physical and Health Education for Primary 5 Second Term
SECOND TERM EXAMINATION
SUBJECT: Physical and Health Education
CLASS: Basic/Primary 5
DURATION: 1 HOUR
P.H.E Objective Questions for Primary 5
SECTION A: OBJECTIVE
INSTRUCTION: ANSWER ALL QUESTIONS
01. What are ball games?
(a) games played outdoors
(b) games played with a ball
(c) games allowed to be played by children
02. Which of these is not a ball game?
(a) baseball
(b) volleyball
(c) chess
03. To contest possession in football involves____
(a) pushing and kicking an opponent
(b) heading the ball from the hands of the goalkeeper
(c) tackling n opponent in possession
04. What are food nutrients?
(a) the remaining part of food after we have taken our portion
(b) the food we give our younger ones to eat
(c) a substance we obtain from food that is used in the body to promote growth, maintain and repair of the body
5. Which of these foods is a vegetable?
(a) okro
(b) plantain
(c) oil
6. What causes kwashiorkor?
(a) eating food containing only carbohydrate without enough protein
(b) lack of vitamins
(c) lack of oil
7. Rickets is caused by lack of ___
(a) protein
(b) vitamin D
(c) vitamin A
8. Pellagra is caused by ____
(a) lack of vitamin B3 or macin
(b) lack of carbohydrate
(c) lack of vitamin E
9. Scurvy is a disease caused by ____
(a) lack of water
(b) lack of vitamin C
(c) lack of meat in diet
10. What does rickets cause in those suffering from it?
(a) skin infection
(b) bone softening leading to skeletal deformities
(c) headache and cold
11. An advantage of playing indoor basketball is that it helps to burn calories.
True/False
12. When playing indoor volleyball a pair of knee pads is needed to protect your knees when you hit the floor to makes a play.
True/Not true
13. A person suffering from kwashiorkor will have a colour change in the skin and hair.
True/False
14. The size of a family can affect the kind of nutrition a family gets.
True/Not true
15. A small family with good income will have better nutrition.
True/Not true
Want more Objective Questions like this?
Get the Complete Physical and Health Education Exam Questions (Obj & Theory); In editable Ms-word format for any of the Primary/Basic 1 – 6 Classes.
What Others are downloading: Exam Questions for Primary School
P.H.E Theory Questions for Primary Schools
SECTION B: THEORY
ANSWER ALL QUESTIONS
1. List FOUR equipment and facilities used in football.
2. Name FOUR facilities and equipment used in basket ball.
3a. What is food nutrition?
3b. List the SIX sources of nutrition.
4. Give TWO examples each for THREE sources of nutrition.
5. Mention the diseases caused by lack of nutrition.