Printable OMR Answer Sheet for practice purpose on WAEC, NECO, FSLC, BECE, Common Entrance and Mock Examination.
OMR Sheet is a specially designed printout containing a unique pattern such as boxes, bubbles or circle.
Student or candidate have to make marks to fill these unique pattern using a pencil in most cases or black/blue pen.
once the processing of marking get over, the sheet are normally processed using an OMR Sheet reader software, and the information are converted into data.
Our printable OMR Mock Answer sheets can be used in a test, examination, quiz or assignments for quick and easy marking students' answers.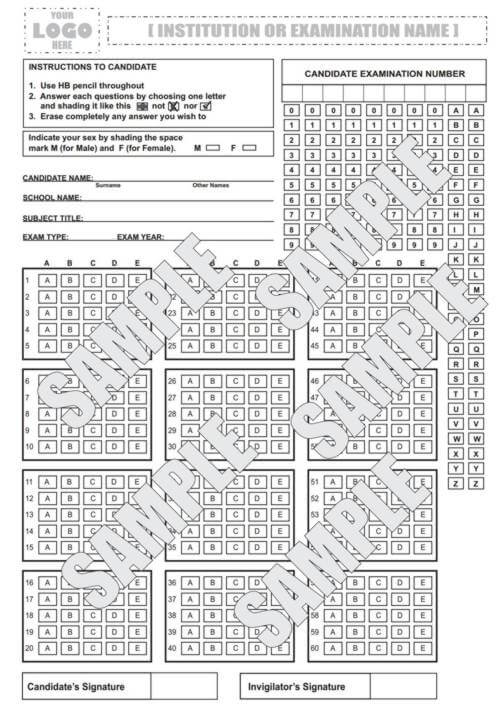 Feature of Our OMR Answer Sheet for SSCE & BECE Mock Exam
It is in PDF Format – ( best output for printing sheet as they were designed)
It is in CorelDraw CDR format – best for modification and customization. you can add colour or modify it (special request)
Printable – can be printed into hardcopy and used offline
Can be used for popular tasks – assessments, multiple choice question examination, students mark their answer.
Can be downloaded online – available are 60 Questions OMR sheet, 100 Questions OMR sheet, 150 Questions OMR sheet, 200 Questions OMR sheet
No Water Mark – the paid version does not come with watermark, so you can used it the way you want it after purchase.
Download Free Printable Sample of OMR Answer Sheet
Link 1: OMR Answer Sheet PDF Download
Link 2: OMR Answer Sheet PDF Download
Order List
a. 60 Questions OMR sheet
b. 100 Questions OMR sheet
c. 150 Questions OMR sheet
d. 200 Questions OMR sheet
How to Place Order
Pick from the order list a to d
Chat us up on whatsapp +2348051311885 to place your orders
Color of the OMR sheets
i. Black and White OMR Sheets –
It is recommended to use black and white OMR sheet if the marking pattern required candidate to fill boxes completely
ii. Colour OMR Sheet –
It is recommended to use coloured OMR Sheet if the marking pattern is a think mark or thin strokes.
Colour OMR Sheet make use of two colours either black and red; black and yellow; black and pink or black and orange
Refrain from using colour green and blue.
How to Fill OMR Sheet?
The OMR Sheet contain boxes, circle or bubbles, student or candidate are expected to shade this unique pattern.
They are some rules one has to follow to be able to fill any of these unique pattern accurately.
Filling the OMR Unique Pattern
Ink pens and gell pens should not be used to fill the OMR Sheet.
The unique pattern on the OMR Sheet should not be under-filled or over-filled, it should be filled completely.
The mark filled on the boxes, circle or bubbles should be dark enough.
Avoid making more than one answer option, unless multiples answer are expected in the questions.
Erasing on OMR Sheets
Pen – Avoid using blade or whitener to removed/hide marks made on the OMR Sheet with Pen
Pencil – marks should be removed/erased using a good eraser. ensure no smudges or partially erase marks are found on the sheet.
How to Handle OMR Sheets
The OMR sheets should not be pinned or stapled.
It is improper to punch holes on the OMR sheets or tie them.
One must refrain from crushing or folding the OMR sheet