Download Social Studies SOS Exam Questions Paper 1st, 2nd and 3rd Term for Primary Schools in Nigeria all Classes.
Teaching is really an interesting job, but for some factors like low pay, setting of exam questions, marking of students examination scripts and compilation of students results has made teaching job more stressful.
To help reduce the workload we have compiled all Social Studies exam question paper in MS Word from Primary one (1) to six (6);
To serve as a reference material;
To help teachers set tests and examination questions.
School pupils will also find it useful for revision and exam preparation.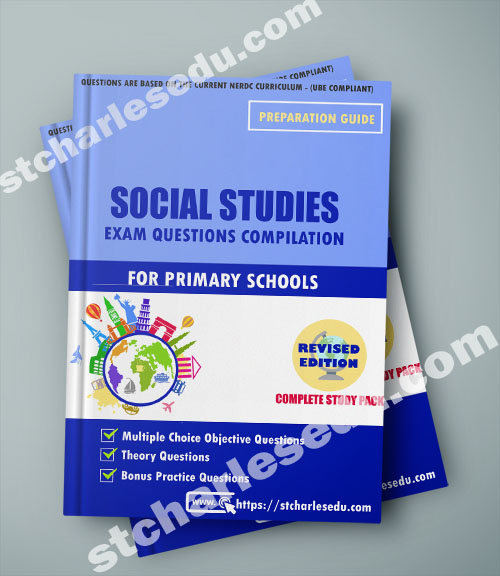 Social Studies Exam Questions for Primary School – Features
Is based on the Nerdc Curriculum.
Can be view and read on any Smart Phone
Can be Printed out into hard copy.
Can be obtain on Microsoft Word Format.
Can be Edited to suit your need.
The paid version has up to 50 Multiple Objective Questions to choose from
Out of Public Domain.
Available only to subscriber.
Primary 1 to 6 SOS Exam Questions – Benefit
The Benefit of Using Our Primary School Social Studies Exam Questions.
Teachers
As a teacher using our Multiple Exam Question source make teaching more interesting.
Reduce the workload.
You can modify the questions to suit your need.
You get best value for your money when you purchase from us.
Students
As a student it make you identify key areas to focus on.
Help you know your speed for the actual exam.
Give you confidence and make you relax on the deal day.
How to Download Nigeria Primary School Social Studies Questions
Step to get SOS Exam Questions for Primary (Basic 1 – 6 )
COST PATTERN
Here is an example of our Cultural and Creative arts exam questions for basic class 1-6 cost Pattern.
Primary 4 SOS 1st Term = N300
Primary 4 SOS 2nd Term = N300
Primary 4 SOS 3rd Term = N300
HOW TO PURCHASE
Make a Call.
Call or whatsapp us on 08051311885 for the account number to make payment;
And how to receive your complete copy of the past questions paper.
Mode of Payment.
Mobile Transfer, POS and Direct Bank Deposit.
After Payment
Send us the following:
Depositor Name.
Screenshot of either your Debit alert; Successful transaction notice or bank teller.
Name of Product Paid for; e.g Exam Questions for Social Studies (Basic 4)
Valid Email Address;
Lastly Call or whatsapp us for your payment verification and confirmation.
DELIVERY ASSURANCE
We will deliver the past question to you 5 mins after confirmation of payment to the email address you send to us.
Download Free SOS Exam Questions for Basic 3
Link 1: Social Studies Exam Questions
Link 2: Social Studies Exam Questions
Second Term Social Studies Questions for Primary 4
SECOND TERM EXAMINATION
SUBJECT: SOCIAL STUDIES
CLASS: BASIC/PRIMARY 4
DURATION: 1 HOUR
Social Studies Objective Questions For Primary 4
SECTION A: OBJECTIVE
INSTRUCTION: ANSWER ALL QUESTIONS
01. The way of life of people is known as ___
(a) dressing
(b) culture
(c) dancing
02. The three major ethnic groups in Nigeria are:
(a) Isoko, Yoruba and Igbo
(b) Hausa, Yoruba and Igbo
(c) Yoruba, Efik and Itsekiri
03. These are the languages in Nigeria EXCEPT ___
(a) Igala
(b) Urhobo
(c) French
04. The different ways in which people worship is called __
(a) tradition
(b) culture
(c) religion
05. Culture consists of the following elements EXCEPT __
(a) language
(b) dance
(c) sleep
06. The Yoruba's wear the following dresses EXCEPT __
(a) aso oke
(b) buba
(c) coat
07. The most popular food among the Igbo's is _____
(a) akpu
(b) amala
(c) pounded yam
08. The traditional worshippers worship in the _____
(a) church
(b) mosque
(c) shrine
09. One of the common thing to all religion is that all preach in one way or the other to add new _____ to their group.
(a) religion
(b) members
(c) church
10. Which of these are not elements of culture?
(a) festival and ceremony
(b) religion and clothes
(c) movement and friendship
11. How do the Urhobo people call God?
(a) Biko
(b) Sonobua
(c) Oghene
12. One reason why people have different beliefs and tradition is ___
(a) their history
(b) they like to be different
(c) they hate one another
13. Is language also an element of culture?
(a) No
(b) Yes
14. If we understand other people's beliefs and traditions, there will be good neighbourliness.
(a) Yes
(b) No
15. Is it good to respect other people's beliefs and tradition?
(a) Yes, it is good
(b) No, it is not good
Want more Objective Questions like this?
Get the Complete Social Studies Exam Questions (Obj & Theory); In editable Ms-word format for any of the Primary/Basic 1 – 6 Classes.
What Others are downloading: Exam Questions for Primary School
Social Studies Theory Questions for Primary Schools
SECTION B: THEORY
ANSWER ALL QUESTIONS
1a. What is culture?
1b. State THREE elements of culture.
2. Mention TWO traditions and customs we need to protect.
3. List out FOUR languages in Nigeria.
4. What is religion?5. List the THREE main religion practices in Nigeria.