The Advance NABTEB Level programme which is an A Level programme that sees students into 200 level of almost Southern/Eastern universities in Nigeria, including UNIBEN, Unilorin, etc and such candidates that pass the examination can study any course of their choice which includes but not limited to Medicine, Law, Business management, Accounting, Engineering, Performing Arts, etc.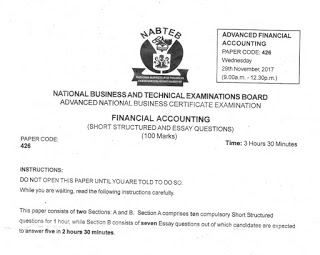 The past questions is compile for student that want to take the Advance Nabteb Examination, and may also be used by student who want to sit for any Advance Examination since the past question cover Advance level Syllabus, student preparing for such examination will find it useful for effective revision.
The past questions is aim at helping student to achieve success at first attempt in the Advance Nabteb Examination
The National Business and Technical Examinations Board, NABTEB Advance Past Questions and Answers FREE PDF can be downloaded here. These NABTEB A Level past questions are courtesy of the examination body. They are meant to help candidates who
have applied for the exam to adequately prepare for the examinations.
How to Download Advance NABTEB Past Questions in PDF
The Advance Nabteb Past Questions for each subject is divided into two section.
Sections A and B
Section A comprises of Ten Compulsory Short Structured Questions
Section B consist of either Seven or Ten questions, out of wish Candidates are expected to answer just five.
Section A is 1 hour, while Section B is 2 hours.
The following are Advance Nabteb Trade Test Course Past Questions that you can download;
General Education (Adv)
Salesmanship (Adv)
Financial Management (Adv)
Secretarial Duties (Adv)
Tourism (Adv)
Graphic Arts (Adv)
Textile Trades (Adv)
Printing Craft Practice (Adv)
Leather Goods Manufacture (Adv)
Ladies Garment Making (Adv)
Ladies Garment Making (Adv)
Plumbing And Pipe-Fitting (Adv)
Machine Wood Working (Adv)
Furniture Making (Adv)
Carpentry And Joinery (Adv)
Brick/Blocklaying And Concreting (Adv)
Photographic Practice (Adv)
Animal Husbandry (Adv)
Computer Craft Studies (Adv)
Foundry Craft Practice (Adv)
Vehicle Body Building (Adv)
Refrigeration And Air-Conditioning Works (Adv)
Electronic Works (Adv)
Mechanical Engineering Craft Practice (Adv)
Fabrication And Welding (Adv)
Electrical Installation And Maintenance Works (Adv)
Motor Vehicle Mechanics Works (Adv)
Agricultural Equipment And Implement Mechanic Works (Adv)


NABTEB Advance Level Past Questions. You can now download your original NABTEB Past Questions from our past question database and read for your NABTEB Advance Level exam that is coming soon.