Jamb Multiple Registration: How to Upload Your Look Alike Information…. If you received the following SMS from JAMB: Your Name. Your result withheld as multiple registration probability. Log into your profile immediately and carry out the instructions. This article will guide you on how to go about clarifying it.
Dear Candidate, your result has been withheld due to what appears as multiple registration matched by face or fingerprint. You are therefore required to upload the following documents:
1. Your Birth certificate
2. Your WAEC/NECO certificate
3. Where you do not have your WAEC/NECO certificate, please provide Examination number.
4. Required Look alike information: Also load same information for your look alike or any person who may have used any fingers for your registration.
If you have a genuine case, this is the platform to use to clarify your status.
How to Update Your Jamb Look Alike Information
Here are the Step to follow.
1. Visit the Jamb Portal https://www.jamb.org.ng/efacility../
2. Type in the jamb profile email address and password.
3. Click on Login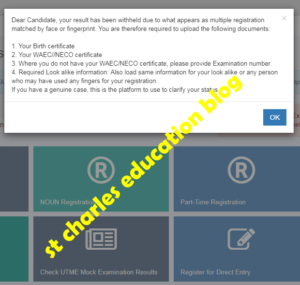 How to Access Your Jamb Look Alike Information
4. Click on the link Registration 2019 Only, a drop down menu will appear.
5. Select and Click on the Link Look-Alike Information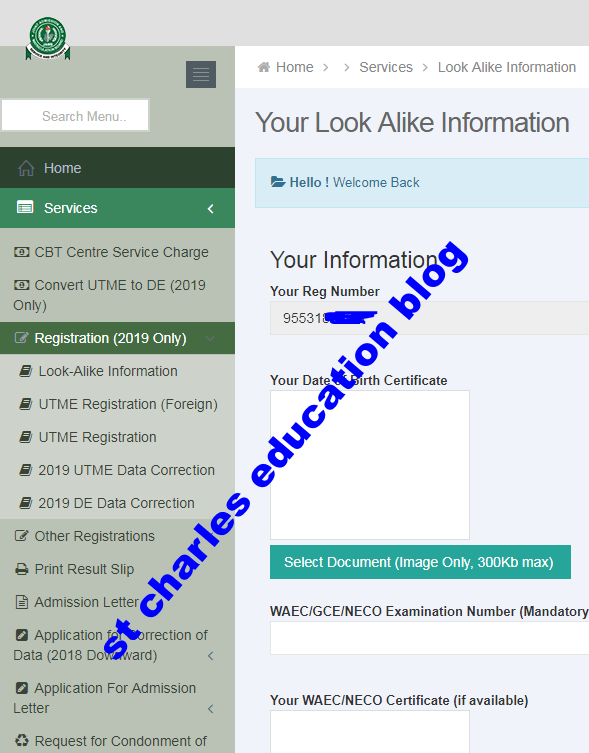 How to Upload Your JAMB Look Alike Information.
6. On Your JAMB Look Alike Information Dashboard do the following.
– Upload your Date of Birth Certificate
– Upload your WAEC/GCE/NECO Certificate (if Available)
– Type in your WAEC/GCE/NECO Examination Number (Mandatory)
– Select the Desired state where physical inspection can be carried out
Read Also

How to Retrieve Your Lost Jamb Login Details
Jamb Multiple Registration Other Relevant Documents
If you have other relevant supporting documents, such as Driver Licence, National Identification Card, Voters Card e.t.c It can be uploaded on this section.
7. When you are done, click on Submit.
Note: Each Uploaded Document Should not be more than 300kb
Deadline for Jamb Multiple Registration Clarification Upload
Here is an extract of the message we got when we log into a candidate profile that is yet to upload his evidence
Text, Email and Profile message sent to you to upload all evidence you have but up till now, you have not. You are given 7 days from 22nd to 29th May, 2019 to Upload otherwise, the Board will take appropriate decision on your application/examination.