What is NECO Result Checker Token? NECO Result Checker token also know as NECO result token, is a 12 digits numerical pin, used to check the following examination result online, starting from the year 2018. SSCE Internal, Jun/July SSCE External Nov/Dec National Common Entrance Examination Basic Education Certification Examination.
NECO is an abbreviation for National Examination Council, the body responsible for the conduct of Senior Secondary Certificate Examination and the General Certificate in Education in June/July and December/January respectively in Nigeria.
How Much is Neco Result Checker Token
By the way, speaking about how much it cost and our selling price, you will need to pay only N1000. Quite affordable, isn't it? In addition to this, we will show you step by step procedure on how you can check your neco result yourself after purchasing it from us, if you already have the pin, you can still make use of the link.
neco token pin
Advantages of Purchasing NECO Result Checker Token from Us
There are several advantages of purchasing NECO Result Checker Token from us, here we list out, the top 5 benefit why you should buy from us.
1. The foremost reason is that we are trustworthy and reliable.
2. We deliver your neco token pin on time, Maximum of 30 minutes after confirmation of payment.
3. One of the most important reason to purchase online from us, is that you do not need to travel. distances looking for NECO office, just pay to our account and get the token pin deliver to you by SMS (Text Message) or if you are using whatsapp, will screenshot it for you.
4. Another reason is that we provide full assistance – we can assist you in checking it.
5. Last but not the least, we have the best price.
How to Buy NECO Result Checker Token for SSCE (Internal & External Candidate) BECE and NCEE
Step 1. Call or whatsapp me on 08051311885
Step 2. PAYMENT PROCEDURE
After payment of the said amount (N1000) into any of the Bank account I will send to you on request. Send an sms in this format stated below to this mobile/whatsapp number 08051311885. • Depositor Name (your full name) • Teller no or snap proof of transfer • Email address: • Services Paid for: ATM, Mobile and Online Money transfer also accepted.
How to Check NECO Result Online using Token.
1. First, you need to signup by following this link https://result.neco.gov.ng/register
Requirement to Complete signup a Valid email address, an active phone number
Secondly, visit this link https://result.neco.gov.ng/login after you have successful signup or create account. 2. Type in your username ( your email address or phone number) and Password
3. Click on Login.
4. Click on the link Check Result.
5. Type in the 12 digit neco token.
6. Type in your Exam Number (this comprise of 8digit and 2 alphabet)
7. Select the year result you want to check from the drop-down menu.
8. Select the exam type you want to check from the drop-down menu.
9. Click on check Result.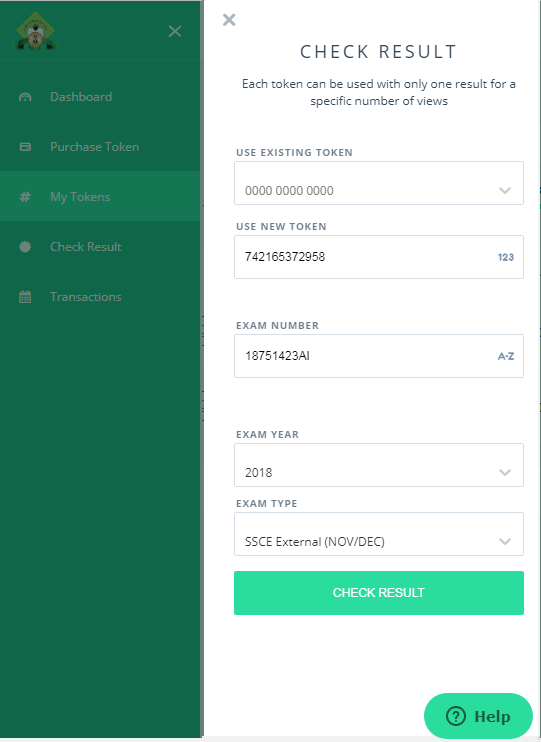 Can I see a sample of the current NECO Result Image
Here is a picture sample of the recent the result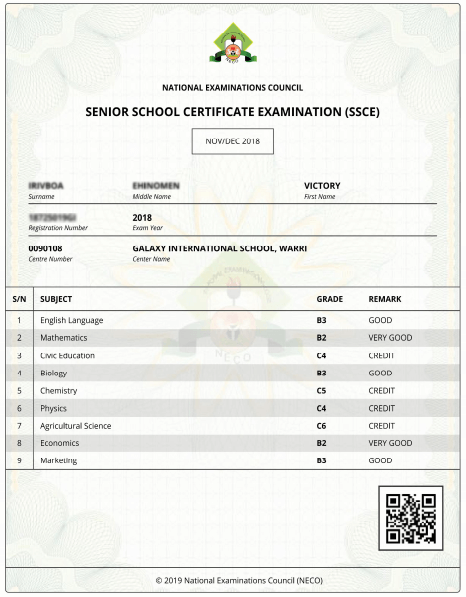 Can I Use One Token to check two NECO Results
No. A token can only be used to check just one result for a given registration number, you can not used it to check result for more than two registration number.
How many times can I check my result with a token
A token, can used to check result for a given registration number five times, after that, that said token will be exhausted and you have to purchase a new one, to recheck that result for that same registration number.
Video How to Check NECO Result Using Token