Download Agricultural Science (Agric Sci) Exam Questions Paper 1st, 2nd and 3rd Term for Primary Schools in Nigeria all Classes.
Teaching is really an interesting job, but for some factors like low pay, setting of exam questions, marking of students examination scripts and compilation of students results has made teaching job more stressful.
To help reduce the workload we have compiled all Agricultural Science exam question paper in MS Word from Primary one (1) to six (6);
To serve as a reference material;
To help teachers set tests and examination questions.
School pupils will also find it useful for revision and exam preparation.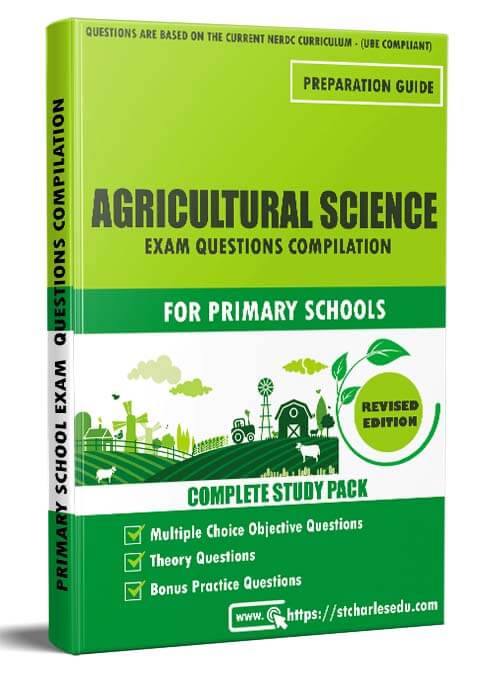 Agricultural Science Exam Questions for Primary School – Features
Is based on the Nerdc Curriculum.
Can be view and read on any Smart Phone
Can be Printed out into hard copy.
Can be obtain on Micro-Soft Word Format.
Can be Edited to suit your need.
The paid version has up to 50 Multiple Choice Objective Questions to choose from
Out of Public Domain.
Available only to subscriber.
Primary 1 to 6 Agric Sci Exam Questions – Benefit
The Benefit of Using Our Primary School Agricultural Science Exam Questions.
Teachers
As a teacher using our Multiple Exam Question source make teaching more interesting.
Reduce the workload.
You can modify the questions to suit your need.
You get best value for your money when you purchase from us.
Students
As a student it make you identify key areas to focus on.
Help you know your speed for the actual exam.
Give you confidence and make you relax on the deal day.
How to Get Primary School Agric Sci Exam Questions
Step to get Agric Sci Exam Questions for Primary (Basic 1 – 6 )
COST PATTERN
Here is an example of our Agricultural Sci exam questions for basic class 1-6 cost Pattern.
Primary 4 Agric Sci 1st Term = N300
Primary 4 Agric Sci 2nd Term = N300
Primary 4 Agric Sci 3rd Term = N300
HOW TO PURCHASE
Make a Call.
Call or whatsapp us on 08051311885 for the account number to make payment;
And how to receive your complete copy of the past questions paper.
Mode of Payment.
Mobile Transfer, POS and Direct Bank Deposit.
After Payment
Send us the following:
Depositor Name.
Screenshot of either your Debit alert; Successful transaction notice or bank teller.
Name of Product Paid for; e.g Exam Questions for Cultural and Creative arts (Basic 4)
Valid Email Address;
Lastly Call or whatsapp us for your payment verification and confirmation.
DELIVERY ASSURANCE
We will deliver the past question to you 10 mins after confirmation of payment to the email address you send to us.
Download Free Agric Sci Exam Question for Basic 4
Link 1 Agric Sci Exam Questions
Link 2 Agric Sci Exam Questions
Agricultural Science Questions for Primary 4 First Term Exam
FIRST TERM EXAMINATION
SUBJECT: AGRICULTURAL SCIENCE
CLASS: BASIC/PRIMARY 4
DURATION: 1 HOUR
Objective Questions on Agricultural Science for Primary 4
SECTION A: OBJECTIVE
INSTRUCTION: ANSWER ALL QUESTIONS
01. Agriculture means _______
(a) A study that deals with Cultivation of Crops, rearing of animal, processing and selling of Agricultural product
(b) seed planting
(c) Air Cultivation
02. ______ is not an importance of Agriculture to Nigeria
(a) Provision of employment
(b) food production
(c) Keeping just a few people happy
03. Which of the following is an agricultural activity?
(a) Cultivation of land
(b) Planting of crops
(c) A & B
04. ____ is a man whose job is farming
(a) Labourer
(b) Gardener
(c) Farmer
05. ____ is the layer of the earth in which we grow plants
(a) Soil
(b) Field
(c) Land
06. Which of these is not a kind of Soil?
(a) Ash Soil
(b) Clay Soil
(c) Loamy Soil
07. Which of the following best describes a Sandy Soil?
(a) A soil that holds very little water
(b) Soil that consist of clay particles
(c) Soil that can hold much water
08. _______ is sticky and heavy if wet
(a) Loamy Soil
(b) Sandy Soil
(c) Clay Soil
09. Which of the following statements is not true of soils?
(a) Soils are made up of mixture particles
(b) Soils are all the same
(c) Soil support plant life
10.______ is used for cutting down trees and chopping of woods
(a) Cutlass
(b) Trowels
(c) Diggers
11. ______ is used for carrying small loads about in the farm
(a) Watering can
(b) Wheel Barrow
(c) Seed box
12. The removal of the top soil either by wind or water is known as ____
(a) Rainfall
(b) Erosion
(c) Drainage
13. _____ is not a vegetable
(a) Onion
(b) Tomato
(c) Sweet Potatoes
14. Which of these is a vegetable?
(a) Rice
(b) Pepper
(c) Tomato
15. Which of these is not a fruit?
(a) Banana
(b) Cassava
(c) Mango
Want more Objective Multiple Choice Questions like this?
Get the Complete Agricultural Science Exam Questions (Obj & Theory); In editable Ms-word format for any of the Primary/Basic 1 – 6 Classes.
What Others are download Exam Questions for Primary School
Agric Science Theory Questions for Basic/Primary 4
SECTION B (Theory)
Instruction: Answer all Question
1a. Define Erosion
1b. List the types of Erosion
1c. Mention the agents that causes erosion
2a. What is Agriculture?
2b. Mention 5 explain 2 importance of Agriculture
2c. List 5 people involved in Agricultural activities.
3a. Define Soil
3b. List and explain the types of soil
3c. Complete the table below
4a. Differentiate between Animal farm Tools and Crop farm tools
4b. List 5 examples of fishing farm tools
4c. Mention 4 ways of maintaining and caring of farm tools
5a. What is Soil Fertility?
5b. Mention 3 Ways of making the soil fertile
5c. Explain the different method of how fertilizers are applied