The Food and Nutrition Exam Questions for SS1, SS2 or SS3 all Term (First, Second and Third) are available at stcharlesedu.com
On this page we have uploaded a free copy of the Senior Secondary School SS2 Second Term Food and Nutrition Exam Questions.
Teacher and student can now have an idea on how the Test/Exam questions for SS1-3 look like.
Before a student is promoted into the next class, he/she is expected to pass the above subject.
Most Student do fail or perform below expectation, as a result of this, we have compiled Food and Nutrition Test /Exam Questions for student preparing for test or examination.
The SS1, SS2 & SS3 exam questions served as a reference material and also help teacher to set test and exam question.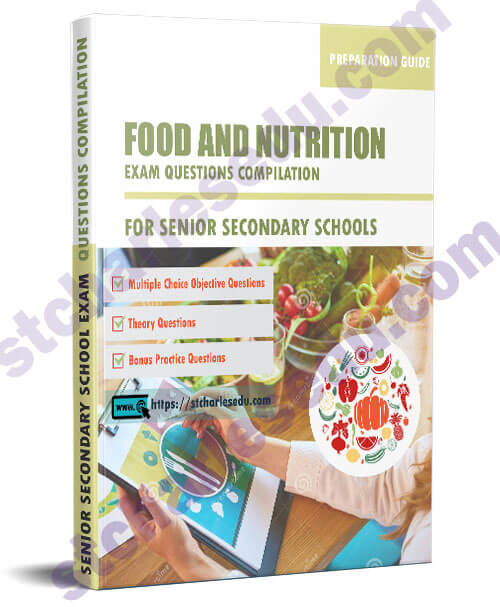 Food and Nutr. Multiple Choice Questions and Essay
Is based on the Nerdc Curriculum.
Can be view and read on any Smart Phone
Can be Printed out into hard copy.
Can be obtain on Micro-Soft Word Format.
Can be Edited to suit your need.
The paid version has up to 60 Multiple Objective Questions to choose from
Out of Public Domain.
Available only to subscriber.
Questions Based on Food and Nutr.
The Benefit of Using Our Senior Secondary School Food and Nutr. Exam Questions.
Teachers
As a teacher using our Multiple Exam Question source make teaching more interesting.
Reduce the workload.
You can modify the questions to suit your need.
You get best value for your money when you purchase from us.
Students
As a student it make you identify key areas to focus on.
Help you know your speed for the actual exam.
Give you confidence and make you relax on the deal day.
What Others are downloading
Food & Nutr. Scheme of Work
Food & Nutr. SS1-3 Exam Questions
Food & Nutr. SSCE Past Questions and Answers – WAEC, NECO, NABTEB
TD Lesson Note
How to Download Food and Nutrition Test/Exam Questions
Step to get Food and Nutr. Exam Questions for SSS ( 1 – 3 )
COST PATTERN
Here is an example of our Food & Nutrition exam questions for SS 1-3 cost Pattern.
SS 2 Food & Nutr 1st Term = N400
SS 2 Food & Nutr 2nd Term = N400
SS 2 Food & Nutr 3rd Term = N400
HOW TO PURCHASE
Take Action
Call or whatsapp us on 08051311885 for the account number to make payment;
And how to receive your complete copy of the past questions paper.
Mode of Payment.
Mobile Transfer, POS and Direct Bank Deposit.
After Payment
Send us the following:
Depositor Name.
Screenshot of either your Debit alert; Successful transaction notice or bank teller.
Name of Product Paid for; e.g Food and Nutrition Exam Questions for SS2
Valid Email Address;
Lastly Call or whatsapp us for your payment verification and confirmation.
DELIVERY ASSURANCE
We will deliver the past question to you 10 mins after confirmation of payment to the email address you send to us.
Download Free SS1 Government objective/Theory Questions for second term
Link 1 Food and Nutr. Exam Questions
Link 2 Food and Nutr. Exam Questions
Food and Nutrition Exam Questions for SS2 First Term
DURATION: 1 ½ HOURS
Answer all Questions in Section A and three (3) Questions in Section B

SECTION A: (Objective Test: choose the option from a-d)
SS2 Food and Nutrition Objective Questions
1.Which of the following kitchen equipment is best used when cooking tough cuts of meat?
(a) omellet pan
(b) pressure cooker
(c) sauce pan
(d) poacher.
2. The tool used to hold meat together while grilling is …….
(a) colander
(b) frying pan
(c) knife
(d) skewer.
3. Equipment storage can be classified into their ……
(a) make –up
(b) durability
(c) usage
(d) build up
4. A well planned storage of equipment will help prevent all of these EXCEPT ……..
(a) spoilage
(b) bad cooking
(c) spillage
(d) breakage
5. Food slicer is used for …….
(a) cooking
(b) baking
(c) slicing of meat
(d) slicing of all food items
6. Excessive bending causes ……
(a) back strain
(b) head ache
(c) tiredness
(d) night blindness
7. Always avoid wishful ……
(a) dance
(b) talking
(c) thinking
(d) jugging
8. Nervousness and anxiety consume ……
(a) energy
(b) time
(c) joy
(d) stress
9. Kitchen hygiene is practice so that the———
(a) house wife can maintain high standard of work
(b) kitchen can look attractive
(c) house wife can have a clean house
(d) health of the family members can be ensured
10. What is the collective name for wheat, rice, maize, and millet?
(a) fruits
(b) legumes
(c) cereals
(d) seeds
11. The collective name for wheat protein is——–
(a) gluten
(b) myosin
(c) zein
(d) glutelin
12. Which of the following is not a legume?
(a) melon
(b) breadfruit
(c) groundnut
(d) soya beans
13. Vegetables are best classified as ……
(a) root, leaves, bulb and tuber
(b) fresh fried cooked and pulses
(c) seed leaves stalk and pulses
(d) pulses bulbs flowers and stalks.
14. Mixer contains ……
(a) cups
(b) iron
(c) bottles
(d) beaters.
15. Which of the following is not a factor to be considered when choosing labour saving devices?
(a) money available
(b) nature of the food
(c) durability
(d) colour of the equipment.
16. …….can be used to accomplish more task
(a) time management
(b)energy management.
(c) money management.
(d) resources
17. Which of this is not a guideline for energy management.
(a) sit to work
(b) organise storage and work areas
(c) adjust working height
(d) avoid attempting to do much.
18. Labour saving devices used for pureeing ingredients is called …….
(a) rolling pin
(b) mortar
(c) blender
(d) whisk
19. The following are ways of caring for pressure cooker EXCEPT……
(a) follow instruction for use
(b) wash with warm soapy water
(c) rinse and dry before storing
(d) wrap immediately after use.
20. Which of the following is large kitchen equipment?
(a) Refrigerator
(b) sauce pan
(c) pastry bowl
(d) mincer.
21. Which of the following is not an importance of labour saving device?
(a) it reduces boredom
(b) it creates free time
(c) it cuts down number of movement
(d) it creates monotony of work.
22. …….is used for making cakes and pastry?
(a) Spoon
(b) Spatula
(c) Mixer
(d) Fork.
23. Which of the following is a free time?
(a) time not devoted to work or sleep
(b) time devoted to sleep
(c) time devoted to leisure
(d) time devoted to job
24. Time is a special resource that cannot ……. for later use.
(a) store
(b) reach
(c) waste
(d) used.
25. Energy management eliminates.
(a) fatigue
(b) hunger
(c) waste
(d) rest.
Want more Objective Questions like this?
Get the Complete Food and Nutr. Exam Questions (Obj & Theory);
In editable Ms-word format for any of the SS 1 – 3 Classes from us
What Others are downloading Exam Questions for Senior Secondary School
Essay Questions on Food and Nutrition
SECTION B – Essay – Questions
Answer all the questions.
1. List 5 factors to consider when choosing labour saving devices
2. List 5 importance of time management
3. List any five labour saving devices in food preparation and state their uses.
4. List 5 importance of Labour Saving devices.
Want more THEORY Questions like this?
Get the Complete Food and Nutrition Exam Questions (Obj & Theory);
In editable Ms-word format for any of the SS 1 – 3 Classes from us