The Visual Art VA Exam Questions Paper for SS1, SS2 and SS3 – 1st, 2nd and 3rd Term is available for download at stcharlesedu.com.
On this page we have uploaded a free copy of the SS3 First Term Visual Art Exam Questions Paper in PDF
Teacher and student can now have a feel of how the questions for SS1-3 look like.
Before a student is promoted into the next class, he/she is expected to at least have a pass in the above subject.
Most Student do fail or perform below expectation, as a result of this, we have compiled Visual Art exam questions for student preparing for test or examination
The SS1, SS2 & SS3 VA exam questions served as a reference material and also help teacher to set test and examination question.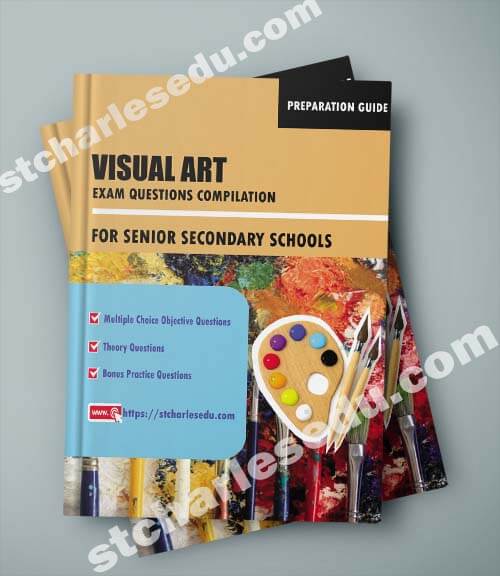 Visual Art Exam Questions for Senior Secondary School – Features
Is based on the Nerdc Curriculum.
Can be view and read on any Smart Phone
Can be Printed out into hard copy.
Can be obtain on Micro-Soft Word Format.
Can be Edited to suit your need.
The paid version has up to 50 Multiple Objective Questions to choose from
Out of Public Domain.
Available only to subscriber.
Visual Art Exam Questions Paper SS1-3 – Benefit
The Benefit of Using Our Junior Secondary School Physical and Health Education Exam Questions.
Teachers
As a teacher using our Multiple Exam Question source make teaching more interesting.
Reduce the workload.
You can modify the questions to suit your need.
You get best value for your money when you purchase from us.
Students
As a student it make you identify key areas to focus on.
Help you know your speed for the actual exam.
Give you confidence and make you relax on the deal day.
How to Get Senior Secondary School Visual Art Exam Questions
Step to get Visual Art VA Exam Questions for SSS ( 1 – 3 )
COST PATTERN
Here is an example of our Visual Art exam questions for SSS class 1-3 cost Pattern.
SS 3 VA 1st Term = N300
SS 3 VA 2nd Term = N300
SS 3 VA 3rd Term = N300
HOW TO PURCHASE
Make a Call.
Call or whatsapp us on 08051311885 for the account number to make payment;
And how to receive your complete copy of the past questions paper.
Mode of Payment.
Mobile Transfer, POS and Direct Bank Deposit.
After Payment
Send us the following:
Depositor Name.
Screenshot of either your Debit alert; Successful transaction notice or bank teller.
Name of Product Paid for; e.g Exam Questions for Visual Art (SS 3)
Valid Email Address;
Lastly Call or whatsapp us for your payment verification and confirmation.
DELIVERY ASSURANCE
We will deliver the past question to you 10 mins after confirmation of payment to the email address you send to us.
Download Free Visual Art Exam Question for SSS 3
Link 1 VA Exam Questions
Link 2 VA Exam Questions
FIRST TERM EXAMINATION
SUBJECT: VISUAL ARTS
CLASS: SS 3
DURATION: 2 HOURS
Visual Arts Multiple Choice Objective Questions for SS3 1st Term
SECTION A: OBJECTIVE
INSTRUCTION: ANSWER ALL QUESTIONS
Both capital and small letters are otherwise known as______ respectively.
a) Long and short case
b) Oriental and continental
c) Upper and lower case
d) Bold & narrow
The first and most important elements of art is
a) colour
b) line
c) ART
d) shape
Which of the following is associated with BATIK.
a) Developer.
b) Tool
c) Thread.
d) Wax
Light and shade are used in drawing and painting to show __
a) Proportion
b) solidity
c) Beauty
d) Skill
The term MURAL suggests _
a) Still life Painting
b) General painting
c) Wall painting
d) Human figure painting.
Music is the art of combining sounds in a manner that is agreeable to the _
a) Eyes
b) Head
c) Hands
d) Ear
Which of the following in not a local craft business
a) Teaching
b) Calabash decoration
c) Mat weaving
d) Leather work.
Mosaic work are basically for_____ purpose
a) decoration
b) Appreciation
c) spiritual
d) worship
Colour seen at a distance appeared __
a) are primary colour
b) retained their freshness
c) fade away
d) are secondary colour
Imaginative composition is a type of _____ &_____
a) Drawing & Painting
b) Drawing & Textile
c) Graphics & Painting
d) Sculpture & Painting.
One of the following is related to painting
a) Pencil
b) image
c) tone
d) foreshortening
Basic shapes are referred to as _
a) Geometrical shapes
b) box shapes
c) triangular shapes
d) circular shapes
One of the following gives supports to a sculptural work
a) calipers
b) sawdust
c) sand and cement
d) Armature.
Shading with lines is techniques called_________
a) Tonal value
b) pointillism
c) hatching
d) blurry.
The artist who creates a lots of pattern and design stands a chance to be employed in __
a) A textile factory
b) a media house
c) a school
d) a television house.
Most of the earlymans art works represent
a) Figure drawing
b) Hunting scenes
c) Festival activities
d) Man and his environment.
_____is an example of still-life object
a) ball
b) leaf
c) sun wood
d) Moon.
Rubber gloves is a material needed during _ exercise.
a) Drawing
b) Swimming
c) chemical process
d) Dyeing.
Axe is a symbol associated with
a) Obatala
b) Sango
c) Ogboni
d) Agemo.
Angular perspective has to do with __
a) line
b) Shape
c) Angeles
d) Tone.
Coiling and Pinching are methods used in
a) Painting
b) Sculpture
c) Pottery
d) Graphics
__ is a pigment produced in the eye through the ray of light
a) drawing
b) tone
c) coloured
d) colour.
The early man wrote and drew on _
a) His palm b) Paper
c) Outside his cave
d) At the wall of his cave.
Letters can be classified into____
a) Romans and Italy
b) Egyptian and Romans
c) Block and Scripts
d) Cap and low.
One of the following is NOT a of arts
a) Provision
b) decoration
c) Beautification
d) Therapy
Another name for FABRIC in artistic term is __
a) Calico
b) Pen
c) clothes
d) Cloth
An artist who carves wood is called a _
a) Curator
b) Sculptor
c) Module
d) Carpenter
A technique through which an artist Shade with dots is called___
a) Tonal value
b) pointillism
c) dots d) blurry.
A building set aside for keeping and display of art works for historical and record purposes is called___
a) Art room
b) Museum
c) Gallery
d) Studio.
One of the following is NOT an art tool
a) Drama
b) cardboard
c) colours
d) painting Bruch.
Want more Objective Questions like this?
Get the Complete Visual Art Exam Questions (Obj & Theory); In editable Ms-word format for any of the SS 1 – 3 Classes.
What Others are downloading Exam Questions for Senior Secondary School
Theory Visual Art Exam Questions
SECTION B. (ANSWER 3 QUESTIONS ONLY).
1) Give the meaning of any five of the following arts terminologies
I) Eye level
II) Three dimensional arts
III) Carving
IV) Terra cotta.
V) Line of vision
VI) Tie –dye
VII) Impasto
VIII) Glazing.
2a) What is Relief sculpture ?
2b) List the three techniques of sculpture
2c) explain any two of the techniques mentioned above.
3a) What is Photography
3b) Discuss the content of the information in a GREETING CARD design.
3c) Discuss any three types of Museum.
Want more Theory Questions like this?
Get the Complete Visual Art Exam Questions (Obj & Theory); In editable Ms-word format for any of the SS 1 – 3 Classes.