Do you need JSS3 Basic Education Certificate Examination BECE Cultural and Creative Art CCA Past Questions and Answer?
Do you want to download Junior WAEC CCA Objective and Theory Questions and Answer.
we at stcharlesedu.com has compiled all BECE CCA objective and Theory past question & answer till date.
This past questions will give you an over-view and nature of the exams.
Our research has confirm that candidate that who uses Junior WAEC Cultural and Creative Art Past Questions Paper to prepare for Basic Certificate Examination BECE is ten times better than those who do not.
Read Also. Study/Read Online Free BECE JSS3 Exam Past Questions for: Mathematics, English Language, Home Economics, Pre vocational Studies and National Value
Summary Benefit of the BECE Past Questions – Junior WAEC
Pointer to Area of Concentration.
Help you know your speed for the actual exam.
Predict the outcome of the upcoming exam question.
Let one know if he/she has adequately prepared for the exam.
Give you confidence and make you relax on the deal day.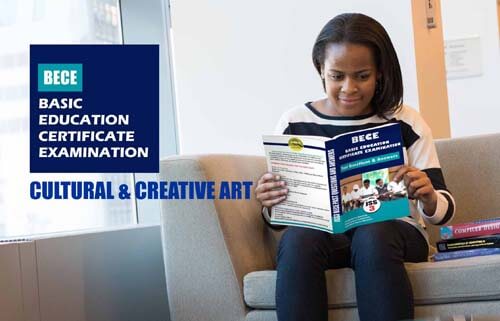 How to Get BECE Past Questions – All Subjects
How to get Basic Education Certificate Examination Past Questions and Answer for Cultural and Creative Art or any other BECE subjects.
Below are the steps to follow to download your copy of the past JSS3 Promotional Examination questions.
Make a Call.
Call or whatsapp us on 08051311885 for the account number to make payment;
And how to received your complete copy of the past questions paper.
Mode of Payment.
Mobile Transfer, POS and Direct Bank Deposit.
After Payment
Send us the following:
Depositor Name.
Screenshot of either your Debit alert; Successful transaction notice or bank teller.
Name of Product Paid for; e.g BECE Past Questions CCA
Valid Email Address;
Lastly Call or whatsapp us for your payment verification and confirmation.
DELIVERY ASSURANCE
We will deliver the past question to you 10 mins after confirmation of payment to the email address you send to us.
Read/Download BECE CCA Past Questions for Junior WAEC
Ministry of Basic Education
Examination Board
2018 Basic Education Certificate Examination
Attempt all Question
You are advised to work completely on your own
INSTRUCTION: From the options lettered A-D, choose the word that is correctly used to fill in the blank spaces.
BECE CCA Objectives Questions 2018 Extract
1. One of the following is a function of craft.
A. Beautification
B. Painting
C. Shading
D. Toning
2._______ town is noted for bead work.
A. Abeokuta
B. Bida
C. Enugu
D. Lagos
3. The highest voice in the male category is called
A. alto.
B. bass.
C. soprano.
D. tenor.
4.One of the following can be grouped under two dimensional art.
A. Ceramics
B. Craft
C. Drawing
D. Sculpture
5. One of the following can be grouped under applied art.
A. Drawing
B. Painting
C. Sculpture
D. Textiles
6. A design composed of stones, glasses, buttons is known as
A. bead making.
B. collage.
C. mosaic.
D. paper mache.
7. ______ is the use of pulp from paper for modeling objects and figure.
A. Collage
B. Mosaic
C. Paper Mache
D. Printing
8. ______is known for pottery.
A. Abeokuta
B. Kano
C. Nok village
D. Oyo
9 ______ is noted for Calabash decoration.
A. Abeokuta
B. Benin
C. Nok village
D. Oyo
10. There are types of loom.
A. 4
B. 2
C. 6
D. 3
11. In music, we do the following except
A. singing.
B. dancing.
C. playing musical instrument.
D. swimming.
12 ______ is used for mixing colours.
A. Brush
B. Pencil
C. Palette
D. Squeeze
13 _____ is the movement of the body to music in a rhythmic way to an emotion, feeling or idea.
A. Moving
B. Walking
C. Dance
D. Sing
14.How many of the English Alphabets is used in Music?
A. 12
B. 40
C. 7
D. 3
15. Choose from the options below, the correct ascending order for the solfa notation.
A. d:r:m:f:s:l:t:d
B. d:r:t:f:s:l:m:d
C. d:f:m:r:s:l:t:d
D. d:r:l:f:s:f:t:d
16 is the physical area where dancing activities or performance take place.
A. Mind
B. Body
C. Time
D. space
17. The amount of energy used or exerted during the process of dancing is known as
A. force.
B. time.
C. speaking.
D. space.
18. Ceremonial dances are dances that originated from people cultures.
A. memorial
B. traditional
C. modern
D. coral
19. The similarities between Esie and Tsoede is
A. clay.
B. ivory.
C. stone.
D. wood.
20. The colour used for tinting is
A. blue
B. purple
C. red
D. white
21. In tonic sol-fa, the letter d: represents….
A. doh.
B. dough.
C. doe.
D. doo.
22. originated from the people's culture.
A. Ceremonial dance
B. Hip-hop
C. Ballet
D. Ballroom dance
23. Koroso dance is performed chiefly by the _____people.
A. Igbo
B. Hausa/Fulani
C. Edo
D. Urhobo
24. A person who plays a flute is called a
A. fluter.
B. fluture.
C. flutist.
D. fluturist.
25. A good ____hears the sound as well as the messages of the music.
A. musician
B. song
C. listener
D. person
26. Binary form of music is also called ________
A. A.B.A.
B. B.A.C.
C. C.B.A.
D. A.C.D.
27. Voice music refers to _________
A. baroque music.
B. religious music.
C. folk music.
D. vocal music.
Essay Questions on Cultural and Creative Arts
SECTION B (THEORY)
INSTRUCTION: Answer all questions. All questions carry equal marks.
1. Write short note on the following:
i. Sculpture
ii. Modelling
iii. Carving
iv. Clay Slip
v. Weaving
2a. What is Drama?
2b. State 4 functions of Drama
2c. List 2 persons in Drama production
2d. Mention 2 forms of Drama.
3a. What is the meaning of teamwork?
3b. State the Importance of teamwork.
Click Like below to Join our BECE Facebook Page

Junior WAEC CCA Objective Answers 2018
1. A
2. A
3. B
4. C
5. D
6. C
7. C
8. BONUS
9. D
10. B
11. D
12. C
13. C
14. C
15. A
16. D
17. A
18. B
19. C
20. D
21. A
22. A
23. A
24. C
25. A
26. A
27. D