Download Now! The West Africa Senior School Certificate Examination WASSCE/ WAEC Wood Work Past Questions and Answers
Are you writing the West African Examination Council WAEC Internal/External exam? If yes you need the WAEC WoodWork Past Questions & Answers
we at stcharlesedu.com has compiled a good number of Wood-Work WASSCE Past Questions in pdf.
Wood Work Paper 1 – Objective Test Questions
Wood Work Paper 2 – Essay or Theory Questions
Over the years, we have received sms and call from student who used the past questions, testifying the tremendous role it play in making them come out in flying colour.
What others are downloading

WAEC Past Questions for all Subjects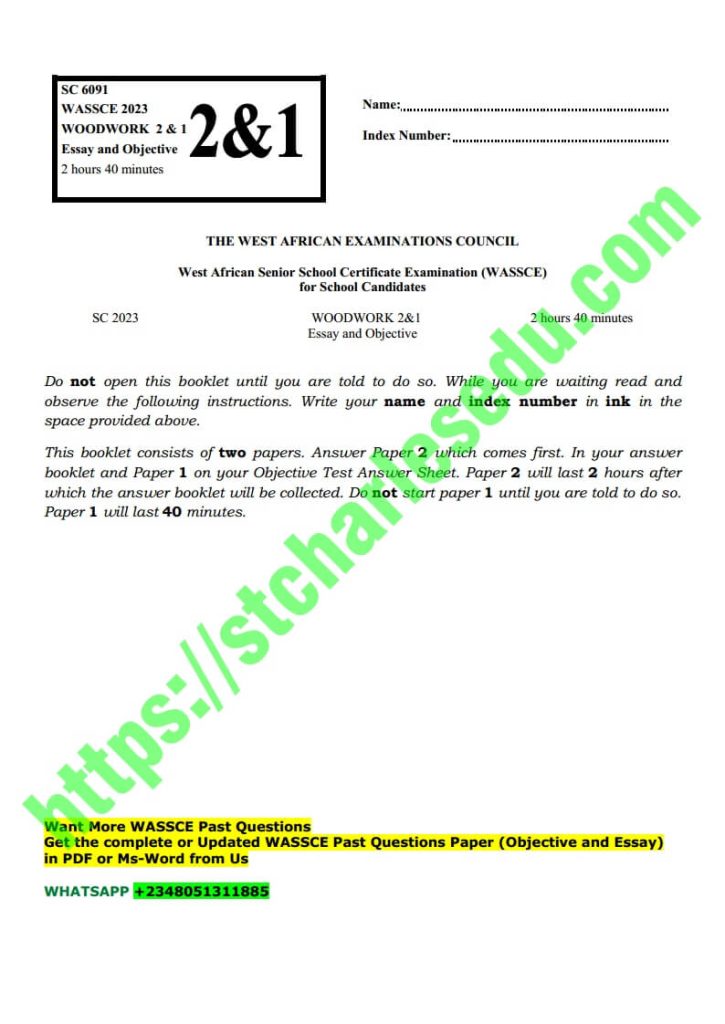 WASSCE Wood Work Questions
Metal-Work 1
Objective Test
1 hour
[40 marks]
Answer all the questions.
Each questions is followed by four option lettered A to D. Find the correct option for each questions and shade in pencil on your answer sheet the answer space which bears the same letter as the option you have chosen. Give only one answer to each question. An example is given below.
A coping saw is used for cutting
A. curves
B. across grams
C. tenons
D. along grains
The correct answer is curves, which is lettered A. and therefore answer space A would be
[A] [B] [C] [D]
Think carefully before you shade the answer space, erase completely any answer(s) you wish to change.
Now answer the following questions.
WAEC Objective Questions on Wood Work
1. The protective clothing which is most important when operating hand drill power tools is
A. rubber gloves
B. eye goggle
C. safety boots
D. safety belt
2. Injury is prevented during sharpening of saw teeth by
A. securing the saw in the vice
B. bolding the saw in one hand
C. applying oil to the saw teeth
D. using clogged teeth file
3. A mortise chisel has a thick blade to enable it to
A. cut fast
B. cut shallow mortises
C. withstand the pressure from mallet
D. withstand leverage when cutting
Use Fig 1: to answer questions 4 and 5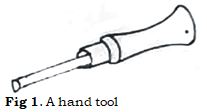 Fig 1. A hand tool
4. The tool is a
A. screw driver
B. gimlet
C. bradawl
D. ripping chisel
5. The tool is mainly used to
A. drive in screws
B. remove stapples
C. bore through small holes
D. make starter holes
6. The live centre of the wood lathe is located on the
A. bed
B. headstock
C. toolrest
D. tailstock
7. The most appropriate saw used for cutting curves in thick wood is the
A. coping saw
B. fret saw
C. bow saw
D. pad saw
8. The function of the medullary rays in a living tree is to
A. give beautiful figure to the tree
B. prevent insect and worms attack
C. transport food and water radially
D. give strength to the tree
9. The main function of the heartwood of a tree is to
A. provide strength to the tree
B. store the food solution for the tree
C. carry raw sap upwards to the leaves
D. carry refined sap from the leaves downwards
10. Which of the following portable power tools has a telescopic lower guard?
A. Orbital sander
B. Power planer
C. Electric drill
D. Circular saw
11. One timber defect caused by poor kiln seasoning is
A. waney edge
B. cup shake
C. collapse
D. knot
12. The most effective method of preserving timber is by
A. impregnating
B. brushing
C. spraying
D. rubbing
Use Fig 2 to answer questions 13 and 14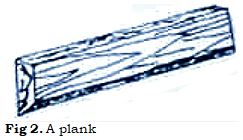 Fig 2. A plank
13. The pattern on the face of the plank is
A. figure
B. interlocking grain
C. spike knot
D. texture
14. The method of conversion used to produce the plank is
A. quarter sawing
B. boxed heart sawing
C. through and through sawing
D. tangential sawing
15. The most appropriate material used for finishing a kitchen table is
A. plastic laminate
B. glass
C. leather
D. decorative veneer
16. The part of a circular sawing machine that prevents timber from binding on the saw blade is
A. control wheel
B. riving knife
C. fence
D. crown guard
17. The veneers glued across both side of the ground in the manufactured boards are
A. core veneers
B. counter veneer
C. back veneers
D. face veneers
18. A timber defect caused by abnormal shrinkage that flatten and crumble the wood cells is the
A. collapse
B. warping
C. checks
D. decay
19. The metal plate that is fixed to protect a keyhole is
A. an adjustable plate
B. an excuteheon
C. a stinking plate
D. a harp
Use Fig. 3 to answer questions 20 to 22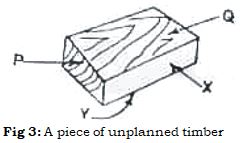 Fig 3: A piece of unplanned timber
 
20. The part of the wood to be planed last is labelled as
A. Y
B. X
C. Q
D. P
21. The part labeled Y represents the
A. thickness
B. face side
C. arris
D. face edge
22. The part labeled Q is the
A. face side
B. face edge
C. end
D. width
Free Copy: Objective Questions No. 23-40 Removed
Want more WASSCE Wood Work Past Exam Questions?
Get the Complete WAEC Wood Work Objectives and Essay Past Questions and Answers from us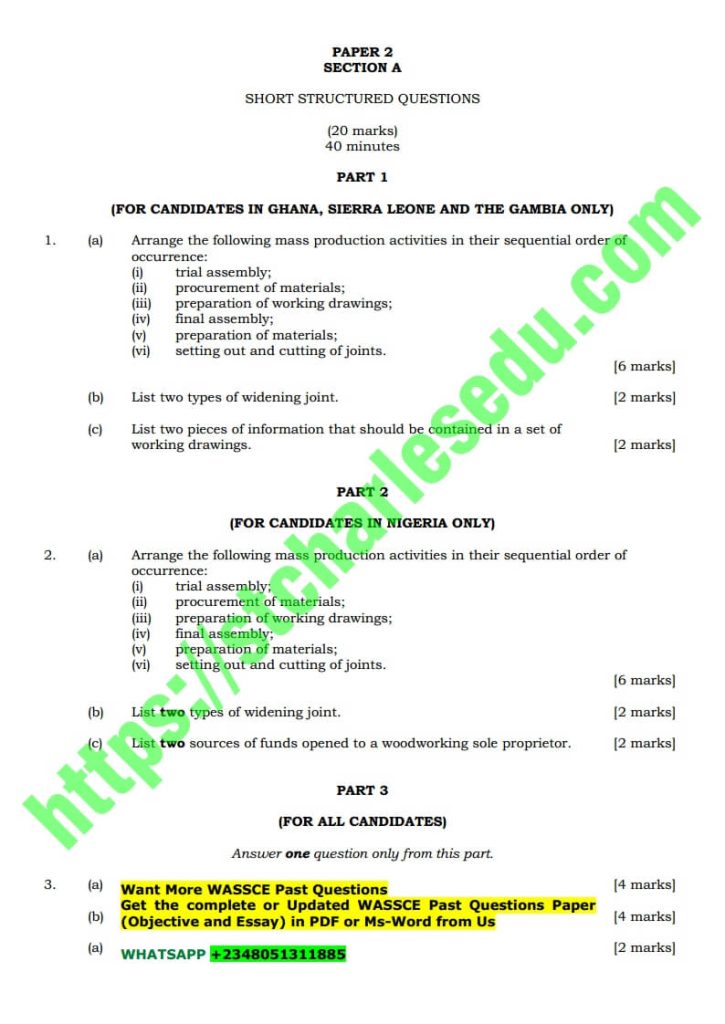 WAEC Metal Work Theory Questions
PAPER 2
SECTION A
SHORT STRUCTURED QUESTIONS
(20 marks)
40 minutes
PART 1
(FOR CANDIDATES IN GHANA, SIERRA LEONE AND THE GAMBIA ONLY)
1(a) Arrange the following mass production activities in their sequential order of
occurrence:
1(a)(i) trial assembly;
1(a)(ii) procurement of materials;
1(a)(iii) preparation of working drawings;
1(a)(iv) final assembly;
1(a)(v) preparation of materials;
1(a)(vi) setting out and cutting of joints. [6 marks]
1(b) List two types of widening joint. [2 marks]
1(c) List two pieces of information that should be contained in a set of working drawings. [2 marks]
PART 2
(FOR CANDIDATES IN NIGERIA ONLY)
2(a) Arrange the following mass production activities in their sequential order of occurrence:
2(a)(i) trial assembly;
2(a)(ii) procurement of materials;
2(a)(iii) preparation of working drawings;
2(a)(iv) final assembly;
2(a)(v) preparation of materials;
2(a)(vi) setting out and cutting of joints. [6 marks]
(b)List two types of widening joint. [2 marks]
(c) List two sources of funds opened to a woodworking sole proprietor. [2 marks]
Free Copy: REMOVED: PART 3 – Essay Questions No. 03-04, SECTION B, Essay Questions No 05-06
Want more Likely WASSCE Past Exam Questions on Metalwork?
Get the Complete WAEC WW Objectives, Essay and Practical Past Questions and answers from us
Free Wood-Work WASSCE Past Questions PDF Download
Click to Download your free Sample of WASSCE Past Question on Metalwork Paper 1 and 2
Link 1: WAEC Questions on Wood Work
Link 2: Wood Work Likely Questions PDF Download
Link 3: WASSCE Wood-Work Question pdf
How to Get WAEC Past Questions on WoodWork
To get the complete and more recent copy of the West Africa Examination Council WAEC Past Questions and Answer on WW
Take Note of the following step
West African Country E.g Ghana, Visit this link to make payment in your country currency > BUY WAEC WW PQ
Nigeria Candidate Only – Buy and Download online WW Past Questions
OR
Take Action
Call or whatsapp us on 08051311885 for the account number to make payment and how to received your complete copy of the past questions to be sent directly to your email address or whatsapp number.
Mode of Payment.
1. Mobile Transfer or Direct Bank Deposit. Mode of Payment. – Nigeria
2. Online Credit Card Payment or MoMo Mobile Transfer – Others
After Payment
send us the following
Depositor Name:
Name of Product Paid for:
Valid email address.
DELIVERY ASSURANCE
We will deliver the past question to you 10 mins after confirmation of payment to the email you will send to us.