The Government Exam Questions for SS1, SS2 or SS3 all term is available at stcharlesedu.com.
On this page we have uploaded a free copy of the Senior Secondary School SS1 Second Term Government Exam Questions.
Teacher and student can now have a feel of how the Govt. questions for SS1-3 look like.
Before a student is promoted into the next class, he/she is expected to pass the above subject.
Most Student do fail or perform below expectation, as a result of this, we have compiled Govt. exam question for student preparing for test or examination.
The SS1, SS2 & SS3 exam questions served as a reference material and also help teacher to set test and exam question.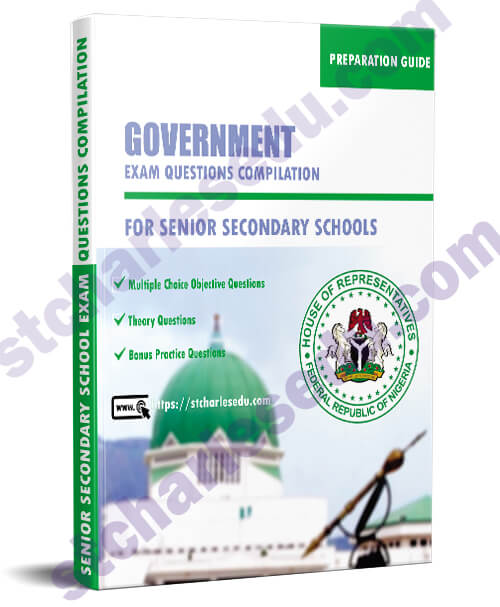 Exam Questions on Government for SS1, SS2, SS3
Is based on the Nerdc Curriculum.
Can be view and read on any Smart Phone
Can be Printed out into hard copy.
Can be obtain on Micro-Soft Word Format.
Can be Edited to suit your need.
The paid version has up to 50 Multiple Objective Questions to choose from
Out of Public Domain.
Available only to subscriber.
Government Exam Past Papers Download Benefit
The Benefit of Using Our Senior Secondary School Govt Exam Questions.
Teachers
As a teacher using our Multiple Exam Question source make teaching more interesting.
Reduce the workload.
You can modify the questions to suit your need.
You get best value for your money when you purchase from us.
Students
As a student it make you identify key areas to focus on.
Help you know your speed for the actual exam.
Give you confidence and make you relax on the deal day.
How to Get Secondary School Govt Exam Questions
Step to get Govt Exam Questions for SSS ( 1 – 3 )
COST PATTERN
Here is an example of our Govt exam questions for SS 1-3 cost Pattern.
SS 2 Govt 1st Term = N300
SS 2 Govt 2nd Term = N300
SS 2 Govt 3rd Term = N300
HOW TO PURCHASE
Make a Call.
Call or whatsapp us on 08051311885 for the account number to make payment;
And how to receive your complete copy of the past questions paper.
Mode of Payment.
Mobile Transfer, POS and Direct Bank Deposit.
After Payment
Send us the following:
Depositor Name.
Screenshot of either your Debit alert; Successful transaction notice or bank teller.
Name of Product Paid for; e.g Exam Questions on Government for SS1
Valid Email Address;
Lastly Call or whatsapp us for your payment verification and confirmation.
DELIVERY ASSURANCE
We will deliver the past question to you 10 mins after confirmation of payment to the email address you send to us.
Download Free SS1 Government objective/Theory Questions for second term
Link 1 Govt Exam Questions
Link 2 Govt Exam Questions
SS1 Second Term Government Exam Questions
DURATION: 1 ½ HOURS
SECTION A: OBJECTIVE
ANSWER ALL QUESTIONS
Government Objective Questions for SS1 2nd Term
01. An agreed set of rules prescribing in governance of a country can be called the 
(a) constitution 
(b) charter 
(c) manifesto 
(d) hounsard 

02. A constitution is said to be rigid if it 
(a) can be amended by the president only 
(b) is difficult to amend 
(c) is unwritten 
(d) is decree by solders

03. A unitary system of government is most suitable for a 
(a) highly religious country 
(b) country with a lot of mineral deposits 
(c) small homogeneous country 
(d) highly populated country

04. The principle of collective responsibility is control to the 
(a) presidential system 
(b) federal system 
(c) Unitary system 
(d) parliamentary system

05. In a parliamentary system of government, the head of government is usually 
(a) selected by the council of state 
(b) elected by one supreme court 
(c) the head of state 
(d) the majority leader in the legislature

06. A unicameral legislature has 
(a) two houses 
(b) one house 
(c) three houses 
(d) one head of state

07. The judiciary is an organ of government which 
(a) rules the country according to laws 
(b) makes laws for the country 
(c) gives legal backing to governments budgets 
(d) settle disputes in accordance with the laws of the land 

08. A multi-party system often leads to 
(a) unitary government 
(b) dictatorial government 
(c) coalition government 
(d) parliamentary

09. Public opinion can be expressed through 
(a) census 
(b) general strike 
(c) socialization 
(d) compromise

10. Public corporations are set up by 
(a) board of directors 
(b) the ministers 
(c) workers in the corporation 
(d) an act of parliament

11. Military government are likely to be 
(a) democratic 
(b) civilized 
(c) dictatorial 
(d) accountable

12. A person representing his country in a fellow commonwealth country is called 
(a) a knight 
(b) a representative 
(c) a high commissioner 
(d) an attaché

13. The modern concept of the rule of law was introduces by  
(a) K.C wheane 
(b) A.V Dicey 
(c) Otto Von Bismark 
(d) Justice Holmes

14. Which of the following principles negotiates the concept of the rule of law  
(a) supreme of the law 
(b) prevention of arbitrariness in authority 
(c) Equality before the law 
(d) Exercise of absolute power by the president

15. The number of chambers in a bicameral legislature is 
(a) four 
(b) three 
(c) two 
(d) one

16. The judiciary organ of government is one body which 
(a) initiates bills 
(b) interprets the law 
(c) make the law 
(d) maintains law and order

17. The system of government in which authority is shared between the center and the component unit is called 
(a)unitary system of government 
(b) federal system of government 
(c) feudal system of government 
(d) monarchical system of government

18. In a monarchy, the head of state is usually 
(a) a military ruler 
(b) one Chief justice 
(c) the speaker of the legislature 
(d) a hereditary ruler

19. Public opinion is the view held by the 
(a) minority 
(b) civil servant 
(c) majority 
(d) politicians

20. Presidential system of government was adopted in Nigeria in what year 
(a) 1960 
(b) 1979 
(c) 1963 
(d) 2020


Want more Objective Questions like this?
Get the Complete Govt Exam Questions (Obj & Theory);
In editable Ms-word format for any of the SS 1 – 3 Classes from us
What Others are downloading Exam Questions for Senior Secondary School
Theory Govt Questions for SS2
SECTION B
Answer all questions

1a. Define unitary government
1b. State four features of unitary government

2. Explain five advantages and disadvantages of unitary government 

3a. Define federal government
3b. List and explain three methods used in thee division of powers for the three tiers of government

4. Explain five characteristics of presidential system of government

5. Explain five features of con-federal government