Do you want to Download verbal Reasoning Exam Questions for Primary 1, 2, 3, 4, 5 and 6, in PDF or Ms-Word, are you looking for aptitude on verbal reasoning, verbal reasoning for primary students, verbal reasoning questions for primary 4, verbal reasoning questions for primary school, Primary 5 verbal reasoning tests Question Paper?
Then your search ends here.
Teaching is really an interesting job, But for some factors like low pay, writing of lesson notes, setting of exam questions, marking of students' examination scripts and compilation of students results has made teaching job more taxing.
To help reduce the workload We have compiled all Primary School Verbal Reason Exam questions from First Term – Third term, to serve as a reference material in helping teachers set tests and examination questions.
Student and Tutor will find it useful for revision and exam preparation.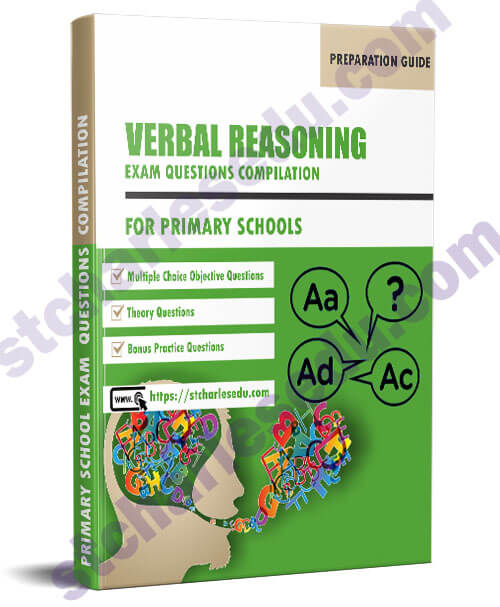 Verbal Reasoning Question for Primary School – Special Feature
Is based on the Nerdc Curriculum.
Can be view and read on any Smart Phone
Can be Printed out into hard copy.
Can be obtain on Micro-Soft Word Editable format – Best format for Teacher.
The Paid version has upto:
45 Multiple Questions to choose from for each term.
Benefit of Using Our Primary School Verbal Reasoning Exam Questions.
Teachers
As a teacher using our Multiple Exam Question source make teaching more interesting
Reduce the workload.
You get best value for your money when you purchase from us.
You can modify the document to suit your use.
Student
as a student it make you identify key areas to focus on.
Help you know your speed for the actual exam.
Give you confidence and make you relax on the deal day.
Click Like below to Join our Primary School Exam Facebook Page
How to Download Exam Questions for Verbal Reasoning Primary 1-6
The Verbal Reasoning Exam Questions for each classes (Primary 1, 2, 3, 4, 5 and 6) cost N300 each for a term
To get the updated exam question papers for the subject and class concern,
Here is an example of the cost Pattern
Primary 4 Verbal Reasoning 1st Term Exam Question = N300
Primary 4 Verbal Reasoning 2nd Term Exam Question = N300
Primary 4 Verbal Reasoning 3rd Term Exam Question = N300
call or whatsapp us on 08051311885 for account number to make payment and how to received your Ms-Word/PDF Copy
Mode of Payment.
Mobile Transfer or Direct Bank Deposit.
After Payment, send us the following
Depositor Name:
Name of Product Paid for:
Valid email address.
DELIVERY ASSURANCE
We will deliver the past question to you 10 mins after confirmation of payment to the email you will send to us
Verbal Reasoning Question for Primary 4
Free PDF Download of Verbal Reasoning Exam Questions for Primary 3
Free Primary 5 Online verbal reasoning tests Question
FIRST TERM EXAMINATION 2019/2020 ACADEMIC SESSION
SUBJECT: VERBAL REASONING
CLASS: BASIC 5
DURATION: 1 HOUR
Re-arrange the following words in alphabetical order
1. Coward, Caution, Cure, Centre
2. Volume, Victor, Valiant, Venue
Study These
"GATE" is written as AGET
"FARMER" is written as AFMRRE
Now do these
3. "NIGHT" is written as ________
4. "WONDER" is written as __________
Study These
If book is 3447; then 7434 is kobo.
If top is 216; then 612 is pot.
Now do these
5. If PEARS is 12436; then 61243 is __________
6. If WEST is 1246; then 4621 is _____________
Study These
Pure; Sure
Cold; bold
Now do these
7. PEAR; __________________
8. PARROT; ________________
Underline the word that is opposite in meaning to the words in capital letter.
9. HARD: Soft warm cold harsh wade
10. KING: Servant Master Queen Boy Girl
11. LOST: Loot Found Sage Balm Crane
Study These
E N C O U R A G E M E N T
1 2 3 4 5 6 7 8 1 9 1 2 10
12. 3, 4, 9, 1 = ___________________
13. 1, 2 , 10, 1, 6 = ________________
14. 3, 4, 7 , 10 = ___________________