Do you need National Open University Noun Nursing Science Past Questions and answer? Do you want to download Noun Nursing programme  NSC previous exam question paper for a particular semester or Level?
If yes then you are in the right place.
The Faculty of Health Science is one of the Eight (8) Faculties in the National Open University and is currently offering the programme of Bachelor of Nursing Science (BNSc)
Most Bsc Nursing Noun student or Worker do not have the luxury of time or are limited in time to go in physical search of past question.
That why, we at stcharlesedu.com are glad to inform you that we now have up-to-date Noun bsc Nursing Past Questions for first and second semester available for download.
Summary Benefit of Past Question.
Pointer to Area of Concentration.
Predict the outcome of the upcoming exam question.
Let one know if he/she has adequately prepared for the exam.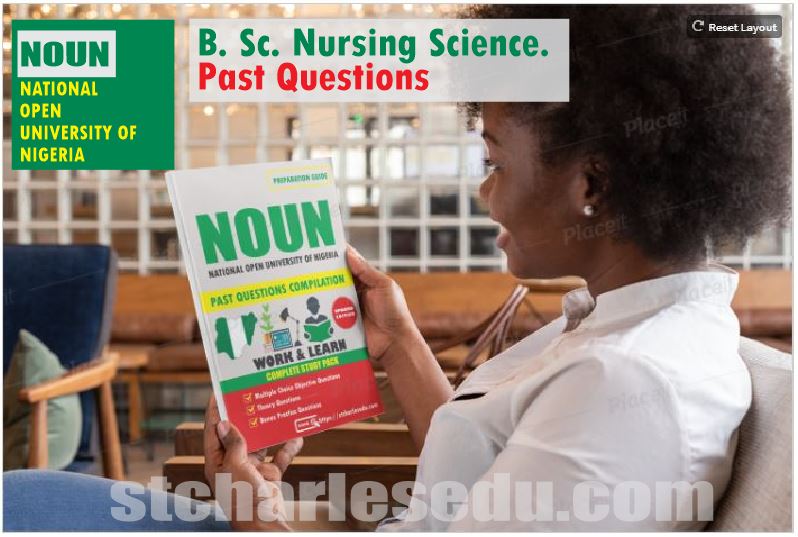 See below list of Nursing Programme Course code/Title Available Past Questions
NOUN Past Questions For Nursing Science,
| | |
| --- | --- |
| COURSE CODE | COURSE TITLE |
| GST 101 | Use of English and Communication Skill I |
| C1T 104 | Introduction to Computers |
| GST 105 | History and Philosophy of Science |
| CSS 111 | Introduction to Sociology |
| POS 111 | Elements of Political Science |
| GST 201 | Nigerian People and Culture |
| GST 203 | Introduction to Philosophy and Logic |
| NSC 111 | Foundations of Nursing |
| PED 221 | Developmental Psychology |
Read Also: What Others are downloading NOUN Past Exam Questions Paper for all courses
NSC 106 Past Questions
100 Level Second Semester
| | |
| --- | --- |
| COURSE CODE | COURSE TITLE |
| NSC 102 | Human Anatomy I |
| NSC 104 | Human Physiology I |
| NSC 106 | Medical Microbiology and Parasitology |
| NSC 108 | Medical Biochemistry I |
| GST 102 | Use of English and Communication Skill |
Noun Exam Past Question for Nursing 200 Level
200 Level First Semester
| | |
| --- | --- |
| COURSE CODE | COURSE TITLE |
| NSC 201 | Human Anatomy II |
| NSC 203 | Human Physiology II |
| NSC 205 | Cellular and General Pathology |
| NSC 207 | Medical Biochemistry II |
| NSC 209 | Physical and Health Assessment |
200 Level Second Semester
| | |
| --- | --- |
| | |
| COURSE CODE | COURSE TITLE |
| NSC 202 | Human Anatomy III |
| NSC 204 | Epidemiology |
| NSC 206 | Environmental Health |
| NSC 208 | Nursing Ethics and Jurisprudence |
| NSC 210 | Introduction to Sociology II |
| NSC 212 | Nutrition in Health and Disease |
| GST 202 | Fundamentals of Peace studies and [Conflict Resolution] |
Nursing Science 300 Level Past Questions
 300 Level First Semester
| | |
| --- | --- |
| COURSE CODE | COURSE TITLE |
| NSC 301 | Human behaviour in health and illness |
| NSC 303 | Concepts and Strategies in Public-Community Health |
| NSC 305 | Medical Surgical Nursing I |
| NSC 307 | Clinical Pharmacology and Chemotherapy I |
| NSC 309 | Maternal and Child Health I |
| NSC 311 | Nature of Nursing |
 300 Level Second Semester
| | |
| --- | --- |
| COURSE CODE | COURSE TITLE |
| NSC 306 | Medical Surgical Nursing II |
| NSC 314 | Mental Health and Psychiatric Nursing I |
| NSC 312 | Maternal and Child Health Nursing II |
| NSC 316 | Public-Community Health Nursing I |
| | |
| 400 Level | First Semester |
| COURSE CODE | COURSE TITLE |
| NSC 401 | Medical Surgical Nursing III |
| NSC 403 | Leadership and Management in Health and Nursing Care |
| NSC 405 | Curriculum Development and Teaching Methodology |
| NSC 407 | Introduction to Health Economics |
| NSC 409 | Health Statistics |
| NSC 411 | Research Methods in Nursing |
400 Level Second Semester
| | |
| --- | --- |
| COURSE CODE | COURSE TITLE |
| ENT 221 | Entrepreneurship Development |
| NSC 402 | Medical Surgical Nursing TV |
| NSC 408 | Research Project (I) |
| NSC 412 | Mental Health and Psychiatric Nursing II |
| NSC 416 | Public-Community Health Nursing II |
| NSC 418 | Seminar in Nursing |
500 Level First Semester
COURSE CODE
COURSE TITLE
NSC 501
Public-Community Health Nursing III
NSC 503
Advanced Mental Health/Psychiatric Nursing III
NSC 505
Maternal and Child Health III
NSC 507
Seminar in Nursing II
Restricted

Elective*
NSC Past Questions Level 500
500 Level Second Semester
| | |
| --- | --- |
| COURSE CODE | COURSE TITLE |
| NSC 502 | Public-Community Health Nursing IY |
| NSC 504 | Monitoring and Evaluation of Health Programmes and Services |
| NSC 506 | Research Project II |
| NSC 508 | Fundamentals of Nursing Informatics |
*Students to choose one from any of the following Restricted elective courses:
1st Semester
| | |
| --- | --- |
| NSC 509 | Gerontological Nursing |
| NSC 511 | Ophthalmology Nursing |
| | |
| --- | --- |
| NSC 513 | Orthopaedic Nursing |
| NSC 515 | Dermatological Nursing |
| NSC 517 | Ra dio lo gy/ Ra dio therapy |
| NSC 519 | Paediatric Nursing |
| NSC 521 | Oncology nursing |
2nd Semester
| | |
| --- | --- |
| NSC 512 | Occupational Health Nursing |
| NSC 514 | Intensive Care Nursing |
| NSC 516 | Primary Care Nursing |
| NSC 522 | Operating theatre Nursing |
| NSC 524 | Ortho-Rhino-Laryngology (ENT) |
| NSC 526 | Genomics and genetic nursing |