The Nigerian Nursery School Scheme of Work is a outline plan of what will be covered in each week or session of the learning programme or course.
It can be detailed or brief.
A scheme of work may, for example, consider how many lessons will be needed to cover a specific theme.
It can also support communication and planning between departments.
Once it has been finalized, a scheme of work can be used to write lesson plans.
Advantage of Nursery School Scheme of Work.
a. It is easier for you, as Head of Department, to assess the work of the teachers in your team
b. You can ensure coverage of the whole syllabus by checking team members are up-to-date.
c. It saves everyone from re-inventing the wheel each year as the topics come around
d. It captures and shares good lessons, good activities.
Scheme of Work for Nursery School in Nigeria.
Here we have the examples of a standard curriculum.
Subject Area in the Nursery Language Curriculum
Rhymes.
Stories.
Songs.
Picture Reading.
Games.
Poems.
Use of Radio/Audio tapes (for listening skills).
Television, to watch Educative (channels or videos).
Verse Speaking.
Finger Plays.
Circle times.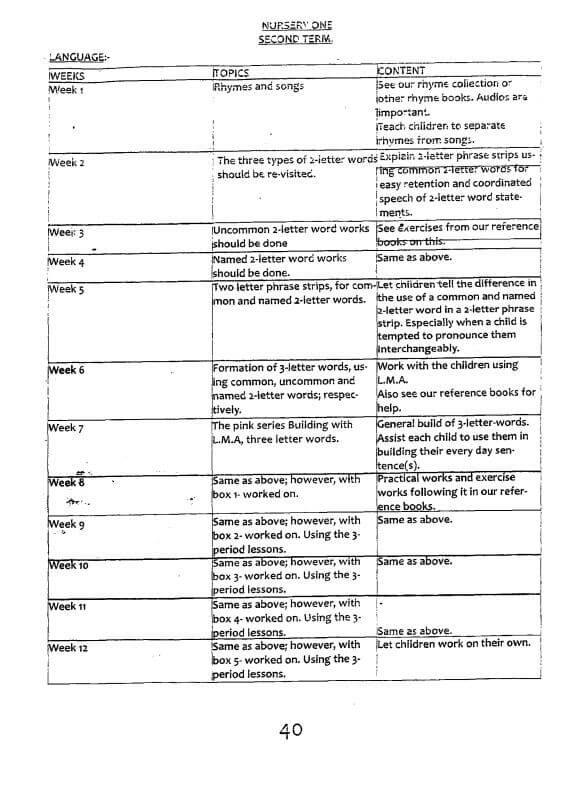 First Term Scheme of Work for Nursery 1 One
LANGUAGE
WEEK1.
TOPICS
Revision of last term's work.
CONTENT
WEEK 2.
TOPIC
Take rhymes, riddles and story telling exercises with the chil-
CONTENT.
Also work on picture reading and interpretations.
WEEK 3.
TOPIC
Writing; using materials like sand tray, sand paper letters, tracings of all letters, without excluding their individual sounds.
CONTENT
The class teacher should work with children, following the 3-period lessons.
WEEK 4.
TOPIC
spy game exercise should be carried out, to make recognition and representation of sound to object; matched by each child, using the three period lessons.
CONTENT
Same as above, but with writing exercises and recognition,
WEEK 5.
TOPIC
(Matching exercise, dot to dot, filling in of missing sounds (a-z), should be done by the children.
CONTENT
–
WEEK 6
TOPIC
(Matching exercise, dot to dot, filling in of missing sounds (a-z), should be done by the children.
CONTENT
How to Download Complete Scheme of Work for Nigeria Nursery Schools
To get the complete copy of the nursery school scheme of work in PDF format to be sent to your email address, Call/whatsapp me on 08051311885.
Please Note, it is not Free. Cost is N3000