Download the new Government Approved Unified Lagos State Scheme of Work for Creche/Playgroup Class Age 0-2 years in pdf for Schools in Nigeria.
The Early Childhood Education Scheme of Work SOW for Creche/Playgroup is packaged for the use of teachers, parents and caregivers to prepare for smooth transition to Nursery school education as well as providing enough care and supervision for the children while parents are at work.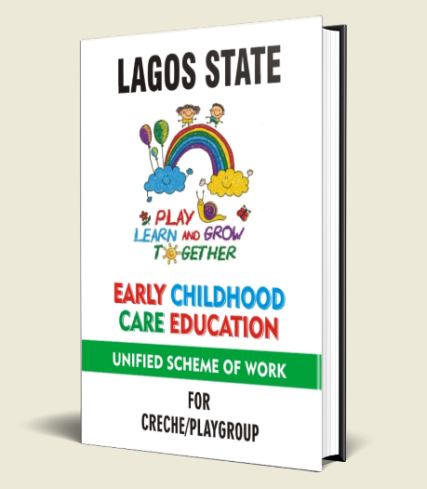 Feature of Scheme of Work for Lagos State Pre Nursery
Here are the four (4) basic feature of the new scheme of work for creche/play group (pre nursery)
a. Topic or Issues
b. Performance Objective for
~ Parent/Caregiver
~ Child
c. Caring/Learning Materials
Lagos State Unified Scheme of Work for Creche
Complete List of Subjects for Creche/Playgroup class (Pre Nursery) Scheme of Work available for download.
Developmental Milestone – 0-18months
Food and Nutrition (Breast Feeding and Complementary Feeding) 0-2 years
Affective/Psycho Social Development 0-2 years
Cognitive Development 0-2 years
Health 0-2 years
Safety Measures 0-2 years
Physical Development 0-2 years
Water and Environmental Sanitation 0-2 years
What other are Downloading
Scheme of Work for Lagos State Primary Schools
Nigeria SOW Secondary Schools
LAGOS STATE GOVERNMENT MINISTRY OF EDUCATION
EARLY CHILDHOOD CARE EDUCATION
UNIFIED SCHEME OF WORK
TOPIC 1
ISSUE
SOCIAL/MORAL DEVELOPMENT
PERFORMANCE OBJECTIVE
Parent/Care Giver
i. Encourage interaction between child and other people.
ii. Respond to the child's social behaviour like crying, smiling, cooing, waving.
iii. Provide a stimulating peaceful social environment.
iv. Reinforce positive behaviour by smiling, nodding, clapping and shaking the hands of the child. Encourage child to be respectful, obedient and honest.
v. Stimulate the attitude of sharing, helping and cooperation in children
Child
i. Interact with people, including family members, caregiver and peers.
ii. Recognize? self as male or female.
iii. Freely express self.
iv. Listen to others.
v. Tell stories and take turns.
vi. Obey instructions and show simple courtesy.
CARING/LEARNING MATERIALS
• Soft toys, dolls
• Picture books
• Musical instruments
• Games
• Story books
• Radio
• Television
• Poetry book
• Song/rhymes books
• Films
• Calendars
• Charts/poster s
• Video
• Religious books
• Soft balls
• Mirror
• Mobile toys.
• Home corner
• Nature corner
• Plasticine.
TOPIC 2
ISSUE
EMOTIONAL DEVELOPMENT
PERFORMANCE OBJECTIVE
Parent/Care Giver
i. Strengthen healthy bonds between child and others.
ii. Encourage good relationship between child and others e.g. carrying, cuddling, hugging.
iii. Respect the basic rights of the child and individual.
iv. Discourage anti-social behaviours.
v. Respond to child's emotional cues and gestures.
vi. Provide quality and consistent care.
vii. Display stable emotional disposition e.g, joy, love, fear, anxiety etc.
viii. Provide conducive environment for emotional development.
ix. Resolve conflicts among children.
Child
i. Develop positive self concept.
ii. Show pride in personal belonging.
iii. Show respect for other people's belongings.
iv. Exhibit self control and confidence.
CARING/LEARNING MATERIALS
• Soft toys
• Dolls
• Drawing paper
• Pictures of emotional expressions
• Songs/story books
• Home corner
• Nature comer
• Picture books
• Musical instruments
• Clay/ plastercine
TOPIC 3
ISSUE
AWARENESS OF SELF
PERFORMANCE OBJECTIVE
Parent/Care Giver
i. Guide the child properly to be aware of his/her sex e.g. teaching differences in dressing for boys and girls.
ii. Help the child develop his/her potentials.
iii. Initiate plays and activities that will promote personality development.
Child
i. Identify self as a boy or girl (Gender).
ii. Sort out clothing meant for girls and boys.
iii. Dress properly.
CARING/LEARNING MATERIALS
• Boys and girls' clothing
• Home corners
• Equipment, Toys
Download Link 1: LA ECE SOW
Download Link 2: LA Playgroup SOW
Download Link 3: LA Creche SOW
How to Get Early Childhood Creche NEW Scheme of Work in Nigeria
To get the current ECE Lagos State Unified Scheme of Work in PDF format to be sent to your email address,
Take Action
Call/Whatsapp me on +2348051311885.
Please Take Note:
The scheme of work is in PDF soft copy format.
It can be view and read using a smart mobile phone or personal computer (pc)
It can be printed out into hard copy.
It is not free (do not chat me up if your intention is to beg for it)
It cost a token.
Mode of Delivery
After payment, it will be sent to your email address or whatsapp

Other Available Products
Lesson Note and Exam Questions for Primary to Senior Secondary School