The Marketing questions for SS1, SS2 or SS3 Exam all term is available at stcharlesedu.com.
On this page we have uploaded a free copy of the Senior Secondary School SS1 Second Term Marketing Exam Questions.
Teacher and student can now have a feel of how the Mrktg questions for SS1-3 look like.
Before a student is promoted into the next class, he/she is expected to pass the above subject.
Most Student do fail or perform below expectation, as a result of this, we have compiled Marketing exam question for student preparing for test or examination.
The SS1, SS2 & SS3 exam questions served as a reference material and also help teacher to set test and exam question.
Marketing Scheme of Work
Marketing SS1-3 Exam Questions
Marketing SSCE Past Questions and Answers – WAEC, NECO, NABTEB
Lesson Note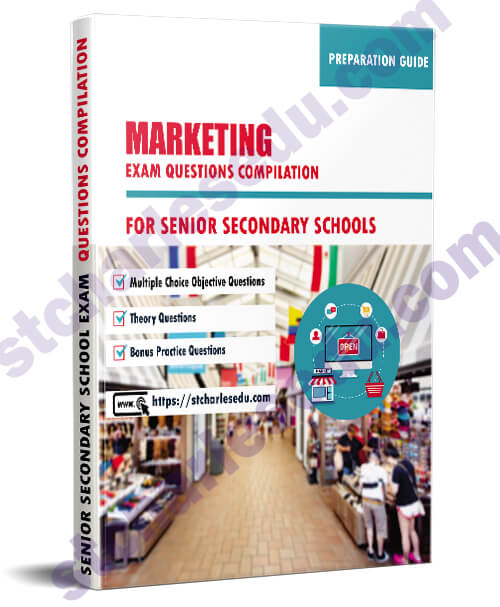 Marketing Exam Questions for SS1-3
Is based on the Nerdc Curriculum.
Can be view and read on any Smart Phone
Can be Printed out into hard copy.
Can be obtain on Micro-Soft Word Format.
Can be Edited to suit your need.
The paid version has a minimum of 50 Multiple Objective Questions to choose from
Out of Public Domain.
Available only to subscriber.
Marketing Past Question Paper for SS1-3 – Benefit
The Benefit of Using Our Senior Secondary School Marketing Exam Questions.
Teachers
As a teacher using our Multiple Exam Question source make teaching more interesting.
Reduce the workload.
You can modify the questions to suit your need.
You get best value for your money when you purchase from us.
Students
As a student it make you identify key areas to focus on.
Help you know your speed for the actual exam.
Give you confidence and make you relax on the deal day.
How to Get SSS1-3 Marketing Exam Questions
Step to get Marketing Exam Questions for SSS ( 1 – 3 )
COST PATTERN
Here is an example of our Civic Education exam questions for SS 1-3 cost Pattern.
SS 1 Mrktg 1st Term = N400
SS 1 Mrktg 2nd Term = N400
SS 1 Mrktg 3rd Term = N400
HOW TO PURCHASE
Make a Call.
Call or whatsapp us on 08051311885 for the account number to make payment;
And how to receive your complete copy of the past questions paper.
Mode of Payment.
Mobile Transfer, POS and Direct Bank Deposit.
After Payment
Send us the following:
Depositor Name.
Screenshot of either your Debit alert; Successful transaction notice or bank teller.
Name of Product Paid for; e.g Marketing Questions for SS1 Second Term
Valid Email Address;
Lastly Call or whatsapp us for your payment verification and confirmation.
DELIVERY ASSURANCE
We will deliver the past question to you 10 mins after confirmation of payment to the email address you send to us.
Download Free SS1 Marketing Objective/Theory Questions for second term
Link 1 Agric Science Exam Questions
Link 2  Agric Science Exam Questions
SECOND TERM EXAMINATION
SUBJECT: Mrktg CLASS: SS 1   DURATION: 1 ½ HOURS
SECTION A: OBJECTIVE
ANSWER ALL QUESTIONS
Marketing Objective Questions for SS1 Second Term

01. One of the functions of a small retailer is to. 
(a) break goods into small units.
(b) sell goods in large quantities.
(c) grant credit to produces.
(d) Sell goods to the final consumers.

02. An importance's of transportation to a market is that it.
(a) reduce cost of production
(b) increase the price of goods 
(c) increase the efficiency in distribution 
(d) reduce the distribution cost

03. Which of the following is a function of warehousing? 
(a) keeping and making good goods available when required.
(b) hoarding of goods to increase prices.
(c) making goods available to final consumers
(d) storing of small units of products.

04. A function of packaging is to
(a) improve product quality.
(b) reduce competition.
(c) protect the product.
(d) prevent adulteration.

05. The orientation that assumes the consumers would only buy when persuaded with aggressive advertisement is (a) selling concept 
(b) product concepts. 
(c) production concept.
(d) marketing concept. 

06. An elements in the marketing mix.
(a) propaganda 
(b) publicity.
(c) product.
(d) packaging. 
										
07. Which of the following is an attribute of marketing concepts ?.
(a) are considered to be always right. 
(b) prefer quality product.
(c) would buy cheap product

09. Merchandising is best suited for
(a) consumer goods.
(b) primary product.
(c) industrial services.
(d) organization products. 

10. Which of the following factors affect the location of a retail outlet. 
(a) government policy
(b) weather condition
(c) company's goodwill 
(d) product quality

11. The shop that offers a range of grocery items is a,
(a) specialty store 
(b) depot
(c) supermarket
(d) discount stores 

12. The reward for an entrepreneur is .
(a) a fee 
(b) profits
(c) salary 
(d) a commission 

13. Which of the following activities is a faction of marketing?. 
(a) provision of finance
(b) absorption of risks
(c) facilitation of exchange 
(d) production of goods

14. An individual or organization that enhance business activities but do not participate in the following is (a) distribution.
(b) seller.
(c) marketer.
(d) facilitation 

15. A market with many buyers compared to suppliers is an exchange of 
(a) government market.
(b) reseller market. 
(c) consumers market 
(d) industrial market. 

16. In the consumer buying decision process an influencing factor that include age and occupation is. 
(a) personal factor
(b) social factor
(d) cultural factor 
(d) psychological factor  

17. At what stage in the buying decision process does a consumer collect information about a product. 
(a) need recognition stage 
(b) Alternative search stage
(c) post purchase decision 
(d) purchase decision

18. An element in a company's economic environment is 
(a) a personal lifestyle 
(b) family members
(c) technology innovation 
(d) inflation rate 

19. The need and ability to pay for a product is. 
(a) demand
(b) supply
(c) sales  
(d) transaction

20. Tubers of yam offered by a famer for sale in an example of a. 
(a) secondary product 
(b) manufactured product .
(c) primary product.



Want more Objective Questions like this?
Get the Complete Marketing Exam Questions (Obj & Theory);
In editable Ms-word format for any of the SS 1 – 3 Classes from us
What Others are downloading Exam Questions for Senior Secondary School
SS1 Theory Questions on Marketing Second Term
SECTION B: THEORY

SECTION B
1 Explain the following action before marketing  
i. Mobilization of work force.
ii. Production of quality goods and services.
iii. Managing distribution net work.  

2a. what is market in marketing?.
b. State the functions  of marketing's .
c. Explain the following ,
i. Resellers market 
ii. Government market
iii. Industrial markets 

3.Explain the following  stages in consumers buying decision process.
i. Problem recognition.
ii. Information search.
iii. Evaluation of alternative.
iv. Purchase decision. 

4a what is organizational buying behaviour?
b. Explain the the following marketing environmental factors 
i. Political.
ii Cultural.