Do you need npower past questions and answer,
Do you want to download Npower Aptitude Assessment Test interview questions, for the following Programme
Npower Teach;
Npower Health;
Npower Agro;
Npower Tax;
Npower Knowledge
Npower Creative
Npower Build
Then you are on the right page.
One of the perfect material you need right now to study ahead for BATCH C recruitment screening aptitude test is the up to date Npower Past Questions and Answer.
As an intending applicant, we recommend you download and study the previous batch A and B aptitude assessment test past question and answer.
This will help you to prepare very well for the Batch C online CBT.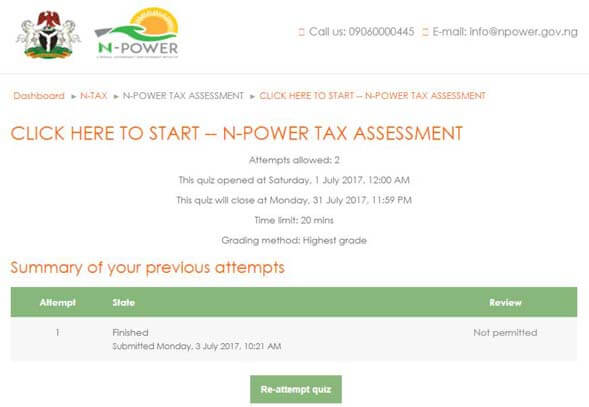 N-Power is a job creation and empowerment programme of the National Social Investment Programme of the Federal Government of Nigeria.
The N-Power programme is for young Nigerians between the ages of 18 and 35.
Goals of Npower Programme
To intervene and directly improve the livelihood of a critical mass of young unemployed Nigerians.
To develop a qualitative system for the transfer of employability, entrepreneurial and technical skills.
To create an ecosystem of solutions for ailing public services and government diversification policies.
To develop and enhance Nigeria's knowledge economy.
Categories of Npower
Graduate – Npower Volunteer Corps
which comprise of the following programme
N-Power Teach
N-Power Health
N-Power Agro
N-Power Tax
Non-Graduate (Npower Knowledge and Build)
Npower Knowledge
N-Power Tech Hardware
N-Power Tech Software
N-Power Creative
Npower Build
Npower Assessment Subject
What are the Subjects to be set in the Npower Aptitude Assessment Test
The subjects you will be tested on in the online computer based test are:
For Graduate N-Power Volunteer Corps
1. Use of English
2. Current Affair (Local and International)
Total number of questions to be set = 10
Time Limit: 20 mins
Attempts Allowed = 2
for Non Graduate Npower – Knowledge and Build
Computer Based Related Question
-Database, programming, networking, animation, graphic, cgi
Total number of questions set = 10
Time Limit: 20 mins
Attempts Allowed = 2
Mode of Screening Interview
The exam is computer base test, meaning it will be done online with the aid of a computer
Benefit of Npower Interview Past Question
It is a real time questions from the past online screening exam of Batch A and B
Pointer to Area of Concentration.
Predict the outcome of the upcoming exam question.
Let one know if he/she has adequately prepared for the exam.
Over a total of 300 Questions drawn from Batch A and B to practice with.
Free Npower Test Sample Questions and Answers
Please Note:
Do not read irrelevant current affairs at random as this may throw you off point.
N-power has their own targeted current affairs they set in their test;
And beside the exams questions are not just current affair alone.

How to Get Npower Assessment Aptitude Test Past Questions
The cost of the newly updated Npower Aptitude Test Past Questions is 1300.00
Below are the steps to take to download your copy of the entrance exam past questions.
Make a Call
Call or whatsapp us on 08051311885 for the account number to make payment and how to received your complete copy of the past questions to be sent directly to your email address or whatsapp number.
Mode of Payment.
Mobile Transfer, POS and Direct Bank Deposit.
After Payment
Send us the following
Depositor Name:
Name of Product Paid for:
Valid email address.
Call or whatsapp us for your payment verification and confirmation
DELIVERY ASSURANCE
We will deliver the past question to you 10 mins after confirmation of payment to the email you will send to us.
Free Npower Past Questions and Answers [sample]
Question 1
Generating movement by displaying a series of images using frames is called
a. Key Framing
b. Posing
c. Animating
d. Background Painting
---
Question 2
The pictorial explanation of the script is known as
a. White Board
b. Picture Board
c. Storyboard
d. Story Line
---
Question 3
Creating realistic sounds in animation is called?
Select one:
a. Sound Creation
b. Editing
c. Foley
d. Inkling
---
Question 4
A PC based video editing software is?
a. Disk Manager
b. Premiere
c. Security Center
d. Avast
---
Question 5
Q: Which of these is NOT a process of Animation
a. Walk Cycle
b. Lip Syncing
c. Inking
d. Plumbing
---
Question 6
Generating movement by displaying a series of images using frames is called
a. Key Framing
b. Posing
c. Animating
d. Background Painting
---
Question 7
Q: When an image seems to close in on a person or object making the object appear bigger or smaller on screen, we call this
a. Focusing
b. Zooming
c. Paning
d. Arial Shot
---
Question 8
The summary of a television program, film, or book that states the central conflict of the story, often providing both a synopsis of the story's plot, and an emotional "hook" to stimulate interest IS CALLED
a. Log Line
b. Synopsis
c. Script
d. Summary
---
Question 9
Which of these is not a rainbow color?
a. Black
b. Yellow
c. Blue
d. Red
---
Question 10
Which of these was not a painter?
a. Leonardo Da Vinci
b. Splinter Rhodes
c. Michael Angelo
d. Raphael Sanzio
---
Answer to Free Npower Questionnaire
Question 1. C
Question 2. D
Question 3. C
Question 4. B
Question 5. D
Question 6. C
Question 7. B
Question 8. B
Question 9. A
Question 10. B
Free Npower Past Questions and Answers by Charles Obaleagbon on Scribd