Download Now! Npower Teach Past Questions in PDF
Did you registered for the Npower programme of the Federal Government of Nigeria?
Did you apply for Npower Teach?
If yes, one of the sure way of passing the online assessment test is to download and study the previous Npower Teach past question.
you really want to know why, here is a summary of the reason
we at stcharlesedu.com has compiled a good number of Npower Teach Past Questions in pdf.
Npower Teach Test Past Questions Feature
It give you an insight on the scope of exam.
You won't be in the dark about questions to expect in the test.
You will be self reliant during the exam.
You won't develop examination fever as you already know the angle of where the question will be coming from.
Equips you beforehand.
Over a total of 300 Questions drawn from Batch A and B to practice with.
What is N-power Teach all About
N-Power Teach Volunteers will help improve basic education delivery in Nigeria.
N-Power Teach Volunteers will be deployed as teacher assistants in primary schools around Nigeria.
They will not replace the current teachers, but will work as support teachers across Nigeria;
Assisting with teaching, school management and other functions within the schools.
Where possible, they will also assist in taking basic education to children in marginalised communities.
Duration of programme
→ 2 Years
* Participants will undergo an initial induction training prior to deploymen
Selection Preference
All post-tertiary graduates from all disciplines inclusive of OND and NCE qualifications.
Duties/Career of Npower Teaching Job
Professional Teaching
Researcher, Research Associate, Senior Research Analyst
Education Consultant, Associate,
Strategy Consultant.
Education Services Manager.
Project Manager.
Project Supervisor.
Social services analyst.
Download Free N-power Teach Past Questions
Click Link below to Download your free N-Power Past Question for Teach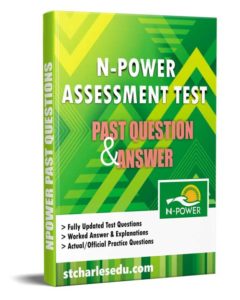 How to Get Npower Teach Past Questions
The cost of the newly updated npower teach past questions is 1300.00
Below are the steps to take to download your copy of the entrance exam past questions.
Make a Call
Call or whatsapp us on 08051311885 for the account number to make payment and how to received your complete copy of the past questions to be sent directly to your email address or whatsapp number.
Mode of Payment.
Mobile Transfer, POS and Direct Bank Deposit.
After Payment
Send us the following:
Depositor Name.
Screenshot of either your Debit alert; Successful transaction notice or bank teller.
Name of Product Paid for; e.g Past Questions for N-Power Teach
Valid Email Address;
Lastly Call or whatsapp us for your payment verification and confirmation.
DELIVERY ASSURANCE
We will deliver the past question to you 10 mins after confirmation of payment to the email you will send to us.