Did you apply into the Faculty of Law, are you eligible to apply for the Niger Delta University Post JAMB Screening Test, also know as NDU POST UTME, if yes then you need the NDU Post UTME Past Questions for Law, to enhance your preparatory skill in readiness for the exam.
we at stcharlesedu.com has compiled all NDU Post JAMB Past Questions and Answers for all Department in the Faculty of Law from 2006 – till date.
This past questions will give you an over-view and nature of the exams.
Our research has confirm that candidate who seek admission into the faculty of Law and uses NDU Post UTME Law Past Questions and Answer specifically to prepare for the Post JAMB Admission Screening Examination is ten times better than those who do not.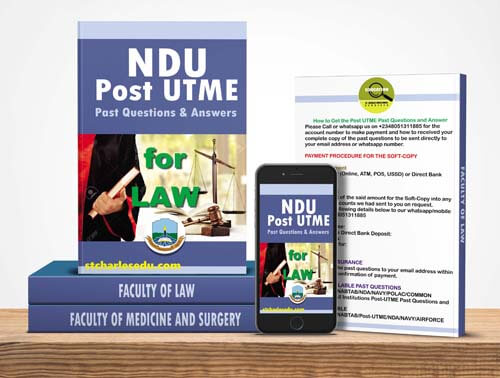 Read Also. Download NDU Post UTME Past Questions for: Medicine, Law, Science, Art, Management Science, Engineering, Pharmacy
The NDU Faculty of Law Objective
– Produce graduate with sound foundation of legal knowledge
– Equip graduate with the clear understanding of place/importance of law
– the programmed is design to incorporate politics, social and economic parameter with the operation of the law
– creating a new bread of lawyer that can think outside the jurisprudence of law.
– Ability of graduate to operate across international and domestic law
Benefit – Niger Delta University Post JAMB Past Questions
Pointer to Area of Concentration.
Help you know your speed for the actual exam.
Predict the outcome of the upcoming exam question.
Let one know if he/she has adequately prepared for the exam.
Give you confidence and make you relax on the deal day.
NDU Post UTME Subjects for Law
What are the Subjects Written in NDU Post UTME for Law.
The subjects you will write in Niger Delta University Screening Test are:
Use of English  – 25 questions
Government – 25 questions
Literature – 25 questions
Total number of question to attempts is 75
How to get NDU Post UTME Past Questions for LAW
How to Get Niger Delta University NDU Post UTME Past Questions and Answers for Law
Make a Call

Call or whatsapp us on 08051311885 for the account number to make payment and how to received your complete copy of the past questions to be sent directly to your email address or whatsapp number.

Mode of Payment.

Mobile Transfer or Direct Bank Deposit.

After Payment

send us the following
Depositor Name:
Name of Product Paid for:
Valid email address.

DELIVERY ASSURANCE

We will deliver the past question to you 10 mins after confirmation of payment to the email you will send to us.
Read/Download NDU Post UTME Past Questions LAW Free Online
Niger Delta University -Wilberforce Island Bayelsa State.
Post JAMB Screening Test
Questions for Faculty of Law
Time: 1 Hour, 30 mins
Questions Count: English (25) Maths (25) Econs (25) Govt (25)
NDU Post JAMB Question on Government for Law
1. A Typical form delegated legislation
(A) Act of parliament
(B) Bye law
(C) decree
(D) Gazette
2. A collegial executive is a government in which power is vested in a
(A) Monarch
(B) Parliament
(C) president
(D) Committee.
3. Which of the following was last to win independence from colonial rule
(A) Algeria
(B) Angola
(C) Tanzania
(D) Egypt
4. Within the United Nation, the veto power is exercised in
(A) WHO
(B) The General Assemble
(C) The Security Council
(D) UNECO.
5. The person who made the first attempt in creating states in Nigeria was.
(A) Zik
(B) Awolowo
(C) Balewa
(D) Gowon
6. Indirect rule as practiced by the British in West African colonies
(A) did not attempt to reform existing traditional institutions
(B) was over glorified and expedien: nonsense
(C) satisfied neither the ruler nor in their colonies
(D) had nothing in common with the real French rule in their colonies
(E) meant ruling through existing rulers attempting to check excesses.
7. Indirect rule was introduced into Nigeria by
(A) Dame Margery Parham
(B) Sir Donald Cameroun
(C) Sir Frederick Lugard
(D) Arthur Richards
(E) Sir James Robertson.
8. The new local government reforms in Nigeria
(A) seek to establish uniformly in type, purpose and functions of local authorities
(B) make traditional rulers more powerful than ever before
(C) are a waste of time and the federal governments "money
(D) o promote unity but allow for some diverse in the structure of local government.
(E) would definitely establish clean and effective governments at the local level.
9. In Nigeria appellate case from Courts of Appeal go to
(A) the senate
(B) the House Representative
(C) the Supreme Court
(D) the judiciary.
10. Which organ of the United Nations has primary responsibility for the maintenance world peace and security?
(A) the General Assemble
(B) the Secretary
(C) The international Court of justice at the Hague
(D) the economic and social council
(E) the Security Council.
11. The term Franchise refers to
(A) French-speaking people
(B) property owners
(C). the right to chose representatives to the legislature
(D) the educated electorate
(E) the voting card.
12. The main role of pressure group is to
(A) oppose oppressive legislation
(B) to protect the interest of country against foreign power
(C) resist temptation of gifts made by multinational companies to influence their judgement
(D) promote the interest of the political parties
(E) influence legislation in order to benefit their members.
13. A system in which a few powerful and rich nobles own land Which is hired out to the poor people to'farm is called
(A) feudalism
(B) cooperatives
(C) socialism
(D) communism
(E) communalism.
14. In a federal state, power are shared
(A) between the central governments and local . governments
(B) between the centre and other co-ordinate units of the state
(C) among the federal ministers
(D) among the federal ministers
(E) equally among the ethnic groups of the country
15. Which of the following countries in West Africa has not experience military intervention in political?
(A) Upper Volta
(B) Sierra Leone
(C) Mali
(E) Cote I voire
(E) Togo
NDU Post UTME Answer on Government for Law
01. D
02. B
03. B
04. C
05. D
06. E
07. C
08. A
09. C
10. E
11. D
12. E
13.
14. B
15. C