Are you writing the National Examination Council in June/July also know as NECO, if yes, you need the NECO Marketing Past Questions and Answers, Theory as well as Objective to enhance your preparatory skill in readiness to the exam.
we at stcharlesedu.com has compiled all the marketing objective and essay past question & answer from 2014 – till date.
This past questions will give you an over-view and nature of the exams.
Past questions will not only help you know the likely questions but you will understand the nature of the examination.
Our research has confirm that candidate that who uses NECO Marketing Past Questions to prepare for National Examination Council is ten times better than those who do not.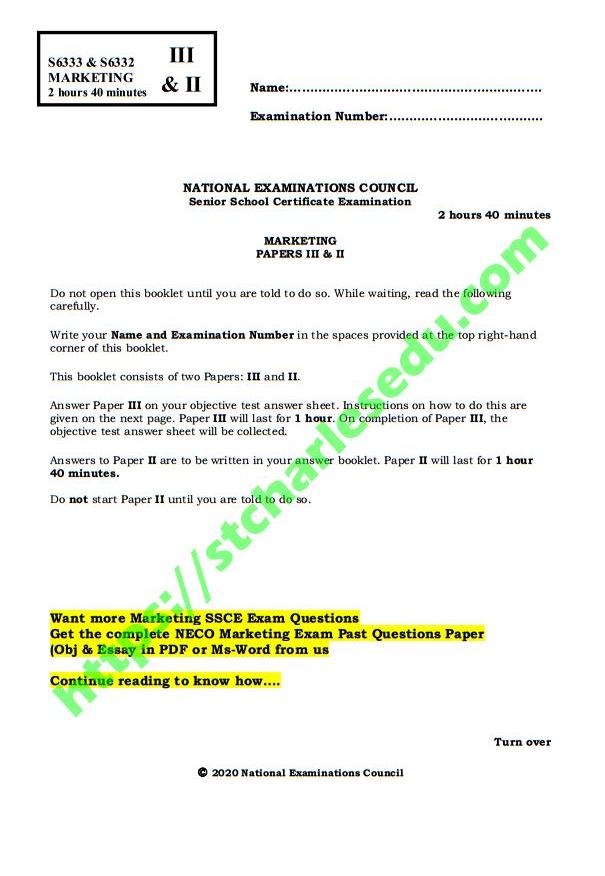 Like our Facebook Page to Download Free NECO Past Questions

questions on marketing
Free Download of NECO Marketing Question.
Click to Download your free NECO Past Question on Marketing Paper 2 and 3
Link 1: SSCE NECO Questions on Marketing Booklet
Link 2: SSCE NECO Questions on Marketing booklet
How to Buy NECO Past Question on Marketing.
Make a Call
Call or whatsapp us on 08051311885 for the account number to make payment and how to received your complete copy of the past questions to be sent directly to your email address or whatsapp number.
Mode of Payment.
Mobile Transfer or Direct Bank Deposit.
After Payment
send us the following Depositor Name: Name of Product Paid for: Valid email address.
DELIVERY ASSURANCE
We will deliver the past question to you 10 mins after confirmation of payment to the email you will send to us.
NECO MARKETING AND OBJECTIVE AND ESSAY
NECO Marketing Objective Question Sample June/July 2014
1. A merchandiser is the individual who is responsible for the
A. security of goods in the retail store.
B. quality control of goods produced.
C. availability of products at the right position in the retail store.
D. advertising of products on television.
2. The task of promoting and delivering goods and services to meet consumers' satisfaction is
A. production.
B. marketing.
C. communication.
D. selling.
3. The emphasis of marketing concept is to put
A. consumers first.
B. products first.
C. consumers last.
D. products last.
4. Which of the following activities is performed in the warehouse?
A. Stabilization of prices of goods
B. Grading and sorting of goods
C. Elimination of seasonal problems
D. Pricing of goods
5. The component of product as a marketing mix element is
A. size.
B. allowance.
C. wholesaler.
D. publicity.
6. An idea or event offered for sale is
A. promotion.
B. place.
C. price.
D. product.
7. Toothpaste is an example of
A. convenience goods.
B. industrial goods.
C. primary goods.
D. unsought goods.
8. Which of these factors would facilitate the successful operation of a company in international market?
A. Differences in domestic and foreign cultures
B. Existence of companies producing similar products
C. Provision of government subsidies to foreign investors
D. Availability of local currencies
9. Which of the following activities is not a function of advertising? To
A. remind potential customers.
B. persuade potential customers.
C. interact with potential customers.
D. inform potential customers.
10. The distribution channel suitable for the sale of tractor is
A. manufacturer -» retailer -> user.
B. manufacturer —» wholesaler —> retailer -» user.
C. manufacturer —> agent —» retailer —> user.
D. manufacturer -» agent —» user.
11. A factor to be considered in the choice of a mode of transporting goods is the
A. price of the goods.
B. nature of the goods.
C. brand of the goods.
D. packaging of the goods.
12. A price reduction to reward dealers for participating in advertising and sales support programmes is a
A. seasonal discount.
B. sales contest.
C. promotional allowance.
D. quantity discount.
NECO Marketing Theory Question Sample June/July 2014
1. Explain the following classification of products with two examples each from agricultural based products,
(a) industrial products;
(b) consumer products;
(c) primary products;
(d) secondary products;
2.(a) State five reasons companies conduct marketing research,
(b) Explain the following sales promotional tools:
(i) price-off;
(ii) salesman competition;
(iii)Free gifts;
(iv) premium offer
(v) samples;
3. (a) Illustrate any four channels of distribution for consumer products.
(b) List and explain any four pricing strategies.
4. (a) What is transportation?
(b) List and explain six factors affecting the choice of transportation mode,
5. (a) What is a market union
(b) State four functions of market facilitators,
(c) The women in Eke market formed a Garri Seller's Union. State five role of this Union.
6. Mamaput is a popular eatery in the city centre and wants to open up more outlets in other parts of the city.
(a) State four sources of fund to finance the proposed expansion by Mamaput.
(b) Explain four factors that would influence the location of the new outlets.
Search terms
neco past question on Marketing theory
neco Marketing questions
Marketing past questions and answers
neco Marketing theory