Are you writing the National Examination Council in June/July also know as NECO, if yes, you need the NECO Civic Education Past Question and Answer, Theory as well as Objective to enhance your preparatory skill in readiness to the exam.
we at stcharlesedu.com has compiled all the civic education objective and essay past question & answer from 2014 – till date.
This past questions will give you an over-view and nature of the exams.
Past questions will not only help you know the likely questions but you will understand the nature of the examination.
Our research has confirm that candidate that who uses NECO Civic Education Past Questions to prepare for National Examination Council is ten times better than those who do not.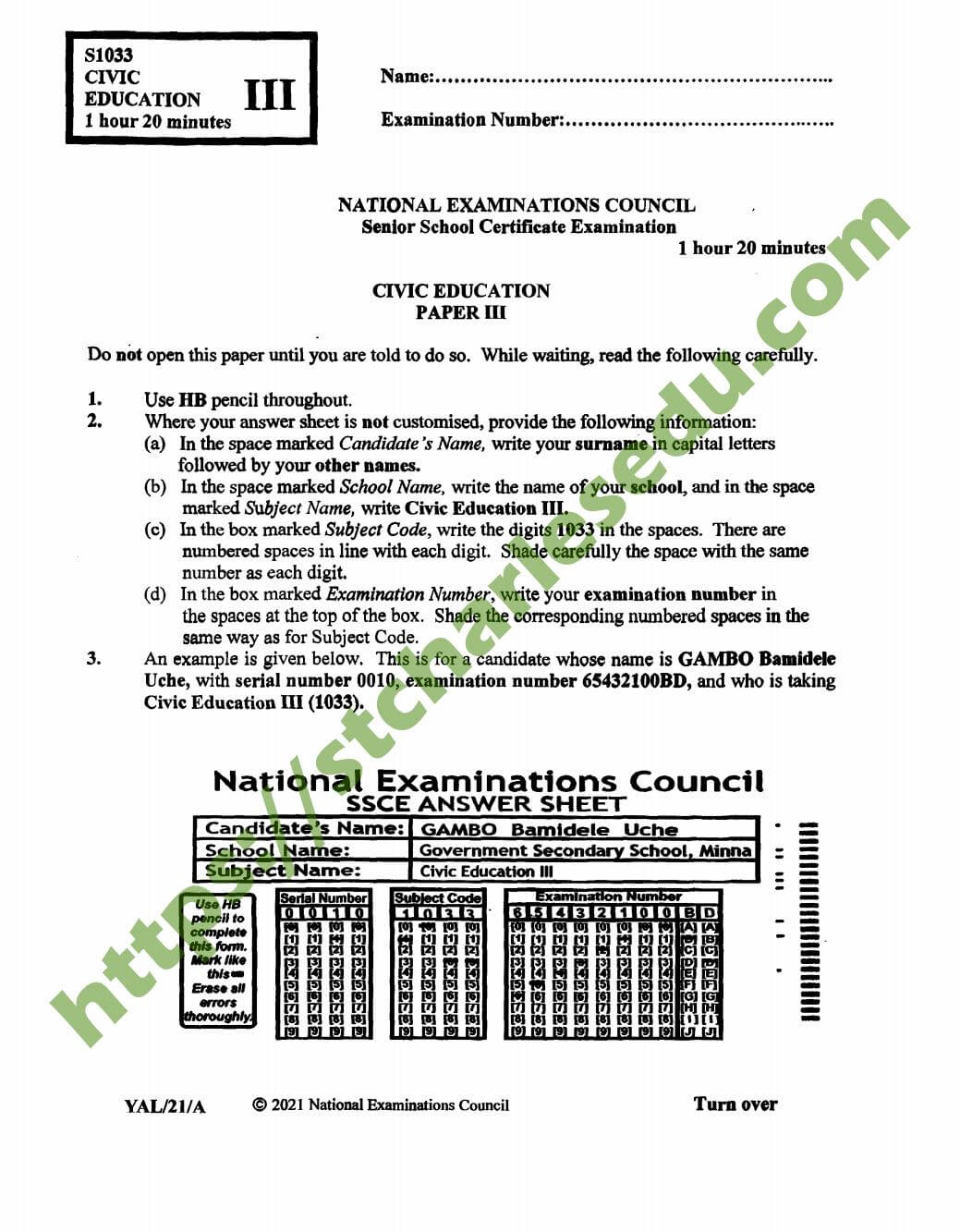 Click to Download your free NECO Past Question and Answer on Civic Education Objective and Theory Download Now
Link 1: Free Civic Edu Past Questions
Link 2: Free Civic Edu Past Questions
To get the complete copy of the Past Questions, call or whatsapp me on 08051311885
Cost or Price of NECO Civic Education Past Question N500
Like our Facebook Page to Download Free NECO Past Questions

NECO CIVIC EDUCATION ESSAY AND OBJECTIVE
NECO Civic Education Objective Question Sample June/July 2014
CIVIC EDUCATION THEORY QUESTIONS
1. Which of the following is not a function of the Independent National Electoral Commission (INEC)?
A. Administering oath of office to elected officers
B. Conducting periodic elections
C. Recruitment electoral officers.
D. Registration of political parties
E. Registration of voters
2. The upper legislative chamber of the National Assembly of Nigeria is also known as the
A. honourabies.
B. house of commons.
C. house of lords.
D. house of representatives.
E. senate.
3. Cooperation between one country and another can be described as
A. bilateral.
B. international.
C. multilateral.
D. multinational.
E. unilateral.
4. The "right to vote and be voted for" can only be enjoyed by Nigerian citizens who attain the age of
A. 13
B. 15.
C. 16.
D. 17.
E. 18.
5. A representative of a commonwealth country in another member state is known as a / an.
A. ambassador
B. attache.
C. consul-general.
D. diplomat
E. high commissioner.
6. The following are values that promote inter-personal relationship, except
A. caring.
B. honesty.
C. patience
D. properties.
E. tolerance.
7. The responsibilities of government to its citizens include the following, except
A. creating employment opportunity.
B. maintenance of law and order.
C. payment of property tax to its citizens.
D. protection of lives and property. E provision of social amenities.
8. Most African countries owed their creation to
A. African Union (AU).
B. Commonwealth of Nations.
C. Ethnic and tribal leaders.
D. European Colonialists. .
E. United Nations (UN).
9. The structure of the Nigerian legislature is – in nature
A. bicameral.
B. confederal.
C. federal.
D. unicameral. E. unitary.
10. The most effective approach towards the elimination of sexually transmitted diseases is by
A. abstinence.
B.casual sex.
C. use of condom.
D. use of drugs.
E. withdrawal system.
11. The first executive president of Nigeria is/was
A. Abubakar Tafawa Balewa.
B. Goodluck Jonathan.
C. Nnamdi Azikiwe.
D. Olusegun Obasanjo.
E. Shehu Shagari.
12. One of the aims of citizenship education is to produce students with
A. creative skill.
B. high sense of entrepreneurial skill.
C. high sense of patriotism.
D. manipulative skills.
E. scientific ideas.
13. The symbol for the campaign against AlDs is Ribbon
A. black.
B. blue.
C. green.
D. red.
E. white.
14. In 2013, Nigeria .celebrated her _ Independence Anniversary
A. 50 th
B 51 1st
C. 52 2nd
D. 53 rd
E. 54 th
15. In democracy, lack of press freedom leads to the denial of freedom of
A. association
B. expression.
C. movement
D. voting
E. worship.
NECO Civic Education Theory Question Sample June/July 2014
SECTION A
Answer two questions from each section
1.(a) Explain the meaning of values,
(b) Identify four ways through which the society can promote justice and selflessness.
2.(a) What is the meaning of UIV?
(b) Discuss four symptoms and effects of HIV/AIDs.
3. Discuss five main functions of the legislature.
4.(a) What is cuitism?
(b) Explain three reasons why students join cult,
(c) Identify three preventive measures against cultism.
SECTION B
5. Explain five consequences of human trafficking,
6.(a) What is the meaning of NAPTIP?
(b) Explain four functions of NAPTIP.
7.(a) Define public service,
(b) Discuss four ways of improving public service in Nigeria.
8.(a) What is the meaning of NDLEA?
(b) What is drug abuse?
(c) Explain three ways of preventing drug abuse.
Search terms
neco past question on Civic Education theory
neco Civic Education questions
Civic Education past questions and answers
neco Civic Education theory