Remita Retrieval Reference
is a 12 digits character that is generated and used to carry out transaction (pay electronic invoice) on the
official remita website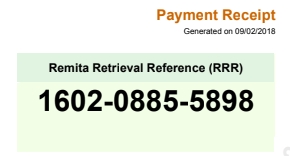 What does the RRR stand for?
RRR is the short form or abbreviation for writing Remita Retrieval Reference.


Remita is the most comprehensive way to make & receive electronic payments in Africa.
Whether you intend to use Remita for personal or business purposes, this multi-device platform lets you view all your bank balances – from different banks – on a single screen, easily transfer money to one or more beneficiaries, pay bills, view detailed transaction reports on-the-go, and much more.