FGC-WARRI
Fees Payment Procedure Via REMITA Platform
Remita is an e-Payments and e-Collections solution on a single
multi-bank platform. Developed by systemspecs
Adopted by the Central Bank of Nigeria for the payment and collections
of funds on behalf of the Federal Government of Nigeria and used by all 22
commercial banks and over 400 micro finance banks, Remita has significantly
assisted to revolutionize the e-payment industry in Nigeria.
How to Generate Federal Government
College Warri, Remita Payment Invoice
Visit the website
www.remita.net
and click on pay a remita customer bill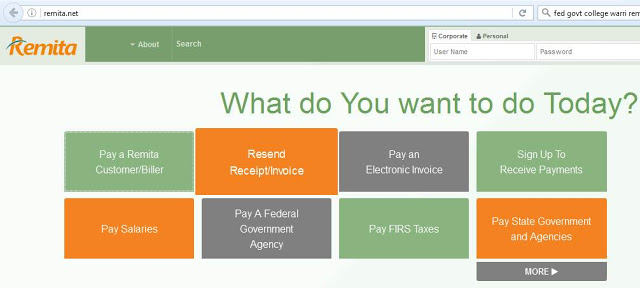 On the field who do you want to pay, type in the
remita account number for Federal government college Warri, Which is FGC WARRI – 051702603600
Name of service/purpose ==> if you are paying for school fee,
select the option overhead

Amount to Pay ==> type in
30,500.00 (as at September 2016, the school fees amount for day student is N30,500)

Payer's Address, ==> this
field is compulsory. It is the residential or contact address of the student
the payment is meant for

Description==> this field
is optional you, you can fill or leave it. It's used to enter more details of
the services you are paying for.

Payers' full name ==>
this field is mandatory, type in the full name of the student the payment is
meant for.

Payer's phone Number ==>
enters the phone number of the student, which the payment is meant for.
Email Address ==> enter a
valid email address, make sure the email address you type in is functional. Ensured
you have signed in and out to confirm if it is working before you used it. As detail
of successful payment electronic invoice will be sent to that email.
Here is a sample copy of it sent to an email, after payment at the
bank.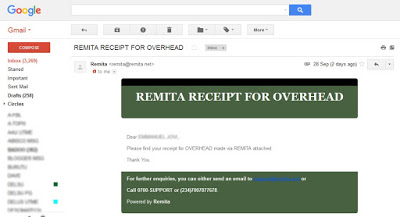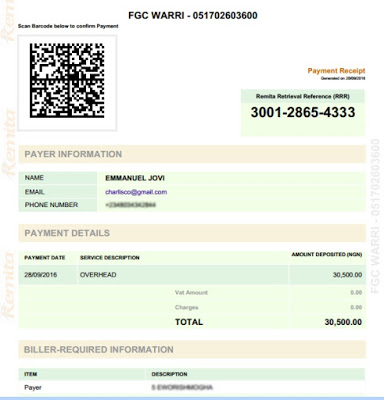 Captcha ==> used to verify that the person sending
the information through the internet is a human, enter the four character show
to you, remember it is case sensitive. If you cannot see the character clearly
click on Refresh Captcha
Proceed to Payment ==>
click on this button when you are through filling all necessary information
needed.
On the next page that loads, click on print invoice.
Print two copies and take it to the bank for payment