National Examination Council (NECO) Senior School Certificate Examination (SSCE)
This is the examination taken by candidates in their last stage of Secondary School Education. The SSCE is in two categories. One is for candidates in the third and final year of their senior secondary education and it is called SSCE Internal while the Second is SSCE External and is for candidates not in the School system, i.e. Private Candidates.
NECO INTERNAL
The SSCE internal has seventy-six subjects which are grouped into the following six categories.
1. Compulsory Cross-Cutting Subjects
2. Science and Mathematics
3. Technology
4. Humanities
5. Business Studies and
6. Trade/Entrepreneurship.
The minimum number of subjects a candidate can sit for is eight while the maximum is nine. All Senior Secondary schools in the Federation present Candidates for the SSCE Internal.
NECO EXTERNAL
Another core component of the mandate of the Council as espoused in the Enabling law is the conduct of the Senior School Certificate Examination for External Candidates.
101 : English Language (ENG)
102 : Mathematics (MTH)
103 : Civic Education (CIV)
201 : Biology (BIO)
202 : Chemistry (CHE)
203 : Physics (PHY)
204 : Further Mathematics (FMT)
205 : Health Education (HEA)
206 : Agricultural Science (AGR)
207 : Physical Education (PHE)
208 : Computer Studies (CMP)
301 : Technical Drawing (TEC)
302 : Metal Work (MET)
303 : Basic Electricity (BEL)
304 : Electronics (ELE)
305 : Auto Mechanics (ATM)
306 : Building Construction (BUI)
307 : Wood Work (WWK)
308 : Home Management (HOM)
309 : Food & Nutrition (FNU)
401 : Xtian Religious Studies (CHR)
Neco Approved Subjects
402 : Islamic Studies (ISL)
403 : Visual Art (VIS)
404 : Music (MUS)
405 : History (HIS)
406 : Geography (GEO)
407 : Government (GOV)
408 : Economics (ECO)
409 : Literature in English (LIT)
410 : French (FRE)
411 : Arabic (ARA)
412 : Hausa (HAU)
413 : Igbo (IGB)
414 : Yoruba (YOR)
415 : Edo (EDO)
416 : Efik (EFK)
417 : Ibibio (IBB)
501 : Stores Management (STM)
502 : Financial Accounting (ACC).
503 : Commerce (COM)
504 : Office Practice (OFF)
505 : Insurance (INS)
601 : Auto Body Rep & Spray Ptn (ARS)
602 : Auto Electrical Work (AEW)
603 : Auto Mechanical Works (AMW)
604 : Auto Parts Merchandising (APM)
605 : Air cond. & Refrigeration (AIR)
606 : Weld. & Fab. Engr Craft p (WFE)
607 : Elect. Install. Maint. Wk (EIM)
Neco approved subjects
608 : Radio, TV & Electro. Serv (RTV)
609 : Blk Lay. Brick L. & Cone. (BLO)
610 : Painting & Decorating (PTD)
611 : Plumbing & Pipefitting (PPF)
612 : Machine Woodworking (MWK)
613 : Carpentary and Joinery (CPJ)
614 : Furniture Making (FUR)
615 : Upholstery (UPH)
616 : Catering Craft Practice (CCP)
617 : Garment Making (GMK)
618 : Clothing & Textiles (CLO)
619 : Dyeing and Bleaching (DYE)
620 : Printing Craft Practice (PCP)
621 : Cosmetology (COS)
622 : Photography (PHO)
623 : Mining (MIN)
624 : Tourism (TOU)
625 : Leather Goods Man. & Rep. (LEA)
626 : Stenography (STN)
627 : Data Processing (DAT)
628 : Store Keeping (STO)
629 : Book Keeping (BKP)
630 : GSM Maintenance & Repair (GSM)
631 : Animal Husbandry (ANH)
632 : Fishery (FSH)
633 : Marketing (MKT)
634 : Salesmanship (SMS)
616 : Catering Craft Practice (CCP)
617 : Garment Making (GMK)
618 : Clothing & Textiles (CLO)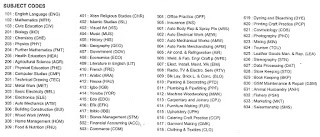 Related Search
neco compulsory subjects
list of neco trade subjects
neco approved subjects