Download Now! The National Examination Council NECO SSCE Store Management Past Questions and Answers for Objective and Essay.
Are you writing the National Examination Council NECO Internal/External Exam? If yes you need the NECO Store Mgt Past Questions & Answers
we at stcharlesedu.com has compiled a good number of NECO SSCE Questions on Store Management in PDF/Ms-Word
Store Management Paper 2 – Essay or Theory Questions
Store Management Paper 3 – Objective Test Questions
Over the years, we have received sms and call from student who used the past questions, testifying the tremendous role it play in making them come out in flying colour.
What Others are Downloading
NECO Past Questions for all Subjects
Auto Mech Work WAEC Past Questions.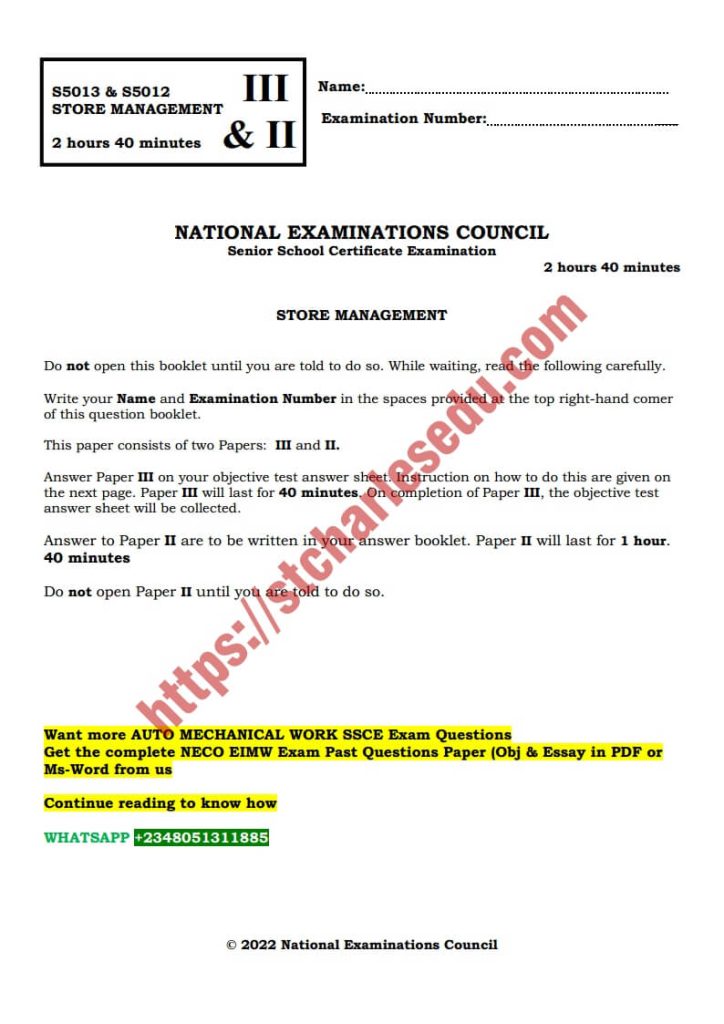 STORE MANAGMENT
PAPER III
40 Minutes
Each question is followed by five options lettered A – E. Choose the correct option for each question and shade in pencil on your answer sheet the answer space that bears the same letter as the option you have chosen. Give only one answer to each question and erase completely any answer you wish to change. Do all rough work on this question paper.
An example is given below:
Which of the following is not a means of payment through the post office?
A. Giro system
B. Money order
C. Postage stamp
D. Postal order
E. Standing order
The correct option is 'Standing order' which is lettered E. Therefore answer space E would be shaded as shown below;
[A] [C] [D] [E]
NECO Store Management Objective Questions
1.Proper storekeeping involves the following except
A. Giving access to all persons in the store.
B. Issuing items and updating the bin card.
C. Proper ventilation and lighting of the store.
D. Provision of safety devices.
E. Recording of each item in a bin card.
2. While taking delivery of materials from suppliers, the store officer is expected to prepare a
A. bin card.
B. goods receipt voucher.
C. stock ledger.
D. stock taking sheet.
E. store issue voucher.
3. Store items that are prone to fire are regarded as _ good
A. combustible
B. evaporated
C. expendable
D. liquid
E. perishable
4. Extra hour(s) spent by a store officer on duty is regarded as
A. additional shift
B. late hour
C. overtime
D. shift
E. work hour
5. The dynamic process undertaken by an individual to create wealth is
A. entrepreneurship
B manufacturing
C. retailing
D. storekeeping
E. wholesaling
6. Which of the following classification of products can best be stored in cold storage?
A. Convenience
B. Pharmaceutical
C. Shopping
D. Speciality
E. Unsought
7. Government regulates businesses to
A. create uniformity in commercial activities
B. encourage hoarding of goods
C. enhance production of low quality goods
D. ensure interrupted supply of goods
E. promote monopoly
8. The bin card differs from store ledger in ledger in that. It contains the
A. date and source of receipt individual item
B. details of maximum, minimum and reordering
C. location of each storage item and their prices
D. name and description of each item of stock held
E. quantity balance at the end of each transaction.
9. Receiving and issuing materials from the store is an objective of
A. inventory control
B. stocktaking
C. store layout
D. store organisation
E. storekeeping
10. An organisation is said to have a centralized store system when
A. all stocks and supplies are received, stored and issued from one location.
B. only one store officer attends to all requisitions.
C only one store officer receives all items brought to the storehouse
D. stocks and supplies ore obtained from one source.
E. supplies are issued from the main store to departmental or sub stores.
11. Which of the following is a characteristic of warehousing?
A. Absence of loading and offloading equipment
B. Inappropriate management of goods
C. insufficient security personnel
D. sufficient parking space to facilitate loading and offloading of goods
E. Unavailability of fire fighting equipment
12. Materials in the store are said to be issued out for conversion when they are
A. delivered lo the final users
B. expected to be returned to the store later as manufactured goods
C. issued from a temporary store within the establishment
D. issued on loan to another organization.
E. issued to another organisation
13. Idea generation as an entrepreneurial activity can be hindered by the following except
A. Fear of committing mistakes.
B. lack of funds for research
C. lack of time
D. sheer ignorance
E. sufficient training
14. The government agency established to prevent hoarding by seller who refuse to sell at controlled rate is
A. Corporate Affairs
B. Environmental control
C. Nigeria Investment Promotion council
D. Price Control Board
E. Standard Organization of Nigeria
15. The material that is prone to fire easily in a store is
A. envelope
B. gas
C. oil
D. poultry
E. toothbrush
16. Merchandise manufactured ahead of supply which are later brought out of the store for sales are __ stock
A. anticipation
B. buffer
C. new old
D. obsolete
E. out of
17. Pilferages and stock shortages are problems associated with poor
A. inventory control
B. layout selection
C. physical distribution
D. requisitioning
E. transportation
18. To ensure safe and healthy working environment, employees will require
A. inflammable items
B. insufficient information on safety issues
C. training in basic safety rules
D. unhealthy atmosphere at work place
E. untidy working environment
19. Which of the following is a reason for holding stock in a production factory?
A. Halting rapid replenishment of items in constant demand
B. Increasing the risk of suppliers failure
C. Interrupted production
D. Meeting unexpected demand
E. Negligence against lead time uncertainties
20. The most suitable system of numbers or symbols that can be used to represent chemical products in the store is _ coding.
A. colour
B. end use
C. nature of item
D. numerical
E. suppliers'
21. The highest position in large store organization hierarchy is
A. Chief Store Officer.
B. Chief Storekeeper.
C. Stock Record Officer.
D. Stores Officer.
E. Stores Supervisor.
22. One of the advantages of item* coding ii
A. difficulty in items identification
B. difficulty in locating coded items
C. casing the requisitioning process
D. increasing costs of coded items
E. lack of standardization in the coding system
23. Easy accessibility of materials is a reason for proper store
A. identification
B. inspection
C. layout
D. maintenance
E. organisation
24. Arrangement of codes to correspond with the purpose for which items are used explains
A. colour coding
B. end use coding
C. identification by numbers
D. nature of items
E. suppliers' code
Want more NECO SSCE Past Exam Questions?
Get the Complete NECO Store Management Objectives and Essay Past Questions and answers from us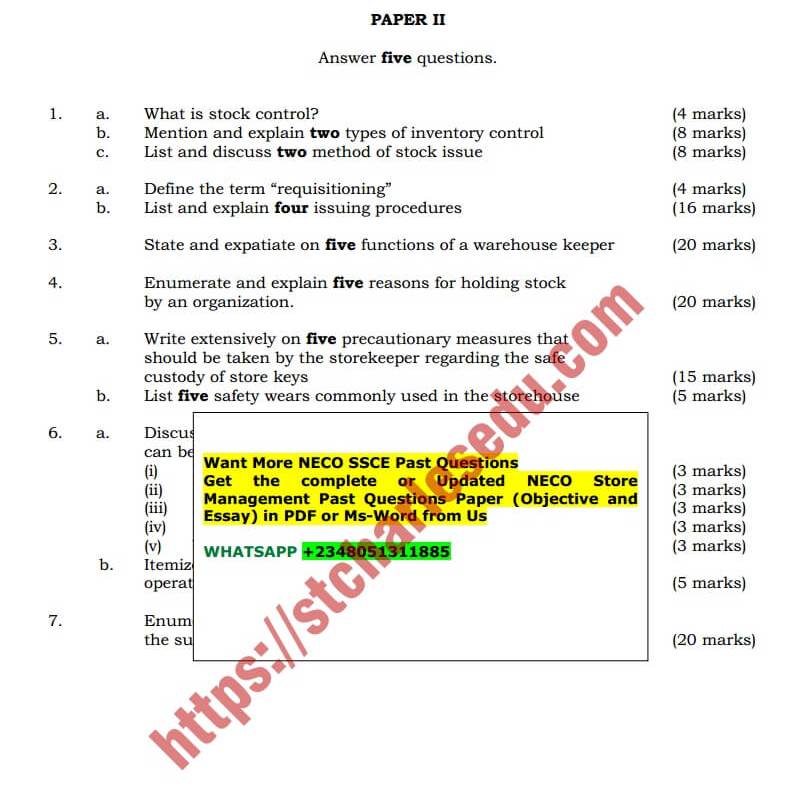 Store Management NECO Essay Questions
PAPER II
Answer five questions only.
1a. What is stock control? (4 marks)
1b. Mention and explain two types of inventory control. (8 marks)
1c. List and discuss two method of stock issue. (8 marks)
2a. Define the term "requisitioning" (4 marks)
2b. List and explain four issuing procedures. (16 marks)
3. State and expatiate on five functions of a warehouse keeper. (20 marks)
4. Enumerate and explain five reasons for holding stock by an organization. (20 marks)
5a. Write extensively on five precautionary measures that should be taken by the storekeeper regarding the safe custody of store keys. (15 marks)
5b.List five safety wears commonly used in the storehouse (5 marks)
6a.
(i) (3 marks)
(ii) (3 marks)
(iii) (3 marks)
(iv) (3 marks)
(v) (3 marks)
6b. (5 marks)
7. (20 marks)
Essay Questions 6 – 7 Removed: Want More NECO SSCE Past Questions
Get the Complete or Updated NECO Past Questions (Objective and Essay) In PDF or Ms-Word from Us.

Whatsapp +238051311885 .
Free Store Management Past Questions PDF Download
Click to Download your free NECO SSCE Past Question on Store Management Paper 2 and 3
Link 1: NECO Store Management Past Questions Free PDF Download
Link 2: Common Store Mgt Questions and Answer in NECO
Link 3: NECO Store Management Essay Question
How to Get Store Management Past Questions in PDF
To get the complete and more recent copy of the National Examination Council NECO Past Questions and Answer on Store Mgt
Take Note of the following step
Take Action
WhatsApp us on 08051311885 for the account number to make payment and how to received your complete copy of the past questions to be sent directly to your email address or whatsapp number.
Mode of Payment.
Mobile Transfer or Direct Bank Deposit.
After Payment
send us the following
Depositor Name:
Name of Product Paid for:
Valid email address.
DELIVERY ASSURANCE
We will deliver the past question to you 10 mins after confirmation of payment to the email you will send to us.