Are you writing the National Examination Council NECO Internal/External Exam? If yes you need the Catering Craft Practice CCP NECO Past Questions.
we at stcharlesedu.com has compiled a good number of Catering Craft Practice NECO Past Questions in pdf.
Catering Craft Practice Paper 2 – Theory/Essay Questions.
Catering Craft Practice Paper 3 – Objective Test Questions.
Our research has confirm that student who uses National Examination Council Catering Craft Practice past questions to prepare for NECO Exam is ten times better than those who do not.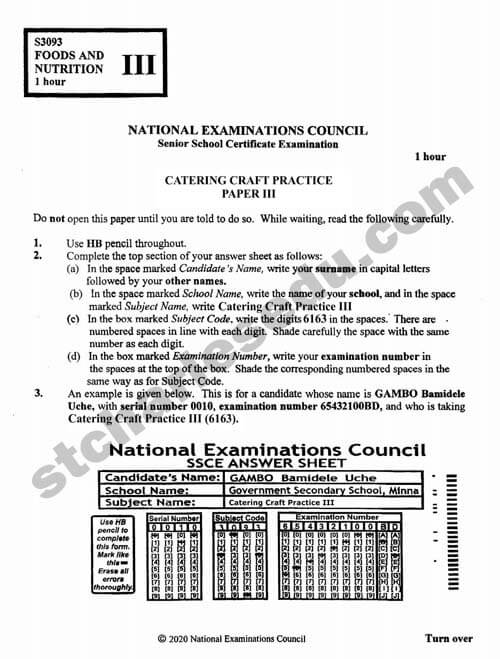 NECO Past Questions on Catering Craft Practice
Catering Craft Practice PAPER III
Paper 3 will last 1 hour
Attempt all Questions from this section
Answer paper 3 on your objective test answer sheet,
Use HB pencil throughout.
NECO Objective Test Questions in Catering Craft Practice.
1. Which of the following foods is not processed ?
A. Milo
B. Flour
C. Flakes
D. Bread
E. Banana
2. The best way to deal with a customer who complains about poor service is 10
A. offer him Free drink.
B. make excuses.
C. inform the head waiter
D. discipline the waiting staff.
E. call the police.
3. Washing of hands is required in the following activities except
A. while eating.
B. before handling fresh food
C. after using the toilet.
D. after sneezing.
E. after handling garbage.
4. Which of the following is a nourishing drink?
A. Pineapple drink
B. Palm wine
C. Herbal mixture
D. Egg flip
E. Coffee drink
5. White wine is served ______ while red wine is served at room temperature
A. warm
B. plain
C. hot
D. fresh
E. chilled
6 Convenience foods are
A. stored in the fridge
B. pre-prepared and packed
C. packed and properly stored
D. dried in the sun
E. cooked and served
7. The internal edible organs of an animal is called
A. saddle
B. rump
C. offal
D. brisket.
E. breast
8. Which of the following is the duty of the food and beverage manager? He
A. takes order from guests and their friends
B. serves wine to seated guests.
C. is responsible for setting of tables.
D. ensures that set profit margins are met.
E. allocates rooms to guests on arrival.
9. Poisson is for _____ as giber is for game.
A. beef
B. fish
C. goat
D. lamb
E. vegetable
10. Which of these kitchen personnel's is responsible for carving of joints?
A. Le trancheur
B. Le potager
C. Le chef de cuisine
D. Le boulongcr
E. L'aboyeur
You offered 8% discount to a customer to cater for his wedding party worth N800,000 00
Use the above information to answer ,questions 11 and 12
11. How much is the actual discount?
A. N640.000 00
B. N100,000 00
C. N64.000 00
D. N10.000 00
E. N4.000 00
12. How much do you expect the customer to pay?
A. N796.00000
B. N790.00000
C. N736.00000
D. N700.000 00
E. N156.000 00
13. Which of the following is a type of table cover
A. Silver
B. Gueridon
C. Family
D. Courier
E. Breakfast
14. The first step in creaming of a cake is mixing of margarise and
A. sugar
B. salt
C. milk
D. flour
E. egg
15. Cooking of flour and fat to brown sandy texture will cause the starch to
A. reduce in quantity
B. loose Its thickening property
C. loose its colour
D. have an oily burnt taste.
E. have a pleasant taste
16. Cocktails whose ingredients are wine based should be
A. tested
B. strained
C. stirred.
D. garnished.
E. fermented
17. Special checks for food order should be promptly signed by the
A. kitchen clerk.
B. head waiter.
C. head cashier.
D. guest.
E. announcer.
18. Which of the following cooking methods does not require the use of fat?
A. Stewing
B. Poaching
C. Grilling
D. Frying
E. Baking
19. The main use of knife in confectioneries is for
A. icing.
B. grating.
C. draining.
D. dicing.
E. creaming.
20 Which of the following is a first aid treatment for a cut?
A. Wash with salt solution
B. Cover with piece of cotton wool
C. Clean with hydrogen peroxide solution
D. Apply direct pressure on the cut
E. Apply acrifilarine solution on the cut
Want more Objective Questions like this?
Get the Complete NECO Catering Craft Exam Questions (Obj & Essay) in PDF Format.
What others are downloading NECO Past Questions for all Subjects
Catering Craft Practice NECO Theory Questions
Catering Craft Practice PAPER II
This paper consists of two Sections: A and B.
Answer four questions in all; at least one from each section.
Write your answer in blue or black ink in your answer booklet.
All questions carry equal marks.
Catering Craft Practice Theory Questions – SECTION A
PAPER II – SECTION A
1(a) What is the full meaning of ODC in food service?
(b) Explain the following terms in relation to food and beverage area:
(i) Crumbing down
(ii) Food accompaniment
(iii) Catering
(c) Outline two qualities of a caterer's clothes.
2(a) Mention three importance of a service salver in the Restaurant.
(b) Outline two possible signs of accident with shock and a first aid measure necessary for each.
(c) List six examples of cleaning equipment used in Catering establishment.
3(a) Explain the following culinary terms used in Catering:
(i) Bon appetite
(ii) Fricassee
(iii) Bread crumb
(iv) Caramel
(b) Enumerate four technical skills a waiter should carryout during food service.
4(a) Define the term hygiene.
(b) Explain two types of hygiene.
(c) State one function each of the following equipment:
(i) Bar liquidiser
(ii) Shaker
(iii) Strainer
(iv) Skewer
Want more CCP Theory Questions like this?
Get the Complete NECO Catering Craft Exam Questions (Obj and Essay) in PDF Format.
Free NECO CCP NECO Questions Download
Click to Download your free NECO Past Question on Catering Craft Practice Paper 2 and 3
SSCE NECO CCP Questions Booklet
How to Get National Examination Council NECO CCP Past Questions
Make a Call
Call or whatsapp us on 08051311885 for the account number to make payment and how to received your complete copy of the past questions to be sent directly to your email address or whatsapp number.
Mode of Payment.
Mobile Transfer or Direct Bank Deposit.
After Payment
send us the following
Depositor Name:
Name of Product Paid for:
Valid email address.
DELIVERY ASSURANCE
We will deliver the past question to you 10 mins after confirmation of payment to the email you will send to us.