Do you need Pharmacists Council of Nigeria PCN Professional Examination Past Questions Paper?
Do you want to download Pre-Registration Examination for Pharmacists PEP Past Question for the following set – March and October.
If yes, then you are in the right place.
In order to prepare well for any upcoming exam, student need to get them self familiar with previous exam question.
This is why the need for past question are necessary, to have an idea of what to expect in the upcoming exam.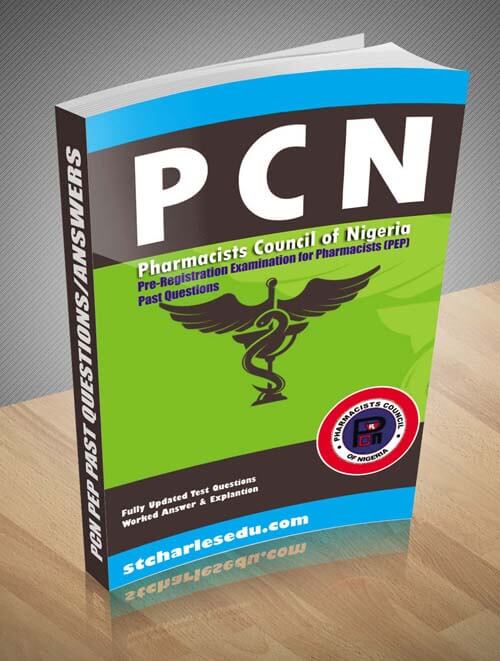 Functions of Pharmacists Council of Nigeria PCN
The Pharmacists Council of Nigeria (PCN) is a statutory empowered by Decree 91 of 1992 of the Federal Government of Nigeria under the supervision of the Federal Ministry of Health.
Function of the Council
Regulation and Control of practice of Pharmacy
Maintain high standard of Professional Pharmacy
Enforce discipline within the profession
Establishment and maintenance of register of Pharmacists.
PCN PEP Examination
i. The examination shall hold twice in a year, March and October
ii. Candidates are to collect and submit application form from PCN offices nationwide or download form from PCN Website.
Fee for the Examination
The examination fee to be charged shall be as prescribed by the PCN and shall be subject to periodic review.
Pass Mark & Sitting for Examination
i.The pass mark shall be 50%.
ii.A candidate shall be eligible to sit for the examination to a maximum of four (4) attempts, upon the payment of prescribed fee and fulfillment of other conditions.
iii.If a candidate has failed four times, he/she shall be required to undergo a refresher programme as may be prescribed by PCN before making one (1) more attempt.
PCN Pre-Registration Examination for Pharmacists PEP Past Question Paper Feature
The examination shall be by multiple choice questions, covering the syllabus.
Two hundred (200) multiple choice questions shall be administered in two (02) hours.
The prescribed duration of the examination as indicated on the examination paper shall be strictly adhered to.
Candidates shall write their examination numbers on both the question papers and answer sheet.
Candidates shall answer questions directly on the multiple choice answer sheet provided by shading the appropriate lettered option using Hb pencil.
Pharmacy PEP Exam Past Question Paper – How to Download
We are happy for your interest in wanting to download the PCN PEP Past Questions/Answer.
Hence, this will go a long way in improving your preparatory skill.
This will give your first hand info on how the question are set, the time duration, and the pattern of the questions.
Thereby equipping you beforehand, and boast one confident during the exam.
One of the sure ways of passing the Pharmacists Council of Nigeria PCN professional examination is to study the body past questions.
So you have to ensure that you download the relevant past questions today.
Pharmacists Council of Nigeria PCN Past Question Papers
To get the up-to-date copy of the past questions paper in pdf format.
Call or whatsapp me 08051311885 on how to obtain your copy.