How To Retrieve JAMB Regularization Number (JRN) – If you have misplace your JAMB Regularization Registration Number through one way or the other. In this article you will learn how to retrieve it back.
Getting it back is pretty easy if you know what to do, and that is what we are going to show you in a minute.
Meanwhile, if you have been thinking whether Retrieving of JRN is possible, the answer to that is "YES".
Now follow the instruction if you are here because you want to Get back your JRN.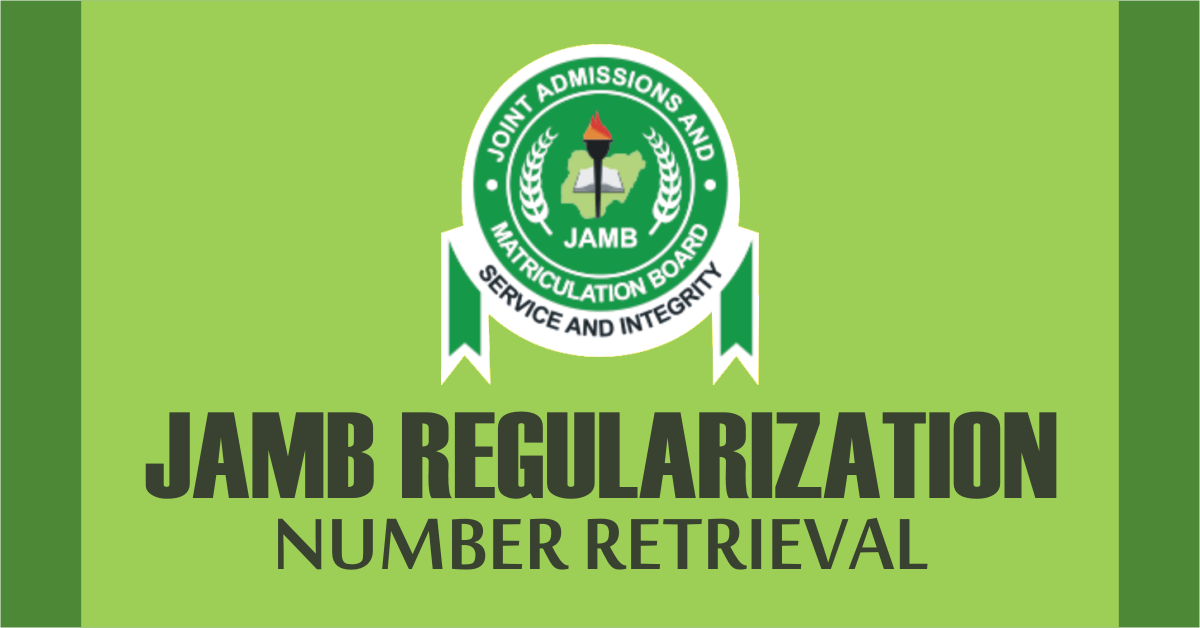 How to Get Back Your Lost JAMB Regularization Number.
Check the Inbox of the Email Account Used to Signup.
One of the easy and sure way of getting back your JAMB Regularization number free, is to log into the email address used to sign-up or registered for JAMB Regularization.
Search for the message respond from JAMB, indicating your regularization has been approved, there you will see you JAMB regularization Registration number.
Visit where your JAMB Regularization Registration were done.
Most of the JAMB CBT Registration Centres keep record of candidates that do Registration through them including their registration numbers.
You can get your lost Regularization Number by visiting them and making a humble request for it.
Though it may cost you extra charges.
Using the Option of Paid Services.
How to Retrieve JRN Through Paid Service.
Step to Get Back Your Lost Regularization Reg Number.
Send us the following detail below to our email address: charlisco@gmail.com or as text message to our official call/whatsapp number 08051311885.
1. Your Full name.
2. Date of Birth (DOB).
3. State of Origin.
4. The Year you gain admission.
5. The Year the Regularization Registration was done.
6. Did you applied using your previous jamb Registration Number  (Yes or No)
7. If yes what Year was Your previous JAMB Registration Number:
8. A working or valid email address.
9. Any of your phone number we can used to communicate back to you. whatsapp number is preferable.
Within 20mins – 24hrs, If you are duly regularized for the said year you sent to us, we are going to send you a passport photograph of yours to your email or whatsapp number, this also indicate that we have successfully recover your forgotten regularization number.
Cost to Get back your Lost JAMB Regularize Reg Number
We charge 1800
Payment Procedure to Get back Your Lost Jamb Regularize Number.
After payment of the said amount for examination number into any of the Bank account I will send to you on request.
Send an sms in this format stated below to this mobile/whatsapp number 08051311885.
Depositor Name (your full name)
Teller no:
Email address:
Services Paid for:
ATM, Mobile and Online Money transfer also accepted.
DELIVERY ASSURANCE
Your examination number will be deliver to you, 10 mins after confirmation of payment
Other Service we can be of Help to you

We can help you get back the following
Jamb Result slip for any given year
Jamb Admission Letter for any given year
Direct Entry Acknowledgement slip for a current year
Regularization for NYSC and Admission Letter
What do you think? Was this article How to Retrieve JAMB Regularization Number helpful and useful?
If this article on How to Retrieve JAMB Regularization Number has been helpful Please share and Like us on Facebook@StCharlesEdu.