How to Change State of Origin or Local Government Area (LGA) in Jamb Portal …The Joint Admission and Matriculation Board (JAMB) Wished to inform all Interested Candidate that have issue of wrong State of Origin or Local Government Area (LGA) during the Online Registration, that it can be corrected/change now that the result has be released.
Wrong State of Origin in JAMB registration have always been a reoccurring issue, here are some of the issue that lead to wrong state of origin be selected during registration.
Using your Maternal State of Origin/Local Govt Origin Instead of your Paternal State/Local Govt of Origin.
Some local Govt Area name have North, South, East and west, you unknowingly choose the wrong one.
Using the State/Local Govt Area you reside as your State of Origin.
Now, whichever of these class you find yourself, the solution to your problem is here.
Jamb Correction of State of Origin or Local Govt Requirement.
1: Username (The email account used to register for jamb).
2: Password ( The password created during JAMB regist, mostly different from the password you used to login into your gmail or yahoo account).
3: UTME Data Correction Online payment.
Read Also
What is My JAMB Username and Password
How to Retrieve Jamb Login Details
How to Upload WAEC Result on JAMB Portal
Guide on How to Change State of Origin in JAMB Portal
 Visit the Change of State of Origin Jamb Portal http://www.jamb.org.ng/efacility
Type in your JAMB Username; password and click on Login.
On your Dashboard, click on the link UTME Data Correction.
Click on the button Make New Payment.
on the Payment Choice Dashboard, Select and Click on you preferred of payment (available payment method are Pay with Remita and Pay with Unified Payment.
On the Next page, click on the button Continue to Payment, fill the required information to complete payment.
If done correctly, payment will be successful and same time approved.
You will be redirected to a page where you will see option to make correction to State/Local Govt of Origin.
Select and click on State/LGA of Origin Correction.
Select your New State of Origin and Local Government Area (LGA).
Click on Save Changes to complete the process. if done correctly a message will pop out, "State/LGA Correction is Successful", click OK.
Click on Profile Icon to see the new changes be effected.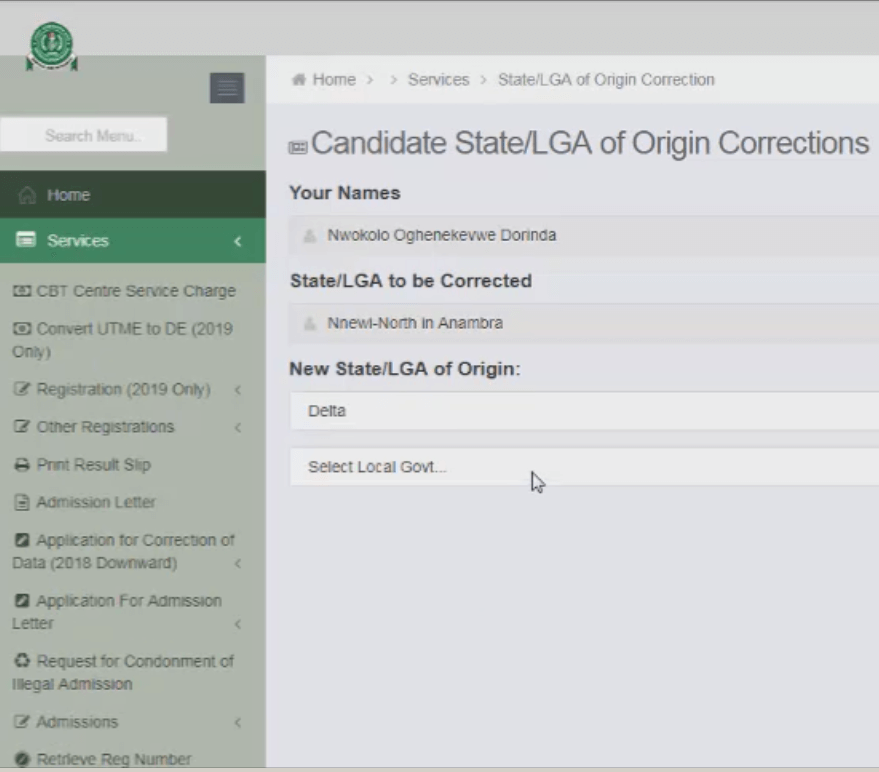 Guide on How to Change Local Government Origin in JAMB Portal.
This follow same process, the only difference is you are just changing the local government Area of Origin, unlike the first one where both the state and local government of origin where changed.
Video – How to Correct State/Local Govt Origin in JAMB Profile

What is your take on this? if you find this article helpful, do not hesitate to share it with your friends and relations via social media using the share button below.