How to confirm, verify or know if your O'level Result (WAEC, NECO and NABTEB) have been succesfully uploaded on JAMB Portal.
How to Confirm O'level Awaiting Result Released to be Uploaded to Jamb Website
Question 1.
During my jamb registration, I used awaiting result to apply, now my result has been released, I want to upload the result into jamb portal. How can i know if my olevel result has been successfully uploaded?
Answer
One major draw back about this jamb o'level result uploading of a thing, is that, it does not produce a print out after final submission or completion, but the best an alternative to the print out, is to have a screenshot of the information entered.
For you to be sure that your O'level result was successfully uploaded and the information correctly entered, here are two things you need to know/do.
1. Visit any cbt centre, by yourself, and be there while your Olevel details are being entered / uploaded.
2. If someone is doing it for you by proxy, please ask the person to make a request for a screen shot, and get it printed out, so that you can review the hard copy of the information that was sent across to jamb portal.
Here are screenshot of applicants O'level result that were correctly entered and uploaded.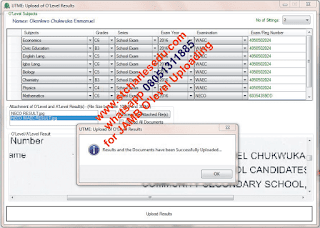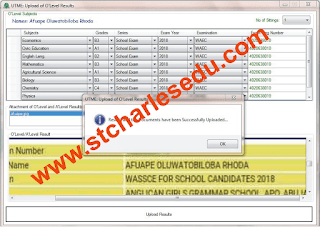 Also Read.
How to Confirm Old O'level Result Uploaded to Jamb Portal
Question 2.
During my UTME Registration, I did not used awasiting result, I was asked to submit a copy of my O'level result.
How do I know or re-confirm if my Olevel result was successfully uploaded.
Answers
Jamb has not yet provided a means for applicants to check it by themselves if their Olevel result was correctly entered or uploaded in jamb portal.
Applicants has to visit a cbt centre to reconfirm this.
Upon visiting a cbt centre, once they type in your jamb profile code.
A message will pop up, like this one showing below.
The message  above, only indicates that the scanned o'level document was successfully uploaded. It does not show or verify if your correct details were RIGHTLY entered.
Details such as these are not shown:
i. Subjects and their grade.
ii. Examination number and year of exam.
iii. Exam types.
Please be alert as both details are necessary for admission.
After years of experience in this business, I conciously mention this fact because of the setback it has brought on a lot of students. Some times I just decide to check if the O'level details were entered correctly by deleting the applicant's previously 
uploaded document
 (as this enables me to see the candidates correct olevel "typed and scanned" details). And to my dismay, I some times find out that some subjects and their grade are not entered correctly. This most times end up as a huge setback to candidates.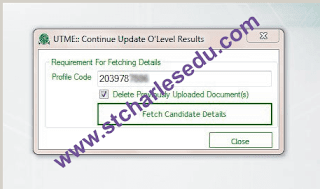 Some times I just decide to check if the O'level details were entered correctly by deleting the applicant's previously uploaded documents
So here is my advise
To be on the safe side, ask the cbt operator to show you the subject and the grade even if the system indicates that you have successfully uploaded your documents.
Please do not forget to re-upload your scanned o'level document after seeing your grade.
How to know if your WAEC Result has been Uploaded to JAMB portal – Video
Search Terms
How to confirm if my waec result has be uploaded
How do i know if my ssce result has be uploaded
how can i verify my neco result on jamb website