In my previous article i talk about What To Do If Your Name Is Not On JAMB Matriculation List, but after publishing that article i receive another complain from prospective corps member facing this issue "The JAMB Reg Number Does not Exist. (You cannot Register, Contact Your Institution) Use by None" on NYSC Portal.
This article will guide those who are facing this issue of JAMB Reg Number Does not Exist on NYSC Portal on the right step to take.
Since NYSC partner with JAMB, and only allow eligible corp member on it website database to be mobilize. some set of prospective corper are now facing this particular issue.
There by depriving them from doing their registration even when the JAMB Registration number is valid.
What is JAMB Registration Number All About.
A JAMB Registration number is a combination of 8 eight digits Number and 2 two Alphabets, that is assign to any candidate that successful registration for JAMB or Direct Entry.
example are 75296010EB, 86799371, 95528670AF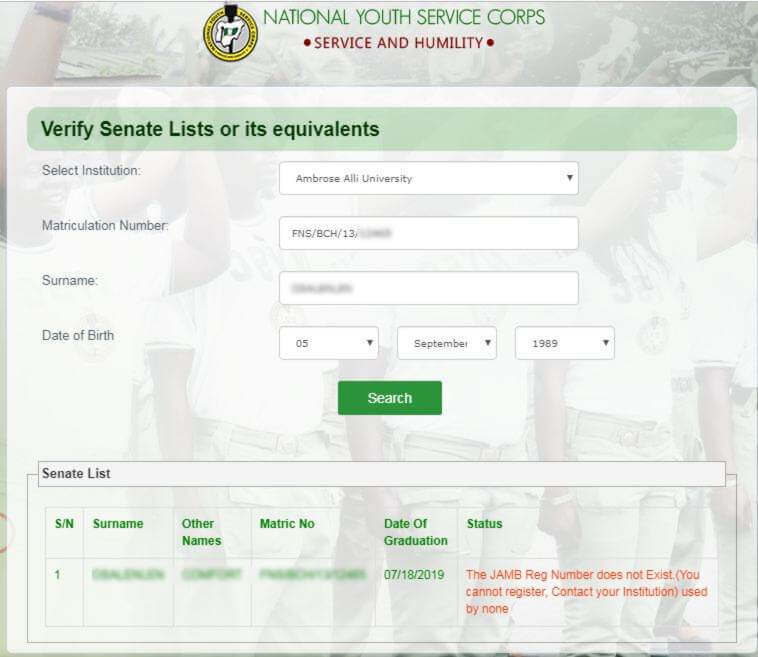 The JAMB Reg Number Does not Exist – Here is What to Do.
All you have to do is;
a. Make Sure that on the Jamb Matriculation List Portal Your status is showing: Congratulations, You are on the Matriculation List.
c. Take your admission letter given to you by JAMB and your Institution.
2. Go to any JAMB office closer to you.
3. On reaching there, explain to them the problem you are facing.
4. If you are duly attended to, the issue will be solve, and you will be to come back to the office for your new print out.
How to Verify Name On Jamb Matriculation List.
1. Visit the Jamb Matriculation List site.
2. Select the given year you register for JAMB, by click on the option Select Examination.
3. Type in your UTME Reg No This is made up of Eight 8 digits and 2 Alphabet at the ending.
4. Scroll down and click the button Fetch My Details.