First Bank WAEC VERIFICATION PIN is a pin used by NYSC portal to access or retrieve a candidate date of birth from WAEC portal, for the purpose of correction or change of date of birth in NYSC portal.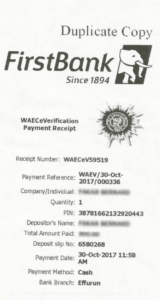 How to get First Bank WAEC Verification Pin from us.
from the start the verification PIN was sold by First Bank. But for convenience, you do not need to be on that long queue
a. Call or whatsapp me on 08051311885
b. PAYMENT PROCEDURE
After payment of the said amount (N1000) into any of the Bank account I will send to you on request.
Send an sms in this format stated below to this mobile/whatsapp number 08051311885.
• Depositor Name (your full name)
• Teller no or snap proof of transfer
• Email address:
• Services Paid for:
ATM, Mobile and Online Money transfer also accepted.
c. DELIVERY ASSURANCE TIME (5 Mins)
Once your Payment has been confirmed, your PIN will be sent to your registered email address or whatsapp number
How to Correct Date of Birth using First Bank WAEC Verification Pin
1. Buy First Bank WAEC Verification PIN from us.
2. Visit NYSC registration portal, click on "Login" to resume registration
3. Login with your email address and password
4. This will load your Dashboard, Click on "Change Date of Birth" menu. A new page will pop-up
5. Follow the On-screen Instructions to complete the process, hit the "Submit" button when you are done
Things to Note:
You can not used the verification pin to change state of origin.
you can not used the verification pin to change into the date of birth in your NECO certificate or result.
Only the date of birth in your WAEC can be used to make the change.
It takes some days before NYSC will notify you of the change.
Two or more candidate can not used one pin