Download Now on this page free West Africa Health Examination Board WAHEB Higher National Diploma HND in Environmental Health Technology Past Questions in PDF.
WAHEB Environmental Health Technology Exam Questions Paper
List of Higher National Diploma Exams Questions for Environmental Health Technology avaliable for download
01. EHT 410 – Environmental Health Services In Emergencies
02. EHT 412 – Environmental Health Laws Ethics and Policies
03. EHT 413 – Environmental Monitoring And Impact Assessment
04. EHT 414 – International Health Services
05. EHT 415 – Pest Management, Equipment And Machinery
06. EHT 422 – Environmental Monitoring
07. STB 401 – Parasitology
08. EHT 409 – Sanitary Inspection of Premises II
PMT 321 – Pest Management Principle And Method
PMT 322 – Pesticides
PMT 324 – Rodent And Control
PMT 431 – Pest Management Equipment And Machinery
Are you writing this upcoming WAHEB HND Environmental Health Technologist final year examination.
If yes, then one of the sure way of passing this exam easily is to study the past questions.
What Others are downloading: WAHEB OND Past Questions Paper PDF
you really want to know why, here is a summary of the reason.
It give you an insight on the scope of exam.
You won't be in the dark about questions to expect in the examination.
You will be self reliant during the exam
You won't develop examination fever as you already know the angle of where the question will be coming from
Equips you beforehand.
we at stcharlesedu.com has compiled a good number of WAHEB Environmental Health Technology Past Questions in pdf for HND applicant.
Over the years, we have received sms and call from student who used the past question,
About the tremendous role it play in making them come out in flying colour.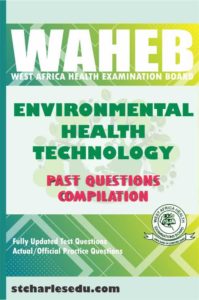 Free WAHEB Past Questions EHT PDF Download
Click to Download your free WAHEB Past Question Paper for Environmental Health Technology EHT
PMT 431-Pest Management Equipment & Machinery
WEST AFRICA HEALTH EXAMINATIONS BOARD
2008 HIGHER NATIONAL DIPLOMA (HND) EXAMINATION IN ENVIRONMENTAL HEALTH TECHNOLOGY
Date: Wed June 25, 2008 Time Allowed: 2 ½ Hours, Time: 9:00am – 11:30am
NOTE CAREFULLY THE INSTRUCTIONS ON THE FRONT COVER OF YOUR ANSWER BOOKLET
ANSWER ALL QUESTIONS
PMT 321 – PEST MANAGEMENT PRINCIPLE AND METHOD
1a. State five (5) principles of Pest Management (5 Marks)
1b. Explain three (3) of the principle of Pest Management stated in 1a above with examples (15 Marks)
2. Explain the importance of pest management in the following context
a. Public Health (10 Marks)
b. Economics (5 Marks)
c. Agriculture (5 Marks)
3a. Define the terms Integrated Pest Management (IPM) (5 Marks)
3b. Describe how Mosquito can be controlled using IPM approach. (15 Marks)
4. Discuss the principle of cultural control methods of Pest Management (20 Marks)
5. Describe the following method of Pest Control
a. Biological Methods (5 Marks)
b. Environmental Methods (5 Marks)
c. Chemical Methods (5 Marks)
d. Physical Methods (5 Marks)
How to Get WAHEB HND Environmental Health Technology Past Questions
The newly updated WAHEB Higher National Diploma HND Past Questions for Environmental Health Technology is avaliable for download
Below are the steps to take to download your copy of the final exam past questions
Make a Call
Call or whatsapp us on 08051311885 for the account number to make payment and how to received your complete copy of the past questions to be sent directly to your email address or whatsapp number.
Mode of Payment.
Mobile Transfer, POS or Direct Bank Deposit.
After Payment
send us the following
Depositor Name:
Name of Product Paid for:
Valid email address.
DELIVERY ASSURANCE
We will deliver the past question to you 10 mins after confirmation of payment to the email you will send to us.