Do you need UI Post UTME Past Questions for Law, Do you want to download University of Ibadan Post UTME Past Questions and Answer for the department of Law.
Then you have search to the right place.
The University of Ibadan UI Faculty of Law, was established in 1981, within the faculty of Social science.
the programme offer undergraduate student with the award of LL.B
The Faculty has since inception been involved in the advancement of legal education through public lectures delivered by eminent jurists, seminars and publications of its journal the Ibadan University Law Review and other publications.
The general philosophy of UI faculty of Law is to produce graduate to meet the need of the society through excellent in legal training, research, and development.
University of Ibadan Faculty of Law Mission.
1. Expand the frontiers of Lagal knowledge via learning and research.
2. Produce law graduate who have sound judgement, worth in character and able to Learn
3. Contribute to the transformation of society, research, clinical legal education/creativity.
4. be seen as the focal point voice, for law faculties and legal education in west africa.
Read Also. Download UI Post JAMB Practice Questions for Medicine & Surgery, Law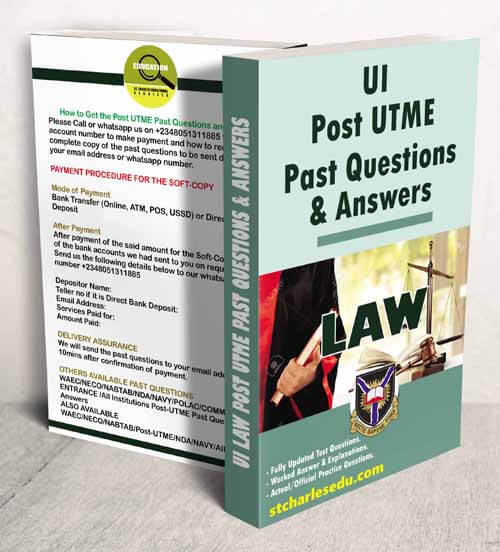 Benefit of Using UI Post UTME Past Questions/Answers to study
Pointer to Area of Concentration.
Help you know your speed for the actual exam.
Predict the outcome of the upcoming exam question.
Let one know if he/she has adequately prepared for the exam.
Give you confidence and make you relax on the deal day.
UI Post UTME Subject Combination for Law
What are the Subject written in UI Post UTME for Law
The subjects you will write in University of Ibadan Post JAMB Screening Test are
English Language.
Government.
Christian Religious Studies.
How to get UI Post UTME Past Questions & Answers for Law
How to Get University of Ibadan Post UTME Past Questions and Answers for Law
Make a Call

Call or whatsapp us on 08051311885 for the account number to make payment and how to received your complete copy of the past questions to be sent directly to your email address or whatsapp number.

Mode of Payment.

Mobile Transfer or Direct Bank Deposit.

After Payment

send us the following
Depositor Name:
Name of Product Paid for:
Valid email address.

DELIVERY ASSURANCE

We will deliver the past question to you 10 mins after confirmation of payment to the email you will send to us.
Download Free UI Post UTME Past Question and Answer for Law
UNIVERSITY OF IBADAN, IBADAN.
POST-UTME PRACTICE QUESTIONS & ANSWERS
GOVERNMENT
UI Post UTME Government Past Questions
1. A key characteristic of the civil service is
(A) Merit system.
(B) Patriotism.
(C) Quota system.
(D) Transparency.
2. A major cause of inefficiency in public corporations is
(A) inadequate patronage by members of the public
(B) absence of an enabling Act or law
(C) political interference
(D) competition from private firms
3. A major distinction between public corporations and private companies is that
(A) Public corporations provide important services
(B) Public corporations are large organizations
(C) Public corporations are financed and controlled by government
(D) Public corporations are not involved in production of tangible goods
4. A primary agency of political socialization is:
(A) the government
B the family
C the mass media
D the School
5. A process that seeks to transfer ownership and control of public corporations to private individuals or organizations is called
(A) Indigenization
(B) Commercialization
(C) Privatization
(D) Acquisition
6. Adult male suffrage means that
(A) All men who pay tax can vote.
(B) All adult males can vote.
(C) All men can vote.
(D) All adults can vote.
7. All of the following are obligations of citizens, except
(A) Obedience to laws.
(B) Voting.
(C) Giving alms to beggars.
(D) Payment of taxes.
8. An electoral district is
(A) A local government area.
(B) A ward.
(C) A polling booth.
(D) A constituency.
9. Fascism was practiced in Italy under:
(A) Benito Masollini
(B) Benito Mubarak
(C) Benito Mussolini
(D) Benito Mandela
10. Governmental powers are…. in the US presidential system
(A) absolutely separated
(B) fused
(C) absolutely fused
(D) separated
11. In a democracy, franchise is limited by
(A) Age.
(B) Sex.
(C) Wealth.
(D) Education.
12.In the civil service, anonymity means that civil servants must
(A) Not receive the credit or blame for any good.
(B) Serve any government impartially.
(C) Avoid nepotism and favouritism.
(D) Be politically neutral.
13.In which of the following set of countries is a dominant two-party system operated.
(A) Nigeria and Ghana.
(B) The United States and the United Kingdom.
(C) France and Germany.
(D) India and China.
14. One of the advantages of direct election is that:
(A) it is too expensive and difficult to conduct
(B) illiterates vote intelligently for their leaders
(C) it makes representatives accountable to the electors
(D) it offers an opportunity to the electorate to demand for money
15. One of the following is not a feature of a modern state
(A) Territorial landmass
(B) Population of People
(C) Defined Territory
(D) Sovereignty
16. One of the following is not a source of constitution?
(A) Customs and conventions
(B) civil service regulations
(C) historical documents
(D) judicial precedents.
17. One of the objectives of a multiparty system is to
(A) Eliminate corruption.
(B) Prevent rigging.
(C) Provide alternatives.
(D) Avoid ethnicity.
18. Political sovereignty lies with:
(A) Head of State
(B) Head of Government
(C) the Parliament
(D) the electorate
University of Ibadan Government Post UTME Answer
1. A
2. C
3. C
4. B
5. C
6. B
7. C
8. D
9. C
10. D
11. A
12. A
13. B
14. C
15. A