Do you want to download Post UTME Past Questions and Answers for Nigeria Maritime University NMU, Okerenkoko, Delta State. Therefore you are in the right place.
Admission into NMU, is strictly based on merit, and you have to score high to be able to secure admission.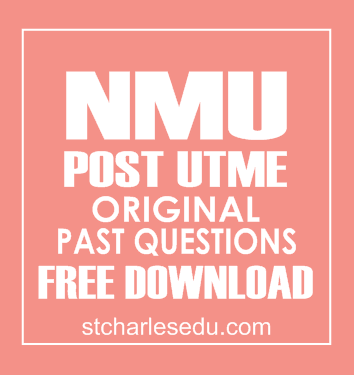 Nigeria Maritime University NMU Requirements.
To be admitted into any of the departments in the Undergraduate programme.
Interested applicants must apply through the Unified Tertiary Matriculation Examination (UTME) body and score 180 and above, having met the minimum Five credits in relevant subjects in SSCE, (or its equivalent) obtained in not more than 2 two sittings.
NMU Post UTME Subject Combination.
What are the subjects written in Nigeria Maritime University Post Utme?
The subjects you will write in NMU Okerenkoko Post Utme is same subjects you wrote in Jamb.
Nigeria Maritime University Post UTME Syllabus.
Most students are asking for NMU post utme syllabus.
However, it is worthy of note that Nigeria Maritime University does not have Post Utme syllabus.
Read your note and past questions and you should be prepared for NMU Screening exercise.
NMU Exam Questions Features.
If you want to pass NMU Screening Exam you must know the structure of the exam.
Knowing it will ace your preparation for nmu post utme.
But only a few people care about the structure of the aptitude test.
Key Features
– Up-to-date and Comprehensively Past Questions.
– Complete Past Questions and Answers From 2017 – Till Date.
Structure of Screening Exam.
– NMU Post UTME Exam usually lasts for 1 hour (60 mins).
– Recently, NMU Okerenkoko gives candidates 100 questions.
– You will be tested on four Subject you did in UTME JAMB.
– Few question will be draw from current affairs.
– Past Screening Question are repeated.
– Equal marks are given to every question. Do not waste much time on any question but try and attempt all question.
How to Get Nigeria Maritime University Post UTME Past Questions and answers.
Eventually, there is no way you can prepare for Federal Maritime University Okerenkoko, Delta State Screening exam without a past question.
Reading textbooks alone do not count.
Past questions will help you understand where questions are sent from and the nature of the question.
You will find a lot of post jamb past question online for free.
Download Free Post UTME Past Question for Maritime University, Okerenkoko PDF.
Getting a copy of the past questions and answer will go a long way in improving your exam preparatory skill.
You will understand the pattern of the Exam Question, area of study focus and how to answer it. Download Now
How to Buy the New NMU Past Questions.
To get the complete copy of the Past Questions in PDF, call or whatsapp me on 08051311885.
Cost or Price of Past Question N1500.