Do you need UI Post UTME Past Question for Engineering? Do you want to download University of Ibadan Post UTME Past Questions and Answer for Petroleum Engineering, Civil Engineering, Mechanical Engineering, Electrical/Electronic Engineering, Agricultural/Environmental Engineering and Wood Product Engineering.
Then you have come to the right place.
The University of Ibadan, Faculty of Technology or also known as Faculty of Engineers award B.Eng on the completion of the programme.
UI Bachelor's degree programmes, which are unique in their individual aspects, provide students with distinct opportunities for capacity building, knowledge empowerment and maximization of potentials.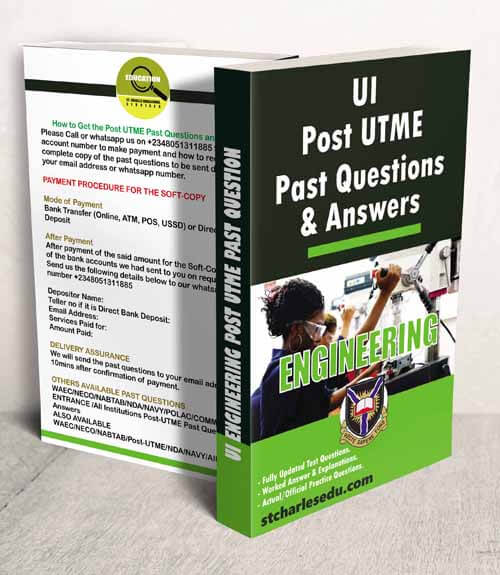 UI Faculty of Technology Post – UTME Past Questions.
List of departments in Faculty of Technology – the following are departmental programme offer in the UI faculty of Technology
Petroleum Engineering
Mechanical Engineering
Electrical/Electronic Engineering
Civil Engineering
Agricultural And Environmental Engineering
Wood Products Engineering
Industrial Production
Read Also: Download University of Ibadan Post-JAMB Past Questions for Medicine, Engineering, Law,
Benefit of studying UI Engineering Post-UTME Past Question.
Pointer to Area of Concentration.
Help you know your speed for the actual exam.
Predict the outcome of the upcoming exam question.
Let one know if he/she has adequately prepared for the exam.
Give you confidence and make you relax on the deal day.
UI Post UTME Past Question for Petroleum Engineering
History – The University of Ibadan Petroleum Engineering department is the oldest of such department in Nigeria and was established in 1972.
it served as the foundation block for other department in the faculty of technology.
The department has graduated over 900 Petroleum Engineers for Nigeria and the global Petroleum Industry.
The program was the first to be accredited by Council of Registered Engineers of Nigeria (COREN) and renewed in 1989 and currently 2000
Philosophy – The department aspires to be a world-class school of Petroleum Engineering.
Objective –
– Produce graduate with strong foundation in petroleum engineering, needed by other Petroleum industry and other exploitation industry.
– produce graduate sound in character and judgment for taking up challenging role in the oil industries.
– develop student to become reliable and innovative.
– train student who can apply scientific principle to solve any related petroleum engineering problem.
UI Post UTME Past Question for Mechanical Engineering
History – This programme is rooted in a broad foundation in Mathematics, Physics and Chemistry, other basic courses in this programme are mechanics of solid & fluid, mechanical design, thermodynamics, heat transfer. etc.
Aim.
Train student to make use of engineering science, to profer solution to the operation of industrial machine, process and power production.
Objective.
Produce Graduate who can occupy professional position in design analysis, under go research and development, application of machine to process and manufacture.
UI Post UTME Past Question for Electrical and Electronic Engineering
History. This department was created in 1981, and name was change to Electrical and Electronic Engineering in 1994.
Philosophy – ability to make use of available local material, cope with shortage of fund in the provision of necessary teaching and research equipment.
Objective.
produce a graduate who are nationally and internally relevant and recognized.
provide student with sound knowledge and skills.
produce graduate who will be gainfully employed in higher institution and industry.
UI Post-UTME Past Question for Civil Engineering
History – The university of Ibadan Civil Engineering department first existed in 1978/79 as a Civil Engineering unit, and temporarily based in the department of Mechanical Engineering.
it was upgrade to a full fledged department in 1980 as requested by COREN and NUC.
The department facilitate teaching, research and provision of humanitarian and paid service to the community.
Objective–
Provide Civil engineering programme that is relevant to a developing country like Nigeria.
Carry out research on subject relevant to civil engineering.
produce graduate who are sound in civil engineering practice with basic understanding in structure and foundation, highways and transportation, water resources and environmental engineering.
How to get UI Post UTME Past Questions for any Engineering Dept.
How to Get University of Ibadan UI Post UTME Past Questions and Answers for Engineering courses
Make a Call

Call or whatsapp us on 08051311885 for the account number to make payment and how to received your complete copy of the past questions to be sent directly to your email address or whatsapp number.

Mode of Payment.

Mobile Transfer or Direct Bank Deposit.

After Payment

send us the following
Depositor Name:
Name of Product Paid for:
Valid email address.

DELIVERY ASSURANCE

We will deliver the past question to you 10 mins after confirmation of payment to the email you will send to us.