How is a Partnership Agreement Form and Key Elements?
A partnership can be formed in essentially two ways: by verbal or written agreement.
A partnership that is formed at will or verbally, can also be dissolved at will.
In the absence of a formal agreement, all partners share equally in the profits and losses of the partnership and partners are not entitled to compensation for services.
If you would like to structure your partnership differently, you will need to write a partnership agreement. It may be advisable to consult a lawyer before drafting the agreement, but you should at least research the issue on your own.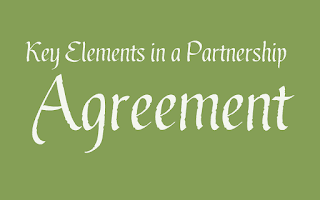 Key Elements in a Partnership Agreement
A thorough partnership agreement should generally cover the following areas:
Key Elements 1. Name and address
Key Elements 2. Duration of partnership— You can specify a finite date on which all business will terminate or you can include a general clause that explains the partnership will exist until all partners agree to dissolve it or a partner dies.
Key Elements 3. Purpose of business
Key Elements 4. Partners' contributions— these may be in cash, property or services. Be sure to determine the value of all non-cash contributions.
Key Elements 5. Partners' compensation— Determine how profits will be split up and how often. Also decide if any of the partners will receive a salary.
Key Elements 6.. The bank account – The details of the partnership's bank account, including: Who can sign cheques; When two or more signatures are required on cheques; How much money each partner can withdraw a month. Consider limiting this, so as not to run out of working capital.
Key Elements 7. Division of responsibilities – Who does what? What can and can't partners do without each other's consent, including what commitments or expenditure can be made?
Key Elements 8. Management Authority— Will partners be able to make some decisions on their own? Which decisions will require the unanimous consent of all partners?
9. Work hours and vacation
10. Kinds of outside business activities that will be allowed for partners
11. Partner withdrawal— Decide how the death, retirement, withdrawal, disability, or death of a partner will be handled through a buy-sell agreement. Also determine whether or not a partner who has simply withdrawn will be allowed to operate a competing business.
12. Withdrawal – How much notice must partners give if they want to withdraw? How will the other partner(s) finance buying their share? Can the leaving party sell to an outside party?
13. Disposition of the partnership's name if a partner leaves
14. How to handle disputes— Decide whether or not mediation or arbitration will be provided for in the case of disputes that cannot be resolved amongst the partners. This is a way to avoid costly litigation.