Beginning from WAEC WASSCE 2020, Internal registration for School Candidate, capturing of candidate Photograph for both Senior Secondary Certificate Examination SSCE Internal and External Registration can only be capture using the WAEC Recommended Microsoft Lifecam HD-3000 Web Cam.
The WAEC WASSCE Microsoft Lifecam HD-3000 Specification.
720p HD Video Chat – for a true HD quality experience.
Widescreen – 16:9 format offers cinematic video recording.
TrueColor technology – automatically delivers bright and colorful video, in virtually all lighting conditions.1
Universal attachment base – Works on your desktop, laptop, or notebook.
Dimensions – Length: 4.3″ / 109mm, Width: 1.75″ / 44.5mm
System Requirements for WAEC Offline Application.
Supported operating systems:
Win 10 64 bit and 32 Bit
Win 8.1 32 bit and 64 bit
Win 8 32 bit and 64 bit
Win 7 32 bit and 64 bit
Hardware Requirements:
Only digital persona scanners and Microsoft Lifecam HD-3000 web cam.
Recommended Minimum:
Pentium 1 GHz or higher with 512 MB RAM or more
Minimum disk space:
x86 – 1.5 GB
x64 – 3.5 GB
Read Also: How to Capture Candidate Photograph in WAEC SSCE Offline App Using Microsoft Lifecam HD-3000 WebCam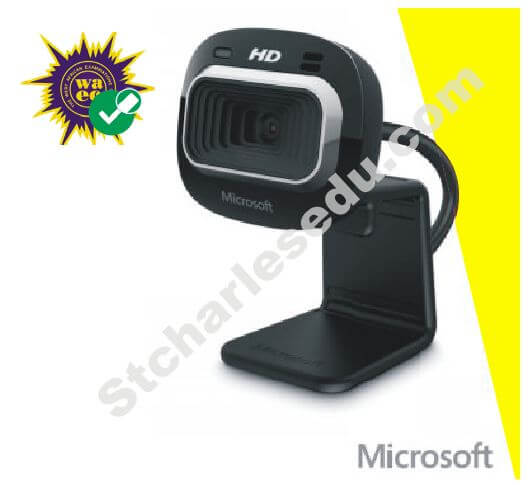 Price of WAEC Microsoft Lifecam HD-3000 – Webcam
The West African Examination Council Offline Registration app for 2020 is configured to used only Microsoft Lifecam HD-3000 Webcam and Digital Persona Finger Print Scanner and therefore does not recognize any other webcam or finger print scanner apart from the one mentioned earlier.
The Microsoft Lifecam HD-3000 Web cam which is required for the WAEC Internal and External Offline registration exercise for 2020 cost N21000
While the Digital persona U.are.U 4500 Fingerprint (Biometric) Scanner cost N9,000
Nation Wide Delivery – You can call/whatsapp me on 08051311885 on how you can get yours.
or Locate me to Pick it up in Person
St.Charles Educational Service
6 Ejemudarha Street,
Opp Cinema Junction,
Warri, Delta State
Our Agent Listing is Also at
Lagos State
Contact me for the Address – only Interested Individual.
Take Note: Please call before coming, to know if the stock is still available.
Reason: Due to High Demand; Advanced booking by client and Limited Stock.
Read Also
Buy NECO Futronic Fingerprint Scanner
WAEC WASSCE Passport Specification Guide
Ensure the candidate's face (eyes, nose, ears, mouth and jaw) is fully shown without bending
Ensure the picture fills the frame and centralized
Ensure the environment is well illuminated
Ensure the Photo background is white or off-white
Recommended camera pixel is 2MB (minimum)
How to Capture Candidate Photograph Using Microsoft Lifecam HD Web Cam
coming soon