Are you writing the National Examination Council in June/July also know as NECO, if yes, you need the NECO Salesmanship Past Question and Answer, Theory as well as Objective to enhance your preparatory skill in readiness to the exam.
we at stcharlesedu.com has compiled all the Salesmanship objective and essay past question & answer from 2014 – till date.
This past questions will give you an over-view and nature of the exams.
Past questions will not only help you know the likely questions but you will understand the nature of the examination.
Our research has confirm that candidate that who uses NECO Salesmanship Past Questions to prepare for National Examination Council is ten times better than those who do not.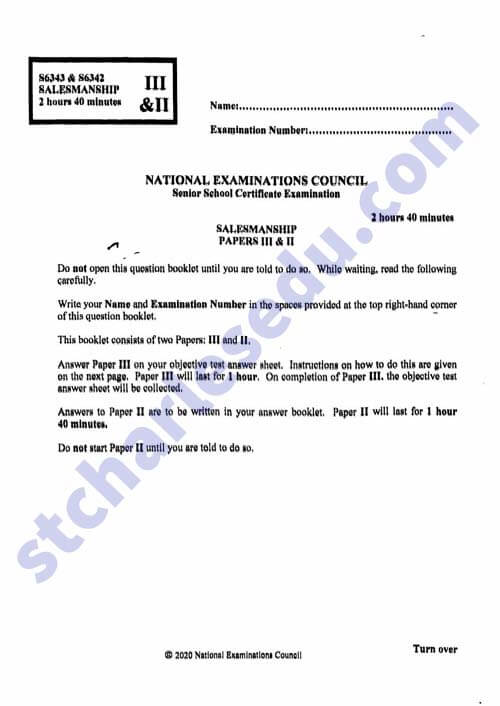 Salesmanship NECO Past Questions Free Download
Click to Download your free NECO Past Question and Answer on Salesmanship Objective and Theory Download Now
How to Buy NECO Past Question on Salesmanship.
To get the complete copy of the Past Questions, call or whatsapp me on 08051311885
Cost or Price of NECO Salesmanship Past Question N700
Like our Facebook Page to Download Free NECO Past Questions

NECO SALESMANSHIP ESSAY AND OBJECTIVE
NECO Salesmanship Objective Questions
1, Al-Mustapha stores offers gifts to customers in the first week of every month, If a consumer purchases two shirts, he receives one necktie free, This explains
A. simple type
B. purchase and win
C. order purchase
D. minimum purchase
E. buy and get
2, In sales management, sales goals of an organization can effectively be achieved through the following except
A. training,
B. staffing,
C. retailing.
D. planning,
E. directing.
3, The voluntary association of low income earners formed with the aim of meeting the needs of members defines __ cooperative society,
A. producer
B. marketing
C. insurance
D. housing
E. consumer
4, The system of transaction where Mr, A exchanges his goods with Mr, B is referred to as
A. trade by barter,
B. salesmanship,
C. distribution.
D. demand,
E. agreement of sales,
5. The person who sells goods and services of his company to another company is known as ________ salesman.
A. wholesaler
B. retailer
C. missionary
D. manufacturer
E. industrial
6. Which of these sources would you advice a retailer with low capital base to order his supply from?
A. Wholesaler
B. Producer
C. Distributor
D. Consumer
E. Agent
7. A trader who adds value to goods before reselling them to retailers is called ______ wholesaler.
A. specific
B. on-line
C. merchant
D. general
E. drop-shipper
8. A legal agreement between two parties that specifies the terms and conditions for temporary ownership of property or equipment is known as
A. warrant.
B. shares.
C. lease.
D. debentures.
E. bond.
9. A change in consumer buying pattern after a long time can occur with the influence of
A. sex.
B. religion.
C. occupation.
D. lifestyle.
E. age.
10. Another name for distribution channel is
A. transportation network.
B. sales pipeline.
C. products dispatch plan.
D. goods delivery system.
E. conveyance route.
11. A short, simple and colourful means of advertisement that easily capture the attention of passers-by is
A. television.
B. outdoor sign.
C. magazine.
D. internet.
E. direct mail.
12. An individual that buys goods in large quantity from a manufacturer and redistribute to retailers is called a/an
A. wholesaler.
B. salesman.
C. producer.
D. marketer.
E. investor.
13. A document used when goods are delivered to the dock for export is called.
A. shipping note.
B. mate's receipt.
C. customs declaration form.
D. consular invoice.
E. certificate of insurance.
14. A local trader in a village can easily get information about a new brand of noodles introduced to the market through
A. television.
B. radio.
C. newspaper.
D. magazine.
E. internet.
15. Mr. Yakubu Goma who introduces new products, develops new methods of production and discovers new market can be regarded as a/an
A. trader.
B. marketer.
C. manufacturer.
D. entrepreneur.
E. agent.
Want more Objective Questions like this?
Get the Complete Past NECO Salesmanship Exam Questions Booklet
What others are downloading NECO Past Questions for all Subjects
NECO Salesmanship Theory Question.
Salesmanship Paper II
1. Write short notes on the following:
i. Odd pricing (4 marks)
ii. Target pricing (4 marks)
iii. Dynamic pricing (4 marks)
iv. Market oriented pricing (4 marks)
v. Predictive pricing (4 marks)
2. Mention and explain five benefits of discount.(20 marks)
3. (a) Differentiate between long term finance and short term finance. (4 marks)
(b) List and explain three external sources of finance available to an entrepreneur. (12 marks)
(c) Identify four importance of finance towards the development of entrepreneurship in Nigeria. (4 marks)
Theory Questions 4 – 7 omitted.
Want more Essay Questions like this?
Get the Complete Past NECO Salesmanship Exam Questions Booklet