Do you want to download Entrance Exam Past Questions with Answers for Nigerian Navy Secondary School (NNSS).
If yes, you are at the right place.
We are glad to inform you that we now have original up-to-date NNSS Entrance Examination Past Questions for download in PDF format.
The entrance exam into JSS1 of the Nigerian Navy Secondary School is very competitive and you have to perform excellently well in to be able to scale through into the oral interview stage.
The NNSS Entrance Examination is divided into two 2 part, Paper 1 and Paper 2.
Paper I consist of :
English Language and General Knowledge.
While Paper II consist of :
Mathematics and Quantitative Aptitude.
1. You must use a sharp HB Pencil to complete the answer sheet.
2. The answer sheet has your name, registration number and your particulars already printed on it.
3. Read through and call the attention of the invigilator to any error(s).
4. Think carefully before making your choice of answer.
4a. When you have chosen the correct answer to the question turn to the appropriate section (English Language/Verbal Aptitude and General Knowledge) of the Answer sheet.
4b. Look for the number of the question and the letter which agrees with your choice and blacken the circle containing the letter.
5.Use the example shown at the bottom left of the answer sheet as guide to proper shading of the correct answers.
6. If you wish to change the answer you have shaded previously, first erase it completely before shading the correct answer.
7. Work fast and as accurate as you can.
8. If you cannot answer any questions, do not spend too much time on it. Go to the next questions.
9. Do not ask anybody for explanation to any question during examination except the invigilator.
10. You are advised to keep within the period specified for each test.
11. You are reminded once again to use the number under English Language and General Knowledge section for Paper 1 of the answer sheet.
12. Read the instructions on the answer sheet before finally starting the examination.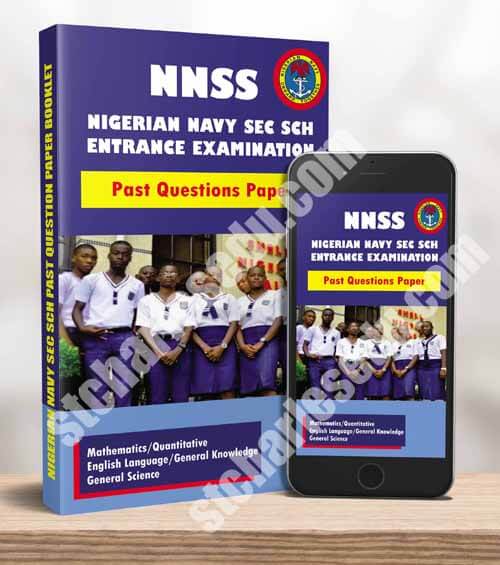 How to Download NNSS Past Questions PDF.
We are happy for your interest in wanting to purchased Nigerian Navy Secondary School Entrance Exam Past Questions & Answers.
Hence, this will go a long way in improving your exam preparatory skill. You will understand the pattern of the Exam Question and how to answer it.
Click to download a free sample copy of theNNSS Past Exam Questions Paper
Click to read online Previous NNMS Exam Questions Paper
To get the complete copy of the Past Entrance Exam Questions and Answers.
Whatsapp me on 08051311885 on how to obtain your copy. Cost is N1700.