Did you lost your Joint Admission and Matriculation Board JAMB Change of Institution/Course slip or there was network failure when you were about to download it the first time and now you could not get it back; then follow this guideline on How to Reprint JAMB Change of Course /Institution Slip Yourself.
If you have mistakenly lost you jamb change of course slip, getting it back is pretty easy if you know what to do, and that is what we are going to show you in a minute.
Reason Candidates Apply for JAMB Change of Course/Institution
There are obviously three reasons why a applicant may need to change his/her jamb choice of Institution/Course:
LOW JAMB SCORE:
Most Federal Universities in Nigeria do not accept low jamb score, that is score ranging from 199 and below.
Some set their jamb cut off mark from 200 and above, if after the release of JAMB result a candidate did not meet up the cutoff mark requirement, he or she will not be eligible to participate in such school admission screening exercise.
For such student to gain admission for that current year, he/she has to apply for JAMB Change of Institution.
DEFICIENCY IN O'LEVEL RESULTS:
This mostly affect the choice of course a student intend to study, if a student has deficiency in a core subject in his/her Olevel result after it has be release and it is relevant to s/he field of study.
Such candidate have no option than to switch to a different course that will accommodate or accept his/her Olevel result grading.
ERROR DURING REGISTRATION:
If during the registration exercise, a mistake was later detected in the choice of school after it must have be submitted, it now be corrected.
OTHER CHALLENGE:
This include change of location, conflict, excessive strike action, tribalism, e.t.c
NOTE:
Change of Course/Institution can only be allowed once, and the course you are changing to must be relating to your JAMB UTME subjects.
Read Also
What is My JAMB Username and Password
How to Retrieve Jamb Login Details
How to Upload WAEC Result on JAMB Portal
Requirement To Reprint Jamb Change Of Course or Institution Slip.
1: Username (The Email address used to register for jamb).
2: Password ( The password created during JAMB registration, mostly different from the password you used to login into your gmail or yahoo account).
3: Your must have completed the change of course/institution online payment.
4. A PDF Reader Software for Desktop/Laptop or App for Android.
Guide on How to Reprint JAMB Change of Institution/Course Slip.
Step 1. Visit the JAMB Change of Institution Portal > www.jamb.org.ng/efacility.
Step 2. Type in your jamb username and password, then click on Login the button.
Step 3. On the JAMB Profile Dashboard, Click on the link Registration.
Step 4. Next Click on UTME Data Correction.
Step 5. Click on Reprint Change of Course Slip.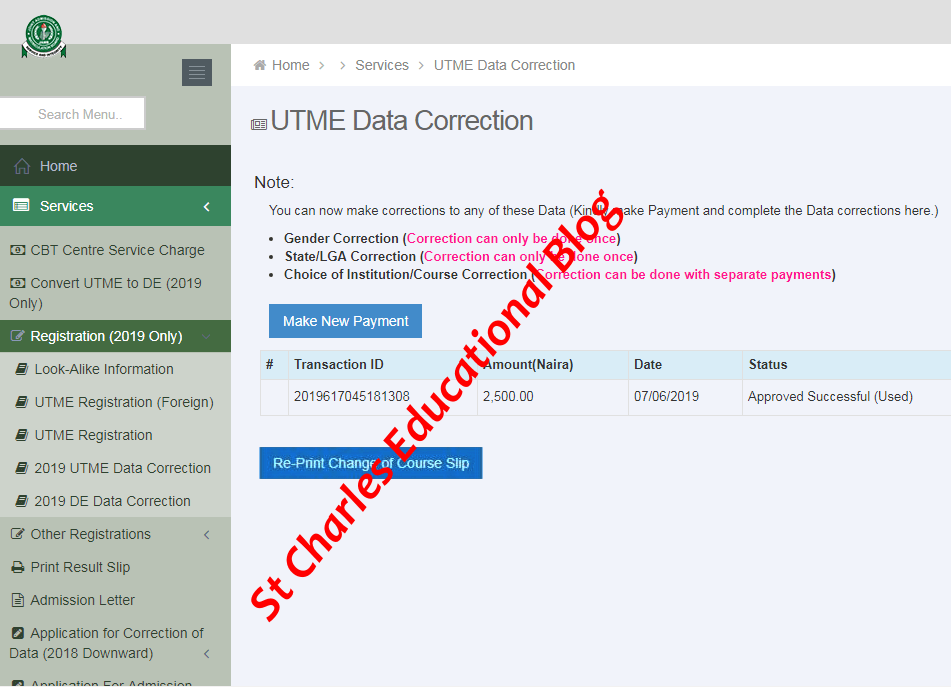 Print JAMB Change of Institution Slip through Paid Services
For those who have no access to get the e-slip, you can contact me for assistant on how to get back your course/institution slip,
call/whatsapp me on +2348051311885
How to Reprint JAMB Change of Course Slip –

YouTube

Video