Download Complete Nursing and Midwifery Council of Nigeria Past Questions for various school of Nursing Here.
Are you seeking for admission into any of the school of nursing in Nigeria. If your answer is yes, then this Nigeria nursing school entrance exam questions paper and it answer is for you.
Read Also: Download up-to-date Past Questions for Nursing and Midwifery Council of Nigeria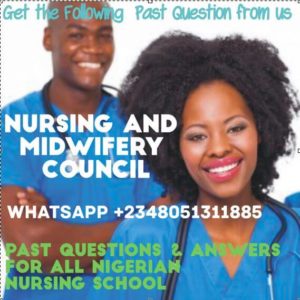 Nursing and Midwifery Council of Nigeria NMCN Past Questions
In all these complexities, the most important desire of candidate is that, they pass the examinations with the required score, preferably at first sitting. it is in response to this important desires of candidates that the series of NMCN past questions is developed, compile, produce and available for download.
The School of nursing and midwifery council of Nigeria past questions is a necessary tool that is recommended to all intending applicant aiming to achieved success in the forth coming entrance examination be conducted by various Nigeria School of Nursing.
You are marvel why I'm saying it's a important tool, right? There is nothing as worst as ignorance. This is why people keep re-writing the School of Nursing and Midwifery council of Nigeria screening exercise year after year.
The NMCN screening test is always set by a panel that oversee the conduct of the exam.
Take note, most of these past screening test questions often repeat in later years.
luckly, the question you will see in the past question paper you'll get from us MAY repeat in your own Direct Entry screening test question.
People do asked if different question are set for applicant that apply for Nursing and also those that apply for Midwifery.
Note.
Same question are set for both applicant during the examination, whether you are writing for nursing or midwifery, you are going to be subjected to the general nursing and midwifery question paper.
Luth Or FCT School of Nursing Past Questions and Answers
We understand that Nursing schools like luth or fct repeats lots of their past questions during entrance examination, aside from this particular school, past questions and answers are available for other schools too.
Download NMCN Past Question Paper
Click to Download your free school of nursing or Midwifery Council of Nigeria past questions and answers
Free Nursing Council Exam Past Questions
What others are download: NMCN Objective Questions
How to Get Original Up-to-date Nursing and Midwifery Council of Nigeria Past Questions and Answers
The Past Questions and answers cost N1700 for any school of nursing and Midwifery that you wants and we will show you how to get it.
To get the up-to-date complete copy of the Past Questions and answer
Call or whatsapp me on 08051311885 for the simple step.
DELIVERY ASSURANCE
We will deliver the past question to you 10mins after confirmation of payment to the email you will send to us.