What is WAEC Examiner Cass Form/Template?
The WAEC CASS form or Template is a document that contains all the data that is simply going to be needed for the West Africa Examination Council CASS Sensitization Offline Registration Exercise.
Schools or Candidates are advised to download and fill the CASS form properly before proceeding for offline registration.
This is to ensure one make correct choices regarding his/her subjects, date of birth, and state of origin, correct name spelling e.t.c before the actual registration. This help to eliminate most of the registration error student often make.
Read Also
How to Install WAEC Examiner CASS Registration Software Setup
If you need help in filling the WAEC CASS form, feel free to download and print theg pdf document and fill with the assistance of your teacher, elder siblings, Parents or Guardians, or anybody that may assist you properly in filling the entire form.
Please note that this is solely a template, to assist student seek advice from their parents/guardians at home to be appropriately fill, before the actual registration.
To ensure you've got sleek and prospering registration, we've provided you with the waec cass registration template form.
WAEC CASS Form Image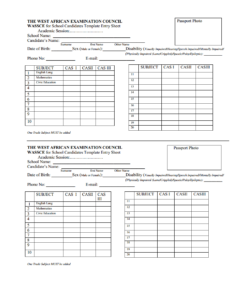 WAEC CASS Template PDF Link
Click to download the pdf format of the waec cass template for ss1