Do you want to download FCT School of Nursing & Midwifery Entrance Exam Past Questions Paper and Answers Gwagwalada Abuja. Then you are in the right place.
In FCT Sch. of Nursing, Gwagwalada, selection is strictly based on merit, and you have to score high to be able to secure admission.
The FCT Nursing Common Entrance Committee, Gwagwalada is the body establish and responsible for the announcement of the sale of form into all the school of nursing in Federal Capital Territory, Abuja. The basic programme is run for three year, at the end of the programme student are awarded Registered Nurse (RN).
i. School of Nursing, Gwagwalada
ii. School of Basic Midwifery, Gwagwalada
iii. School of Post Basic Critical Care Nursing, University of Abuja Teaching Hospital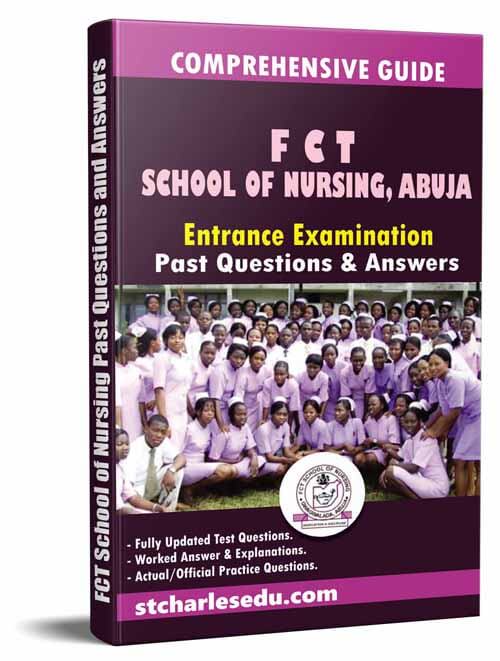 FCT School of Nursing; Midwifery Gwagwalada, Abuja Past Questions
The FCT School of Nursing past questions and answers is a book that gives you insight & prepared you on what to expect during entrance examinations. It exposes one to the type of questions you will meet on the entrance exam day and gives you tips on how to answer their questions. Studying with federal Capital Territory school of nursing past question paper is the right step in the right direction.
FCT School of Nursing Entrance Exam Past Questions Paper.
It is an Acrobat PDF document (ebook), which is compatible with all Smart Phone; PC and printable too.
How to Download Nursing Past Question Paper for Gwagwalada
We are happy for your interest in wanting to purchased FCT School of Nursing; Midwifery Entrance Exam Past Questions & Answers. This will go a long way in improving your exam preparatory skill. You will understand the pattern of the Exam Question and how to answer it.
Download Free FCT School of Nursing Past Exam Questions Paper
Click to Download a free sample copy of the Nursing Past Exam Questions Paper. Download Now
How to Buy School of Nursing Abuja Past Questions.
To get the complete copy of the Past Entrance Exam Questions and Answers.
Call or whatsapp me on 08051311885, cost is N1700.
DELIVERY ASSURANCE
We will deliver the past question to you 20mins after confirmation of payment