Currently I am going to talk about how to generate Federal Road Safety Corps FRSC Remita Retrieval Reference RRR Payment Code for Road Traffic Offence Fines in Nigeria.
Remita has become a fundamental part of Federal Government and State Government transactions and has become the only method of payment to the Treasury Single Account (TSA) which was enforce in the past years.
The remita platform is largely used for the consecutive transactions:
Federal Road Safety Corps fine payment.
Unity School Payment.
Higher Institution of Federal Government.
Tender fees Payment and just any biller that make use of remita platform.
Read Also
40+ FRSC Road Traffic Offences and Fines Every Body Should Know
How To Generate FRSC Remita Retrieval Reference RRR Payment Code
To generate your unique RRR number you need to have one of the following:
Smart Internet Phone
Personal Computer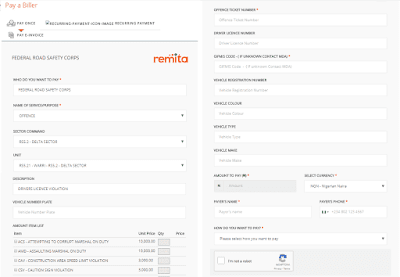 Steps to follow to Get RRR Code for FRSC Remita Payment
1.  Asses the web using your phone or a modem when using a personal computer
visit the remita website www-remita-net from your browser ( I recommend google chrome browser or uc web browser for both PC and mobile phone)
2.  At the top of the web page you will see a search field that you could easily use to search for the biller/agent you want to pay for.
In the Search field type in 'FEDERAL ROAD SAFETY CORPS"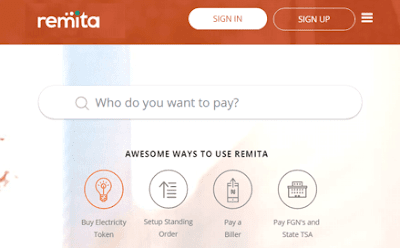 This will take you to a unique window where you will fill in your details regarding the payments you want to make.
If you can not see or asses the search field, they are other way you can used to navigate to where you will fill in your details for payment.
Still on the remita homepage click on the logo Pay a Biller, this will take you to a page where you will be asked " WHO DO YOU WANT TO PAY" for Type in FEDERAL ROAD SAFETY CORPS in the field.
3.NAME OF SERVICE/PURPOSE
On the Area Name of Service/Purpose of Payment, choose from the drop-down list, the service you are paying for.
Below are list of Service/Purpose of payment to choose from.
DONATIONS, INSURANCE, NATIONAL DRIVERS LICENSE, OFFENCE, REFUND, SALE OF GOVERNMENT ASSET, TENDER FEES TOWING, TRAINING, VEHICLE NUMBER PLATES.
(select Offence if you are paying for any road traffic penalty fines)
4.UNIT AND SECTOR COMMAND
Select your Sector Command and Unit from the drop down list
5. DESCRIPTION
Here you give more details on the service you are generating rrr code to make payment for
example – DRIVERS LICENCE VIOLATION
6. VEHICLE NUMBER PLATE
in this field, you type in your number plate of the vehicle
7. Other fields to fill in are: –
DRIVER LICENCE NUMBER
OFFENCE TICKET NUMBER
VEHICLE REGISTRATION NUMBER
VEHICLE COLOUR
VEHICLE TYPE
VEHICLE MAKE
Federal Road Safety GIFMIS CODE
8. GIFMIS CODE – ( IF UNKNOWN CONTACT MDA) *- though this field is mark as compulsory, but the basic fact is, it can be do away with it, in other words, you can generate your remita payment code without inputting the GIFMIS CODE.
Not filling it does not prevent the page from generating your remita rrr number when you finally click on submit.
9. SELECT CURRENCY
Choose the currency you want to pay with. Select Nigerian Naira or if you're paying in dollars you select US dollars.
10. PAYERS NAME, EMAIL AND PHONE NUMBER
Fill in your name, your phone number and email address
11. HOW DO YOU WANT TO PAY
Select the method of payment from the drop-down menu which can be either:
Internet banking
PAGA/perfect money
Bank branch
MasterCard or VISA card
We are only going to cover "Bank branch and MasterCard"
How to Make Payment for FRSC Remita Number using Bank Branch
If you choose to pay at the bank branch after confirming you are human by ticking the "I'm not a robot" tick box click submit.
on the resulting page you will see your unique Remita Retrieval Reference RRR number which you can either print and take to the bank or copy it down and use it to fill your deposit teller at the bank.
How to Make Payment for FRSC Remita Code Using ATM Card
If you choose to pay using your ATM card either VISA card or MasterCard
Put your card holder name, card number which is on the front of the MasterCard or VISA card, the expiry date of the card and the CVV number which is located under the card.
You then verify that you are a human and not a robot and click submit.
After clicking submit you will be redirected to the MasterCard Secure Code site where you authenticate the payment using one of two options (or three depending on your bank)
A hardware token
A One Time Password (OTP)
A secure pass (UBA)
The hardware token is supplied by your bank upon request which can then be used to authenticate all
payments used with your account.
The OTP is sent to your registered mobile phone number and expires after each usage (or 5 mins of not usage)
Click on the OTP link and wait for your one-time password which will be sent to your registered phone number which you should input on the next screen to authenticate the payment.
After the payment is approved you should be able to print your Remita receipt which is the proof of
payment.
A copy of the Remita Payment Receipt will also be sent to the e-mail you supplied while registering so make sure you use a valid email address as the school will not accept your payment without payment receipt.
Search Terms
frsc remita payment