How to Generate Uniben Remita RRR Code, and Pay Online or Through Bank
1. visit the website www.remita.net and click on pay a remita customer
bill
2. On the row who do you want to pay, type : UNIVERSITY OF BENIN – 1000112
3. Amount to Pay (N): Type in the specific amount you are entitle to pay for a service/purpose
4. Other details to enter are, Matriculation Number/Jamb Reg; Semester/Session;
Payers' full name; Payer email address; Payers phone number.
5. Type in the security characters that is shown to you.
6. Click on the button proceed to
payment, to print out invoice slip to tender at the bank for payment you
can as well make direct payment online using your atm card.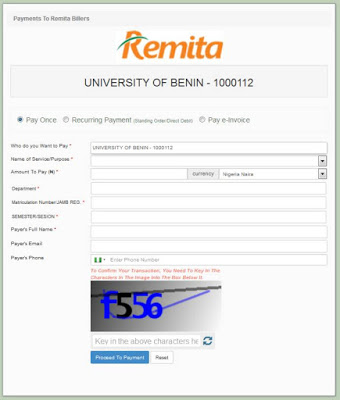 REMITA – University of Benin,
List of Services that payment can be made.
ACADEMIC GOWN RENTAL
A FILIATION FEES
AUDITORIUM
BANQUET HALL
BIOMEDICAL COMMUNICATION FEE
BUSINESS SPACE & RENTAL SERVICES
CENTRE FOR EDUCATIONAL TECHNOLOGY (C.E.T.)
CERHI – Grant From Other Sponsors (01-100-1007)
CERHI – Grant From World Bank (01-100-1006)
CERHI – Others (01-100-1005)
CERHI – PG Application Fees (01-100-1000)
CERHI – PG Clearance Fees (01-100-1001)
CERHI – PG School Fees (01-100-1003)
CERHI – Tender Fees (01-100-1004)
CONSULTANCY SERVICE UNIT
CONTEST OF RESULT
DIVIDEND FROM SHARES/SALE OF SHARES
DONALD PARTIDGE E-LEARNING CENTRE
DONATIONS / SPONSORSHIP
ENDOWMENT & DONATIONS
FARM PROJECT
FEES FOR CAR STICKERS
GUESTHOUSES
HIRING OF VEHICLE
HOSTEL APPLICATION FEE
HOSTEL MAINTENANCE FEE
IDENTITY CARD FEE (STAFF & STUDENTS)
INTER-FACULTY TRANSFER
INVESTMENT INCOME (COMMERCIAL OPERATIONS)
LIBRARY BINDING UNIT (BOOKS & PROJECTS)
MARITIME STUDIES CENTRE
MEDICAL EXAMINATION
OPTOMETRY CLINIC
PHARMACY CLERKSHIP
REFUND
REGISTRATION / RENEWAL OF FELLOWSHIP, CLUBS & ASSOCIATIONS
REGISTRATION OF CONTRACTORS
RENT FROM STAFF QUARTERS
SALE OF CONVOCATION BROCHURE
SALE OF COPIES OF INAUGURAL LECTURE
SALE OF GOVERNMENT ASSET
SALE OF SCRAP MATERIALS
SALE OF STAMPS
SHUTTLE & TOLLGATES
SPORTS COMPLEX
STUDENTS' APPLICATION FEES
STUDENTS' RECORD RLE
SUNDRY INCOME
TEACHING PRACTICE
TENDER FEES
TETFUND GRANTS
TRANSFER OF MDA ACCOUNT BALANCE TO CBN
UDSS (GENERAL COST)
UDSS (TUITION)
UNIBEN (NHIS) CAPITATION FOR HEALTH SERVICE
UNIBEN ANATOMY
UNIBEN COMMUNITY HEALTH RURAL POSTING
UNIBEN DRUG PRODUCTION UNIT
UNIBEN ENTERPRISES (BAKERY)
UNIBEN ENTERPRISES (PRESS)
UNIBEN ENTERPRISES (WATER FACTORY)
UNIBEN ENTERPRISES(GUEST HOUSES – BENIN)
UNIBEN GEOLOGY HELD WORK/TRIP
UNIBEN GIFT ITEMS SHOP
UNIBEN ICT CENTRE
UNIBEN KIUSHI ENTERPRISE
UNIBEN NET LIBRARY
UNIBEN NETWORK UNIT INTERNET
UNIBEN SCHOOL FEES (PART TIME STUDENTS)
UNIBEN ANATOMY
UNIBEN COMMUNITY HEALTH RURAL POSTING
UNIBEN DRUG PRODUCTION UNIT
UNIBEN ENTERPRISES (BAKERY)
UNIBEN ENTERPRISES (PRESS)
UNIBEN ENTERPRISES (WATER FACTORY)
UNIBEN ENTERPRISES(GUEST HOUSES – BENIN)
UNIBEN GEOLOGY HELD WORK/TRIP
UNIBEN GIFT ITEMS SHOP
UNIBEN ICT CENTRE
UNIBEN KIUSHI ENTERPRISE
UNIBEN NET LIBRARY
UNIBEN NETWORK UNIT INTERNET
UNIBEN SCHOOL FEES (PART TIME STUDENTS)
UNIBEN STAFF SCHOOL HALL
UNIBEN WORKS JOUNRNALS
USS (DEVELOPMENT LEVY)
USS (SCHOOL FEES)
VERIFICATION OF RESULTS