REMITA SCHOOL FEES – HOW TO PAY ANY SCHOOL FEES THROUGH REMITA
1. visit the website
www.remita.net
2. Click on the link
Pay a Biller
3.
Who Do You Want to Pay:
Type in the
remita account details of the school
.
4.
Name of Service/Purpose:
Select the service/purpose of payment
5.
Description:
Enter more detail about the purpose of payment ( example, if you are paying for school fees, you can type in (i) school fees for ss2 (ii) school fees for 1st semester e.t.c)
6. Amount to Pay: Input the Amount
7. Payers Name: Type in the Student Name
8. Payers Phone: Type in the student Phone number
9. Payers Email: Type in a valid email address
10. How do you want to Pay: select your preference payment
-Internet Banking
-Paga/Pocketmoni
-Bankbranch
-Mastercard
-Visa
If your school demand for a bank teller, select the option Bankbranch
11. Select Im not a robot
12. A capcha code will be shown: Type exactly what is shown and click on: Proceed to Payment.
13. Click on Submit
14. Copy your Remita Retrieval Reference Number and Click on Print Invoice
Read Also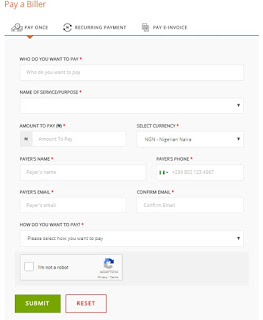 Remita School Fees Payment Methods
1. Remita School Fees – Pay with Internet Banking
With internet banking, you can transfer money directly from your account to the beneficiary via Remita powered transfer. Most Nigerian Banks now have their banking apps that allows users to make transfer just on the go. Please note that they may be a fee attached to this transfer.
On that "Pay with Internet banking"column, you will see the icons of banks that supports internet banking on Remita platform.
Click on any one of your choice and proceed to payment.
2. Remita School Fees – Pay at a Bank Branch
If you want to pay the money at any bank branch, simply print the transaction receipt or copy the RRR code to your bank and pay the required amount.
3. Remita School Fees -Pay Now with Mastercard or Visa
You can also pay using your ATM card. Simply click of the card of your choice e.g. Nigerian cards: MasterCard, Visa, Verve or International Card: MasterCard, Visa.
You can also pay via e-Wallet services such as PocketMONI.
You are done. After successful payment, you will be able to download the payment receipt for subsequent accreditation with your establishment of partner.