Post Jamb Screening Oral
Interview Past Questions and Answer for Your Given School of Choice
Scrapping of Post UTME – Point
to Note
1. No Institution should go below 180 benchmark, Universities can go
above it
3. All Candidate given admission must be from JAMB
4. JAMB should get in touch with institutions before offering admission
to students.
5. No university should exceed its admission capacity
6. Criteria for admission is still in force
– Federal Universities -Merit
is 45%, catchment area 35% and educational development in less developed states
20%
– State Universities – merit
40%, catchment 40 % and less developed local governments get 20%,''
7. There won't be any written Post-UTME but Institution allowed to
screen there candidates
Believe it or not
Post UTME or No Post UTME, JAMB or No JAMB, going by the number of
candidate that applied and pass jamb, the Federal and State Universities in
Nigeria, cannot be able to accommodate all qualified candidate due to it carrying capacity – Scrapping of Post-UTME Point
to Note: Item 5
Question 1
How will school screen their candidate that meet the jamb 180 cut-off
from this year 2016?
Answer:
School may adopt to use verification of result or Oral Interview
Verification of result:
This entails checking of your O,level (WAEC, NECO, and NABTEB) grade
with a combination of sharp increase in departmental cut-off mark to accommodate
only the candidate its admission capacity can take.
Oral Interview:
A platform for you to meet with someone who represents the school (A
complete stranger) also known as the interviewer- He/she asked your several
question to show off a side of your personality that is not obvious on the
written jamb cbt.
College interviews can be stressful; especially when you consider that
you have less than 20minutes to impress a complete stranger.
Check this link for confirmation
Question 2
Which school in Nigeria has be using this method of oral interview for
their candidate before now.?Answer:
Here is an Extract
Stage Two: Personal interview
You meet the examiner face to face and answer some oral questions. You
may be required to read a given passage and then answer some oral questions on
what you have read. Here, the examiner watches to find out how you read, understand
and speak English.
Questions 3.
Will there be any form of online registration for the post oral
interview screening or verification of result
My answer to this question is Yes and No.
Yes – The online registration will enable the school to have firsthand
knowledge on the number of willing student that will be coming for the post
jamb oral interview screening.
No – If the school depend solely on jamb, to send them the number of
student that meet the cut-off mark of 180, then they might do away with the
online registration.
Both answers is left for the school to decide
Questions 4.
Answer:
They are various programme run by Universities, Polytechnics and
College of Education that does not require jamb form, the programme range from
part-time, spat, nursing e.t.c
If you wish to obtain a degree result, to the best of my knowledge it
is only Part-Time and
JUPEB Programme in University
that can offer you that,
Polytechnic and school of marine do award OND result, which you can later used
to obtain jamb direct entry, but you must make sure you come out with upper credit
as school that accept
jamb direct entry
mostly give preference to candidate
that graduate with distinction or upper credit.
Post Jamb Screening Oral
Interview Past Questions and How to Master and Answer them Now Available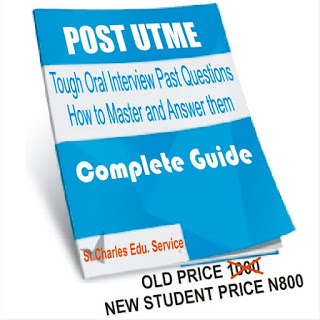 To help you, we have compiled a book on how to answer the most tough college oral interview questions.
The question cut across all School departments who wish to conduct oral interview in screening their candidates, remember you have just few mins 10-15 min to answer at least four Interview Questions put before you
Here are some typical questions you may encounter during an oral
interview admissions session.
> What make you to believe you deserve this admission than the rest candidate waiting for this screening
> How will you add value to our campus?
> Recommend a good book for me?
The Oral Interview Past Question and Best Answer. Explain how to answer all these tactical questions.
point to note, you answer should be unique and different from others, remember its an oral interview, if everybody keep saying same answer, the possibility of offering the admission to those applicant is low. Now is your chance to choose to be unique and different when answering your interview questions
Document details
Format: PDF
Number of Pages: 50
Size: 300kb
Table of Content
Tough Oral Interview Question for college and how to master and Answer
them
How to stand out in a College Interview
How to answer common College Interview Question
What to do before and after a college interview
Many more when you get the ebook.
Bonus. Oral Interview
Questions for Medical Student.
Questions 5. How can i get the Post Screening Oral Interview Past Question and Answer for my school?
Answer:- To get a complete copy of the past questions – call me or send a text message you are interested and I will send you the procedure on how to get yours without stress.
whatsapp /mobile no. – 08051311885 email – charlisco@gmail.com


Cost outline
1. Soft-Copy N800
(cost of it, if you are interested that i should send it to your email
address)
I can send you a soft-copy of it to your email address or whatsapp
account, from there, you can download and save into your android phone (Techno,
Samsung, HTC, LG), Blackberry, Laptop, Desktop, e.t.c , view or printed out and
study in your quit time.
Payment Procedure for the
Soft-Copy
After payment of the said amount for the Soft-Copy N800
send an sms in this format displayed below to 08051311885.
• Depositor Name (your
full name)
• Teller no:
• Email address
• Name of school
• Course of study
• Service Paid For
ATM, Mobile and Online Money transfer also accepted.
Make Payment into any of the BANK ACCOUNT
ACCOUNT NAME: OBALEAGBON CHARLES
FIRST BANK
3025687302
ZENITH BANK
2083129043
If you have any questions,
comments, or suggestion feel free to let us know.
If you think my post was something
worth reading; then please share it with your social media friends. Sharing is
caring! Right?